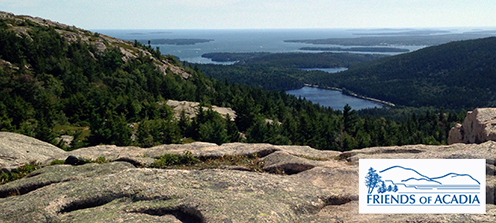 What is your favorite spot in Acadia? For many of us, the answer is "wherever I am!" Similarly, our favorite time of year to enjoy this remarkable place is probably right now—whenever now may be. And we're sure enjoying this glorious September, with comfortable temperatures, deep blue skies, and amazing visibility—perfect for viewing sweeping vistas by day and starry skies by night.
At Friends of Acadia, we're also enjoying the transition from the bustle of summer to the more contemplative days of fall. There's still plenty going on—from volunteer vista clearing projects to the Hawk Watch atop Cadillac—but we also have a little extra time to try out some new ideas…such as the Cadillac Summit Stewards, a pilot project of FOA's new Cadillac Mountain Initiative. If you're lucky enough to get to the "rooftop of Acadia" this fall, keep an eye out for these friendly interns and learn how you can help protect the mountain's fragile summit environment. Thank you for helping us to care for every special spot in this remarkable place!
---
Stars Over Acadia: Celebrate Acadia's spectacular night skies! The 2014 Acadia Night Sky Festival will take place September 25 – 29, with events on MDI, at Schoodic, and beyond. Come hear keynote speaker Paul Bogard, author of The End of Night (reviewed in the spring 2014 Friends of Acadia Journal), and you will see the dark with entirely new eyes.
Fold a paper star, try astrophotography, climb a mountain by starlight, or take a nighttime ocean cruise. Hear astronomers explain topics from dwarf planets to solar activity to a proposed voyage to a Jovian moon—and top it off with a star party at Sand Beach or atop Cadillac Mountain. The Acadia Night Sky Festival is one of the premier night sky events on the eastern seaboard, and Friends of Acadia has been a partner in this event since its inception. Come out and enjoy the stars!
---
Fall 2014 Friends of Acadia Journal: The newest Journal is at the printer but you can read it now in PDF format online. New trails, new bridges, healthy watersheds, migrating birds, beauty, and more. We'll be featuring selected articles online in the coming weeks, beginning (today!) with the newest installment of our "Why I'm a Friend of Acadia" essay series, contributed by longtime Bernard resident Susannah Jones. The online version includes a video of Susannah reading her piece—watch it and be inspired.
The cover features a photo of Otter Cove in blazing fall finery by FOA photographer-at-large Tom Blagden. Read more »
---
Top of the Hill for FOA: On Saturday, September 27, DeMuros' Top of the Hill Restaurant in Southwest Harbor will be hosting a very special closing night benefit dinner, with all profits donated to Friends of Acadia. Roberta DeMuro will be playing that night! Hosts Debby and Dan say, "We believe it's important to maintain the beauty that surrounds us. Please join us!" Please, no credit cards for this special event, so that all profits can directly support FOA's work in Acadia National Park. Call 207-244-0033 to reserve your table; they'll be open till 9 pm. We can't think of a better reason to take yourself out to eat!
---
Asticou Trail Rehab:
Put on your hiking boots this fall and explore the Asticou Trail, a historic trail that travels from Northeast Harbor to the Jordan Pond House. Park trail crews, volunteers, and the Acadia Youth Conservation Corps have given the trail a major facelift over the summer, including sections that cross park boundaries onto private land. Friends of Acadia secured permission from these landowners to complete the rehabilitation, which was funded by the National Parks Conservation Association and Nature Valley.
This lovely forested trail presents another great opportunity for residents and visitors to walk into the park from their own backyards. Thanks to all who have helped restore this great route!
---
Membership Table at JPH: Thanks to 25 enthusiastic volunteers, Friends of Acadia signed up 548 new members at the membership table at Jordan Pond House this summer, from June 25 through September 12. This was the greatest number of new members in the eight years of the program, besting the 2013 record of 456. New members came from 33 states. In some cases, Acadia works its magic immediately; it is not uncommon for a first-time visitor to Acadia to sign up for membership on their first day in the park. Volunteers enjoy sharing their own love for Acadia with visitors—and we're grateful for it!
---
Header Photo: The Hadlock Ponds and beyond from Parkman Mountain. FOA photo by Aimee Beal Church.
"You can't study the darkness by flooding it with light." —Edward Abbey