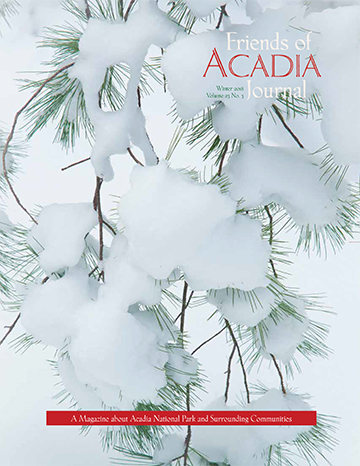 A Magazine about Acadia National Park and Surrounding Communities
Spring 2019 – Volume 24 No. 1
The Friends of Acadia Journal is published three times a year. With features about Acadia National Park's history, resources, and programs, news about Friends of Acadia's projects and activities, and information about how to get involved, the Friends of Acadia Journal is a great way to stay connected to Acadia National Park, all year long. Membership in Friends of Acadia includes a subscription to the Journal. Join Now »
TABLE OF CONTENTS
Features:
Snowshoes are Ticket to Winter's Wonders: Snow, Cold, No Obstacle To Outdoor Adventure
By Maude Kusserow
Bike Boom Affects Recreational Ecology: Electric Motorized Bikes Driving More Use
By Devon Brock-Montgomery and Rebecca Stanley
Acadia's Wildlife Prepare for Winter: Wondrous Feats of Migration, Hibernation, and Adaptation
By Lynn Fantom
Crews Ready Acadia for Seasonal Slumber: Buildings, Pipes, Roads, and Vehicles Need to be Ready
By Earl Brechlin
Teachers Hone Outdoor Skills: Teacher Fellows, Outdoor Classrooms, Inspire, Excite
By Stephanie Clement
Perspectives:
• President's Message: Acadia Youth are It's Future
• Superintendent's View: A Rugged Hike as Inspiration
• Donor Profile: 'Playing' is Volunteer's Latest Way to Give
• Chair's Letter: Reflections on Summer's Highlights
• Special Person: Newsman Shares Wonders of Acadia
• Transportation Update: Draft Plan Eyes Fix for Acadia
• Honorary Trustees Remembered: Lifetimes of Service and Philanthropy

Departments:

• Where in Acadia?
• Updates
• Recommended Reading
• Advocacy Corner
• New Donors
Cover Photograph: Snow blankets the branches of a white pine tree near Lower Hadlock Pond in Acadia National Park. Cover photo by Thomas Blagden
Friends of Acadia is a membership and volunteer organization, and our work is significantly powered by volunteer effort. The Journal is no exception, and we are grateful to all of the writers and photographers who generously contribute their time and talents to our publication.
Thank you to our 2019 Journal sponsors:
A.B. & J.R. Hodgkins
Acadia on My Mind
Acadia Shops
Acadia Park Company
Anne's Point Inn
Asticou Inn
Bar Harbor Bank & Trust
Bar Harbor Bicycle Shop
Bar Harbor Savings & Loan
Beal's Lobster Pier
Bluenose Inn
Burdick & Associates Landscape Design


The Claremont


Coastal Kayaking Tours
College of the Atlantic
Coplon Associates
Dawnland
Fair Trade Winds
Fiore Artisan Olive Oils & Vinegars
First National Bank
The Gallery at Somes Sound
Galyn's
Hale & Hamlin
Hannaford
House Wine
The Jackson Laboratory
John Williams Boat Company
Knowles Company
L.S. Robinson Company Insurance
LandVest
Lynam Agencies
Machias Savings Bank


MDI Grows


Michael L. Ross Law Office
Mount Desert Hospital
Mount Desert Islander
Nelson F. Goodwin Company
Oli's Trolley
Pedego Acadia
Seal Cove Auto Museum
Swan Agency Real Estate
Window Panes