Job Opening: Stewardship Assistant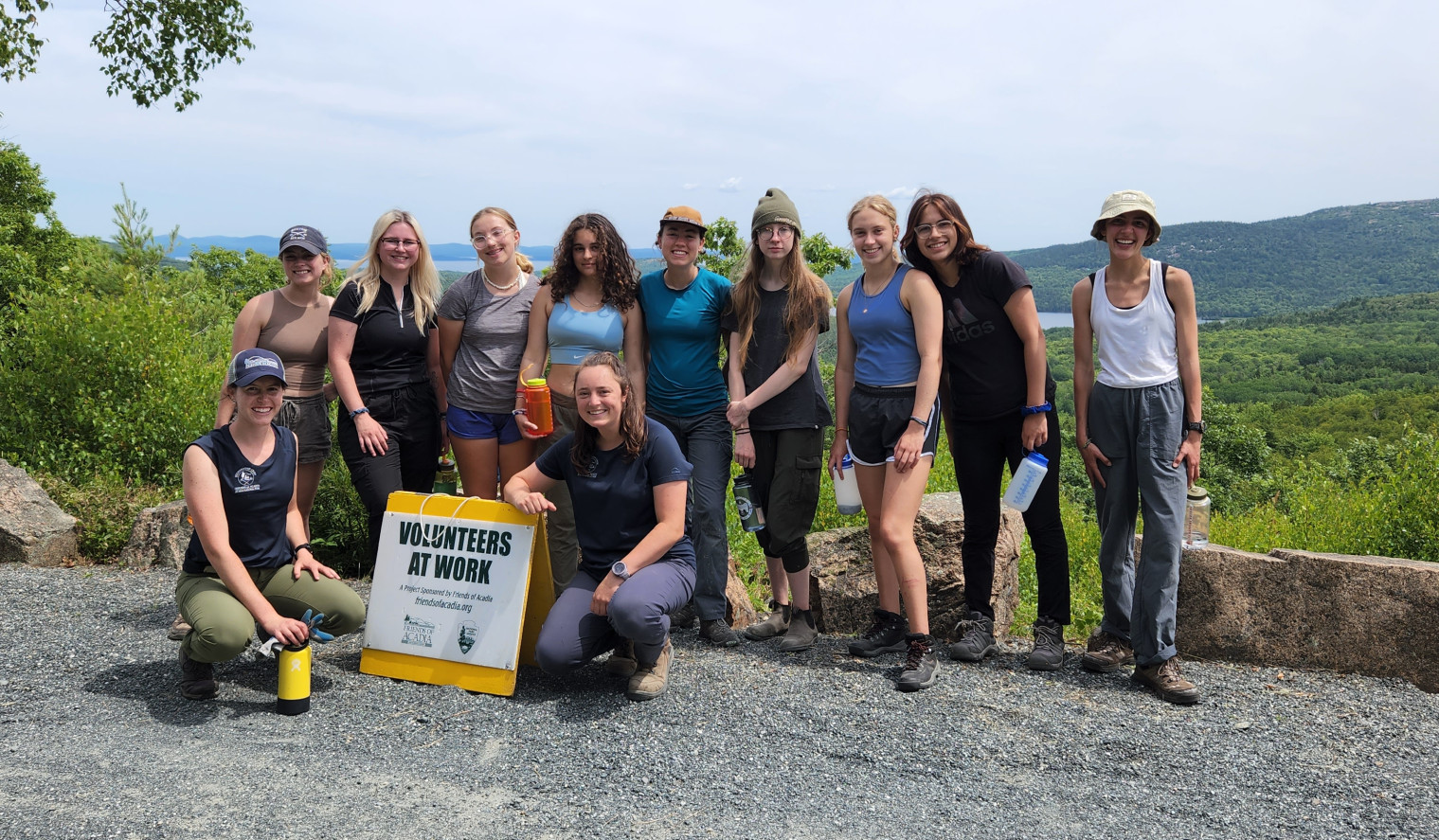 See all job openings on our Employment Opportunities page
Stewardship Assistant, Friends of Acadia
Acadia National Park, Bar Harbor, Maine
Compensation and Hours: $ 17.85/hr., 40 hrs./week
Service Periods: April 25 – November 10, May 30 – August 18
Do you enjoy maintaining trails in beautiful places? Do you enjoy empowering volunteers to connect with their public lands? Friends of Acadia is accepting applications for two seasonal Stewardship Assistants for 2023 in Acadia National Park.
The assistants work with the Friends of Acadia (FOA) Stewardship Coordinator and the Acadia National Park (ANP) Volunteer Coordinator, to facilitate a long-standing volunteer stewardship program on Acadia's trails and carriage roads. The program works with weekly drop-in volunteers and service group volunteers, contributing greatly to the maintenance of Acadia's natural and cultural resources.
Organization Overview
Friends of Acadia is an independent nonprofit organization, founded in 1986. Its mission is to preserve, protect, and promote stewardship of the outstanding natural beauty, ecological vitality and distinctive cultural resources of Acadia National Park and the surrounding communities for the inspiration and enjoyment of current and future generations. For more information, please visit www.friendsofacadia.org
Shared Assigned Duties of Stewardship Assistants
1. Leads volunteer projects, including but not limited to: drainage clearing, weeding on carriage roads, cutting vegetation from trail corridors, clearing trailside drainage, maintaining historic trail surfaces (i.e. resurfacing, check step installation, grade dips, etc.), and constructing bogwalk.
2. Prioritizes safety of volunteers by leading safety trainings for service groups on outdoor hazards, demonstrating proper tool usage, and responding to any incidents.
3. Facilitates volunteer sign-in sheets and waiver form completion during volunteer projects.
4. Promotes broad stewardship of Acadia National Park:
a. Serves as roving ambassador for FOA while out in the field.
b. Educates volunteers about FOA/ANP partnership.
5. Scouts and assists in planning work assignments for volunteer projects based on the annual maintenance schedule and park needs.
6. Performs weekly systems:
a. Tool distribution, collection, maintenance, inventory, and cleaning.
b. Van cleaning, fueling, and general maintenance.
c. Reports any equipment issues to the Stewardship Coordinator.
7. Works with FOA staff on special events such as FOA annual meeting, benefit auction, and local parades.
8. Performs other duties as assigned.
Additional Duties of Long-Season Stewardship Assistant (April 25th – November 10th)
1. Helps facilitate communication with volunteers regarding project coordination.
2. Serves as point of contact during Stewardship Coordinator's days off.
3. Assists with data reporting for volunteer projects.
4. Provides support for Earth Day Roadside Clean Up (April 29th), National Trails Day (June 3rd), and Take Pride in Acadia Day (November 4th).
Qualifications
● Excellent communication and people skills
● Patience and a sense of humor
● Flexibility to adapt to quickly changing work demands
● Passion for working with volunteers in the outdoors
● Volunteer, natural resource, trail work, and/or manual labor experience
● Outdoor leadership experience
● Familiarity with word processing and data entry
Training will be provided for this position, but knowledge of or willingness to learn about ANP trails and carriage roads is necessary. Must be eager and capable to maintain a positive attitude at a socially and physically demanding job, work in inclement weather (hot, cold, or wet), and attend to routine tasks.
Requirements
Applicants must pass a federal background check and have a valid driver's license for driving to job sites in ANP vehicle. Must be comfortable driving a 12-passenger van as well as large trucks. Certifications in basic first aid and CPR. Applicants must be capable of lifting up to 50 pounds, hiking 4 miles per day, and communicating via radio. Applicant must have appropriate personal outdoor gear.
Period of Service: Long Season Position April 25 – November 10; Short Season Position May 30 – August 18. Positions will most likely work 7:00am – 3:30pm Tuesday – Saturday, some weekend and holiday work required. Applicant must be available for the entire season; start and end dates can be flexible on an individual basis. Time off during the season includes 3 unpaid holidays (Memorial Day, Labor Day, Indigenous Peoples Day), up to 7 unpaid workdays to be scheduled with your supervisor.
Wages: $17.85/hr Pay period: Every two weeks. Housing: Applicants will be expected to find their own housing on or near Mount Desert Island. Work Environment: Much of the work is performed outdoors and may involve some risk or discomfort, office is based at ANP's Headquarters. Uniforms/Equipment: Uniform shirts, rain jacket, puffy jacket, hat, safety-toe boots, first aid kit, backpack, and personal protective equipment are provided. A stipend will be provided for purchasing pants that meet uniform standards.
Application instructions
Submit cover letter (indicating preferred service period), resume, and references in a single PDF document titled "last name_application" to nikki@friendsofacadia.org with "Stewardship Assistant Application" in the subject line by January 31, 2023. Call Nikki Burtis, FOA Stewardship Coordinator, at (207) 370-7938 with questions. Friends of Acadia is an Equal Opportunity Employer.
Friends of Acadia is an Equal Opportunity Employer. Friends of Acadia is an independent nonprofit organization, founded in 1986. Its mission is to preserve the outstanding natural beauty, ecological vitality and cultural distinctiveness of Acadia National Park and the surrounding communities, and thereby to ensure high quality experiences for visitors and residents.