By Lisa Horsch Clark, Friends of Acadia Director of Development and Donor Relations
For years, I have heard about the Philadelphia Flower Show from Friends of Acadia members and certainly had put it on my bucket list to attend in the future. But it wasn't until the Philadelphia Horticultural Society (PHS), the host of the event, and the National Park Foundation teamed up to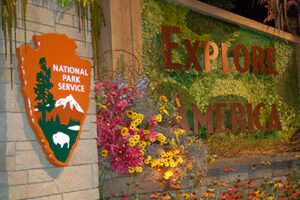 celebrate the National Park Service's centennial with "Explore America: 100 Years of the National Park Service" that I booked my flight to go.
Shawn Keeley, Senior Development Office at Friends of Acadia, had arranged for an early morning private tour with welcoming remarks from FOA's president David MacDonald and the society's new president Matt Rader. Even with expert docent Susan Yeager leading my tour group, I was a bit overwhelmed by the vastness of the show and the hundreds of exhibits.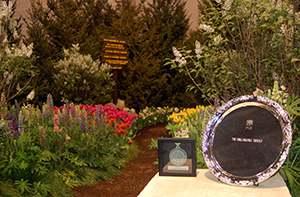 One of our first stops was the Acadia display designed by J. Downend Landscaping, which took home the Philadelphia Trophy in the landscape design class. While not specific to the park, it did represent the beautiful public and private gardens of MDI, including the Wild Gardens of Acadia. I took the opportunity to remind all my tour mates that the lupine on display (lupinus polyphyllus) is not native to the park or the island and can be rather destructive to habitats by chocking out native plants like the Monarch butterfly's favorite plant, milkweed. Please don't hate me for mentioning it, Miss Rumphius.
As I scrolled through my photos of last Monday's adventure at the Pennsylvania Convention Center, I realized that the flower show not only exhibits beautiful landscapes and flower specimens but serves as a place of art and wonder.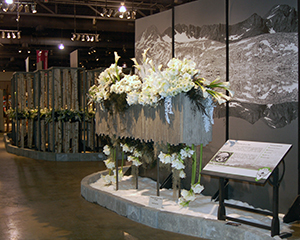 The most beautiful to my eye? Schaffer Designs "Ansel Adams and the National Parks" exhibit which paired historic national park photos by Adams with sweeping floral arrangements. The exhibit went on and on but I couldn't get enough of it.
And if I was presenting awards? My award for bravest, best told story would go to Stoney Bank Nurseries for their "Yellowstone After the Fire" exhibit. In a giant convention center full of beauty, the designers chose to showcase the real life destruction of the fires of the 80s including burnt trees and stumps along with the rebirth of the landscape with seedlings of early successional plants and Yellowstone's iconic wolf population, a great success story of its own.
The 2016 Flower Show was a fantastic celebration of our national parks during this milestone year. Visit www.acadiacentennial2016.org to learn about Acadia's Centennial, our many partners, and a calendar of events for the year.
Lisa Horsch Clark, seen here with flower show friends, has been the Director of Development at Friends of Acadia since 2005.