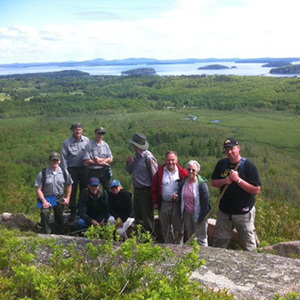 Celebrating Acadia's Trails
Saturday, June 4, 2016
Discover, enjoy, and care for Acadia's magnificent 130-mile trail system and FOA-sponsored Village Connector Trails and community trails, accompanied by park trail crew and interpretive staff members.
Look for an extra-special event for National Trail's Day in 2016 during the Acadia Centennial. Acadia National Park Poet Laureate and Trail Crew member Christian Barter will give a short reading and speak on the connection between trailwork and poetry. And as in past years, the day will feature a hike and a volunteer work project.
Free and open to the public. Please register now! »
If you are interested in volunteering on the trails and carriage roads during the rest of the year, please visit www.friendsofacadia.org for more information.
Learn more about how Friends of Acadia benefits Acadia's historic trail system »
2016 Event Sponsors:
Bar Harbor Bank & Trust
The Bluenose Inn
Burdick & Associates Landscape Design
Cadillac Mountain Sports
Dawnland LLC
Fair Trade Winds
The First, N.A.
Galyn's
The Gallery at Somes Sound
John Williams Boat Company
The Knowles Company
The Lynam Agencies
Machias Savings Bank
Window Panes