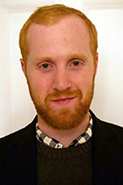 By Peter Logue, Filmmaker
Having grown up in Southwest Harbor, I have always found Acadia National Park to be a massive presence in my life. Seawall, in particular, captured my imagination from a very young age and has long been my favorite place in the world. However, there have also been stretches of my life that I certainly took my great fortune of living next to a national park for granted. While I always appreciated the sheer awesomeness of Acadia's landscape, it wasn't until the past few months that I began to consider and appreciate the more intangible impact that the park has on the people of Mount Desert Island and the surrounding communities.
Last fall, I was asked by Friends of Island History, the Acadia Centennial Task Force, and the Mount Desert Island Historical Society to make a documentary that could be used to kick off the centennial celebration of Acadia National Park. When I began to work on the project, I thought that the most important objective for me would be to visually capture the physical beauty of Acadia. That is, I reasoned, what millions of people come from all over the world to see each summer. Although that certainly did remain a focus of mine throughout production, it quickly took a back seat to what would become the most rewarding and enlightening part of the project for me: meeting with and interviewing a range of Acadia Centennial Partners. I went into each interview with a few basic questions about how this individual or organization plans on celebrating the centennial. Time and time again, these interviews evolved into a conversation about not just how they plan on celebrating Acadia, but why. Why are nearly three hundred partners across the state spending months to thoughtfully prepare their own unique way of honoring Acadia? Why is this an important thing to do?
Throughout the course of the nearly thirty interviews that I conducted for the film, I began to truly see what Acadia means to our community. I conversed about ways in which the presence of the park drives our local economy, enables us to lead inspired lives, and gives us our greatest responsibility as stewards. I re-learned the incredible story of how a group of citizens, (the work began much sooner) led by John D. Rockefeller, Jr., George Dorr, and Charles Eliot, banded together alongside many locals through a shared vision of preserving this land for all time. In a moment of immense pride, I realized the undeniable parallels between those visionary founders and the hundreds of members of our community who are rallying behind the park this year. I listened to dozens of stories about the first time someone stepped foot in Acadia, and how that moment never quite left them. I discovered how the magic of the park provides the foundation for all kinds of non-profits, individuals, and businesses to flourish in this area. I met a few of the several thousand people who volunteer their time each year to preserve the beauty of the park for all to enjoy. During the course of these discussions and the process of compiling them into a documentary, I grew to feel more connected to the community and more inspired by Acadia than I ever have before.
I hope that this film opens the centennial year by encouraging people to think about how fortunate we are to simply be here and to be surrounded by neighbors who are so genuinely motivated to recognize the importance of this national park. For many people, places like Acadia exist only in photographs or paintings or stories or their own imagination. For us, it is very much a part of our everyday lives. It is our backyard, a close friend and confidante, and a staple of our community. Let us honor all of those who made and continue to make Acadia possible by celebrating this centennial year with joy, respect, and a sense of adventure. Most importantly, let us celebrate by looking towards the future and ensuring that this is simply the first of many centennial celebrations for our beloved Acadia. It is our responsibility to protect this park and to instill a love of nature and a sense of stewardship in our younger generation so that Acadia truly does remain forever. After all, just think about all that this park has done for us.
Acadia Centennial 2016: Celebrate Our Past, Inspire Our Future — Teaser Trailer from Friends of Acadia on Vimeo.
Peter Logue is the Director of "Acadia Centennial 2016: Celebrate Our Past. Inspire Our Future."
www.peterloguefilms.com