By David MacDonald
From the Summer 2016 Friends of Acadia Journal
When Friends of Acadia board and staff members first began discussing a major capital campaign to coincide with the park's centennial in 2016, we shared a desire to think big with ambitious goals; but also to maintain focus in order to have deeper impact. We also recognized that the campaign and the centennial together offered a vital opportunity to build on FOA's past successes but not be limited by them—to look with fresh eyes at Acadia National Park's needs and how this organization's abilities can best serve them.
We forged early solidarity with park staff in identifying key issues facing Acadia as it enters its second century—both the most urgent challenges and the best opportunities for long-term benefit. We prioritized those requiring private investment and then tested those priorities through discussions with our supporters, partners, and surrounding communities. The resulting Second Century Campaign is providing critical support for four "strategic pillars" of Acadia's future—natural resource protection, visitor experience, trails and carriage roads, and youth engagement— where FOA can combine the best of our organization with the public resources and mission of the National Park Service. We have also committed to begin building an organizational endowment for FOA through this effort, to ensure that we will have the ongoing capacity to follow through on these commitments.
These focus areas under the Second Century Campaign will come as no surprise to regular readers of this Journal or followers of our work; indeed, the campaign during its quiet launch period has already given a boost to Acadia, as early leadership gifts have allowed us to start to pilot new initiatives and provide seed funding, staff resources, and research to the park.
Thus, as you may have been reading about initiatives such as the Cadillac Summit Stewards, or the Acadia Teacher Fellows, or the car-free mornings, or the Cromwell Brook restoration project, you have been seeing the early impacts of the Second Century Campaign—with thanks to the visionary donors willing to make the first commitments toward a set of very ambitious goals.
This campaign is structured to provide immediate start-up funds to allow timely progress at this historic juncture for Acadia, particularly in the area of transportation and visitor experience; while also creating long-term programmatic endowments to provide more sustainable funding over time for Wild Acadia, Tomorrow's Stewards, and carriage road maintenance.
All of us at Friends of Acadia are gratified that the Second Century Campaign is already helping Acadia prepare for a second century of conservation, inspiration, and partnership. We hope that some of the examples shared herein will inspire you to make a lasting contribution to Acadia's protection with a donation to help us meet or exceed our $25 million goal by December 31st, 2016. A lead gift of $5 million from the Shelby Cullom Davis Charitable Fund, together with major gifts and pledges from other early campaign supporters, has already put us within $4 million of our $25 million goal. Now every gift large and small is important to help close the gap before the end of Acadia's centennial year. We invite you to be a permanent part of this centennial effort.
To make a gift to the Second Century Campaign or learn more about the programs it will support, please contact David MacDonald at david@friendsofacadia.org or visit www.friendsofacadia.org.
WILD ACADIA
By taking a comprehensive approach to park watersheds such as Cromwell Brook, FOA's Wild Acadia work is coordinating the efforts of multiple partners and allowing the park to pursue strategies that will lead to healthier, more resilient streams, forests, and wildlife. FOA is partnering with the Maine Natural History Observatory to establish baseline data on factors like water quality and soil chemistry, assisting the Town of Bar Harbor in pursuing fish-friendly culverts where town roads cross the brook; and working with College of the Atlantic faculty and students on stream monitoring. The project has "revolutionized" Acadia's approach to ecosystem management, according to the park's Chief of Resource Protection, Becky Cole-Will.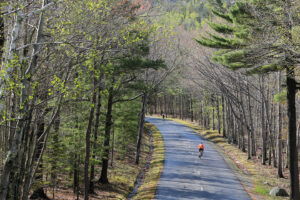 THE ACADIA EXPERIENCE
With visitation to Acadia rising by 10–15% annually, and iconic sites like Cadillac Mountain facing vehicular gridlock at peak times, park officials have embarked on an in-depth transportation plan for the first time in recent park history. Friends of Acadia is providing critical funding and staff support to allow the park to gather data, model visitor use, pilot new approaches, and improve visitors' experiences while the planning process is underway. We advocated for the park to experiment with car-free mornings and also to be part of a pilot program that now allows visitors to buy their park entrance pass on-line. FOA is prepared to help with additional forward-looking implementation strategies to improve the visitor experience and protect park resources.
CARRIAGE ROADS AND TRAILS
Acadia's carriage roads are where Friends of Acadia first exhibited the power of public-private partnerships, through a funding campaign in the early 1990s that saw the 45-mile system restored and an endowment established for its ongoing upkeep. Twenty-five years later, public use of the system continues to grow, as do the costs of upkeep and our understanding of the extent of the maintenance required to preserve these cultural and recreational gems. Miles of "back drains" constructed in the 1930s and critical to the roads' integrity have been uncovered in recent years, and dozens of scenic vistas documented for restoration. FOA has helped already through the purchase of new equipment, providing private matching funds to attract federal Centennial Challenge grants, and enlisting volunteers to help with the work. The campaign seeks to increase the existing endowment substantially for long-term sustainability.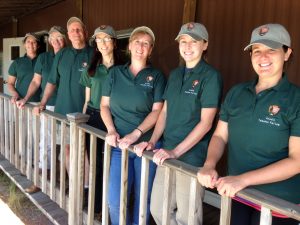 TOMORROW'S STEWARDS
Acadia National Park is increasingly relying on FOA to provide more opportunities for youth to become more involved with the park. More Maine schoolchildren are able to participate in field trips at Acadia, thanks to our expanded transportation scholarships; and more opportunities for seasonal employment for teens and young adults now exist in Acadia and at FOA. Meanwhile, our Acadia Teacher Fellows program is the largest of its kind in the nation—with seven teachers each summer working and immersing themselves in Acadia, and then incorporating their experiences into their curriculum when they return to the classroom in the fall. The campaign will add financial capacity to these programs and ensure that we are benefiting from the involvement and leadership of the next generation of park stewards.
CAMPAIGN LEADERSHIP
Friends of Acadia is grateful for the committed community members who have stepped forward to help lead the Second Century Campaign. Our Honorary Chairs, Mr. David Rockefeller and Senator George Mitchell, have embodied public service and generosity here at Acadia and throughout the world for decades. Campaign Chairs Anne Green, Rob Leary, and Ann Rockefeller Roberts each have deep personal love for Acadia and have worked tirelessly to put this campaign on a path toward success. And our lead donor, the Shelby Cullom Davis Charitable Fund, has provided the motivation for many others to join them through a $5 million challenge grant to the Second Century Campaign. As FOA Board member Andrew Davis comments: "My family has supported Acadia National Park for many years because we know that it is a national treasure enjoyed by millions. It is an honor to be part of an organization like Friends of Acadia and its work to sustain the park."
Use of Second Century Campaign Funds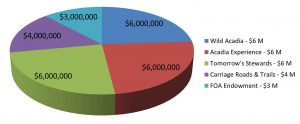 Second Century Campaign Honorary Chairs
Senator George J. Mitchell
David Rockefeller
Chairs
Anne Green
Rob Leary
Ann Rockefeller Roberts
Steering Committee
Gail Clark
Berno Hamilton
Cookie Horner
Jan Kärst
Meredith Moriarty
Lili Pew
Edward L. Samek
Nonie Sullivan
Christiaan van Heerden
Photos: Cars search for available parking spots in the Cadillac Summit lot (NPS/Fred Mason); Celeste Mittelhauser of Maine Natural History Observatory and soil scientist Matthew Dorman from the USDA Natural Resources Conservation Service take soil samples at Great Meadow (FOA/Julia Walker Thomas); Cyclists enjoy the Loop Road during a car-free morning (FOA/Aimee Beal Church); Volunteer clear drainage on a curving stretch of carriage road south of Aunt Betty Pond (FOA/Aimee Beal Church); Seven Acadia Teacher Fellows live and learn in Acadia every summer, thanks to funding from Friends of Acadia (NPS).