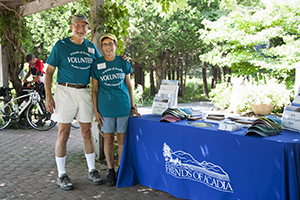 The Membership Table at Jordan Pond
Join this fun group of Friends of Acadia member-volunteers at the membership table at the Jordan Pond House.  During the summer, the membership table volunteers personally tell the story of citizen-stewards preserving and protecting Acadia National Park, and help park visitors to join or renew their membership in Friends of Acadia.  Training is provided, and you can volunteer at times that meet your own schedule.
Friends of Acadia Office Volunteers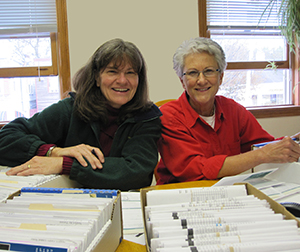 With year-round opportunities in the Friends of Acadia office, volunteers help with data entry, prepare mailings, and otherwise lighten the load on our staff—a much-appreciated service that helps maximize the effectiveness of our organization.
The Schoodic Committee
The Schoodic Committee of Friends of Acadia is open to anyone interested in volunteering at the Schoodic District of Acadia National Park.  Typical projects include shoreline clean-ups and trail work once a month in the spring, summer, and fall. Committee members also receive email notification of issues relating to Acadia's Schoodic District.
The Trenton Village Connector Trail Committee
With support and volunteer help from Friends of Acadia, this group of Trenton citizens built and now maintains the Trenton Trail, a public walking/nature trail behind the Acadia Gateway Center. With interpretive panels and a boardwalk out to a native heath—one of Trenton's best-kept secrets—the trail was inaugurated in June 2013.
To learn more about these and other volunteer opportunities, contact Friends of Acadia at 207-288-3340 or use our volunteer information request form.