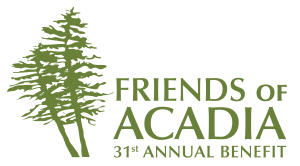 Friends of Acadia's Annual Benefit is our most important fundraising event of the year. The success of the event and the conservation work it funds in Acadia National Park would not be possible without the generosity of Benefit Patrons. Patrons receive tickets to the Patron Preview Party (as space allows), tickets to the Benefit according to Patron level, and recognition in the Benefit Auction Preview catalog, event invitation, and at the event.
The 2020 Patron Preview Party will be hosted by Robert Stolar and Lesley Draper at their home, Summerwind in Northeast Harbor, on Wednesday, Aug 5. The Annual Benefit will be held at the Asticou Inn in Northeast Harbor on Saturday, August 8.
For questions about the Patron Program or Annual Benefit, please contact Shawn Keeley at shawn@friendsofacadia.org or 207-288-3340.
Register Now:
30th Annual Benefit Patrons
Our greatest appreciation to the Patrons of the Friends of Acadia Benefit. Their support makes our special event possible.
BENEFACTORS' CIRCLE
Charles Butt
Ruth and Tristram Colket
Kate and Andrew Davis
Lesley Draper and Robert Stolar
The Honorable C. Boyden Gray
Janette and Bob Noddin
Ruth and John Overton
Emily and Mitchell Rales
Lalage and Steven Rales
Diana Davis Spencer
Maureen and William Stewart
Christopher Toomey
Melissa Butler Tuckerman and Oliver Tuckerman
Julia Merck Utsch and Hans Utsch
Melissa and Reeve Waud
Shelby White
Diana and William Wister
SPONSORS
Bill Atterbury
Julie Banzhaf-Stone and Steven Stone
Brian Bizub and Anthony Sgarlata
Edith Dixon
Donna and William Eacho
Carol and Paul Fremont-Smith
Anne and Jim Green
Penelope Harris
Elizabeth and Edward Johnson 3d
Nora and Robert Leary
Elizabeth and Arthur Martinez
Mary Morgan and David Callard
Louisa and William Newlin
Susan and Stephen Paneyko
Diana Rowan Rockefeller
Martie and Edward Samek
Nonie and John Sullivan
Maud and Jeffrey Welles
Kim and Finn Wentworth
Lynne Wheat and Thomas Peterffy
Wendy Wood
FRIENDS
Barbara and Mark Amstutz
Augusta and Richard Ayer
Julie and Bobby Baker
Bob Bell
Marie and Gerald Berlin
Melissa and Perot Bissell
Antoinette and Benjamin Brewster
Linda and Gernon Brown
Ellie and Bill Buchanan
Nancy and Duncan Burke
Ildiko and Gilbert Butler
Mary Ann and Harry Charlston
Gail and Ham Clark
Hannah and Tim Clark
Tanny Clark
Whitney Kroeger Connor and Philip Connor IV
Evon and Thomas Cooper
Margaret and Jay Costan
Malinda and Alan Crain
Gale and Shelby Davis
Sydney Davis
Sunny Dupree
Dianna and Benjamin Emory
Heather Richards Evans
Ann and Brooks Fenno
Leslie and Joseph Fogg
Emily Frick
Marion and John Gay
Amy and Phil Geier
Nora Gibson and William Hudson
Mazzie and Charlie Gogolak
Linda and Sid Goldberg
Carol and Alexander Grant
Eleuthera and Temple Grassi
Carol and Richard Habermann
Laura and Bernard Hamilton
Margaret and Clay Hamner
Janie and J.B. Harrison
Bliss and John Hays
Judy Holmes and James Progin
Maggie and Jack Kelley
Lydia Kimball
Susan and John Klein
Vicki and Norty Knox
Susan and Keith Kroeger
Sandra and Mark Kryder
Linda and Philip Lader
Elizabeth and Douglas Lake
Sydie Lansing
Julia Leisenring
Cynthia Livingston and Hank Schmelzer
Jada and Douglas Loutit
James F. R. Loutit
Judith and James Loutit
James Lowenstein
Patricia and Lance Mahaney
Louise and Jim McCabe
Suzanne and Grant McCullagh
Charles H. Merriman III
Betsy and Quinn Mills
Beth and David Nixon
Ellanor and Russ Notides
Nancy O'Connor and Steve Rush
Beverly and Peter Orthwein
Daria and R. Anderson Pew
Polly Pierce
Kathie Pontone and Mitch Kolkin
Bambi Putnam
Diana and Roland Reynolds
Barbara and John Robinson
Adele Schaeffer
Katie and Tony Schaeffer
Terri and Gregory Scott
Urling and Robert Searle
Holly and Christopher Shepherd
Scilla Smith
Julia and George Strawbridge Jr.
Charlotte and David Thibodeau
Sandra Urie and Frank Herron
Bonnie and James Van Alen
Christiaan van Heerden
Robin and Paul Vermylen
Kathleen Vignos
Ariane Wellin
Ann Marie and John Weston
Louise Hartwell White and
William White
Sydney and Jonathan Winthrop
Dick Wolf
Anna and Charles Woodward
Caryl and Michael Wray
Patricia Wright