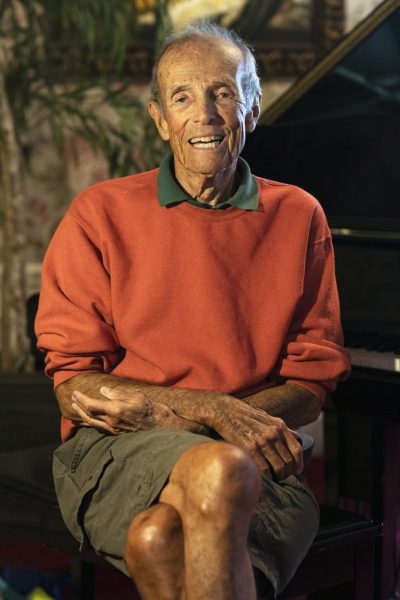 By Earl Brechlin
From the Winter 2018 Friends of Acadia Journal
Howard Solomon makes beautiful music for Friends of Acadia.
A long-time FOA supporter at every level of the organization, Solomon shares his love of music each summer by tickling the ivories several evenings a week in the lounge at the Balance Rock Inn in Bar Harbor.
"Music has always been a big part of my life and playing at the inn has been a great experience," Solomon says.
Taking a short walk over from his nearby home, he plays for free, happy to have access to a grand piano upon which to hone his talent. Guests gather round, sometimes making polite requests, and more important for FOA, putting tips in his jar. You see, along with his regular membership, and frequent generous donations, Solomon also gives all the tips he receives to FOA.
In return, guests at the inn get to enjoy some of the several hundred tunes Solomon plays regularly. "I don't sing. I just play songs from the great American songbook," he continues. "I do songs by Gershwin, Jerome Kern, or maybe Cole Porter, and I also give plugs for folks to join Friends of Acadia."
Solomon, now a vibrant 87-year-old, first learned how to play when he was age 5.
He shelved his keyboard aspirations for several years, switching to the ukulele while at Yale and Columbia Law School, and guitar while in the Army.
Eventually, he came back around to the piano. "I noticed the guy at the piano always seemed to be surrounded by beautiful coeds," he laughs.
Inspired by a colleague to come to Mount Desert Island for a vacation, Solomon and his wife Dee, who passed away two years ago after 52 years of marriage, soon found themselves visiting Maine regularly.
Following the path of so many others, they stayed at Blackwoods Campground, in bed and breakfasts, and then graduated to renting a house. Eventually, after Howard retired from two decades as a mediator in labor dispute resolution with the National Labor Relations Board, other federal agencies, and in India, the couple built a home in Bar Harbor and divided their time between MDI and Maryland. He now spends four months in Bar Harbor and eight months in Bethesda. "I really cherish my time here," he says. "There's nothing like small-town living."
During those early years, Solomon befriended Ken Sergeson through involvement with the Downeast Outing Club. One of the members of that group, Marianne Edwards, went on to help found FOA.
The camaraderie of working together on Acadia's trails, a supportive park staff, and the close relationships he and Dee formed with other park lovers, only deepened their connection to the park and their desire to do more with FOA. "We were, and are all, dedicated to the same thing," Solomon says. "We were trying to give back, to do something to help Acadia."
Over the years, Solomon has served as a volunteer trail crew leader, membership table volunteer, and FOA board member. He remains an Honorary Trustee. In all, he and Dee contributed thousands of hours of volunteer labor to the park. And, he is credited with founding the organization's "Imprecision Drill Team" that performs regularly in local parades.
Inspired by the marching units featuring people wearing business suits and doing coordinated movements with briefcases he'd seen in places like New York and Washington, D.C., Solomon started an outdoorsy FOA version. Participants march in pre-set patterns with rakes, shovels, wheelbarrows and plastic buckets during the Bar Harbor 4th of July Parade and the Flamingo Festival Parade in Southwest Harbor.
"Howard is one of the people who makes FOA feel like an extended family. He clearly loves Acadia, but he also cares deeply for the people here. That's a powerful combination and a constant source of inspiration for many of us," says FOA President David MacDonald.
At the Balance Rock Inn, Solomon plays later in the evening, after a prime time show by area entertainer Roberta DeMuro. "It's a quieter time of night. Some folks just listen, others appreciate the background for quiet conversations," Solomon explains. On most nights a half-dozen guests or so will gather round. Other evenings it is more.
"Sometimes it's only a few dollars in tips but it all adds up," says Solomon. One night, an older couple spent an hour listening to him play. "The husband slid me $50 while his wife was out of the room," he explains. "As they were leaving she gave me a $100 bill."
Solomon explains that he gets far more out of the experience of playing at the Balance Rock Inn than those who enjoy his music. "It's a real blessing and great privilege to be there. I have a great view out over the Shore Path to the bay. I look out and see the water and get to play music. "I come back so relaxed," he continues. "Without music, life would be a mistake."