31st Annual Benefit
Re-envisioned
Saturday, August 8, 2020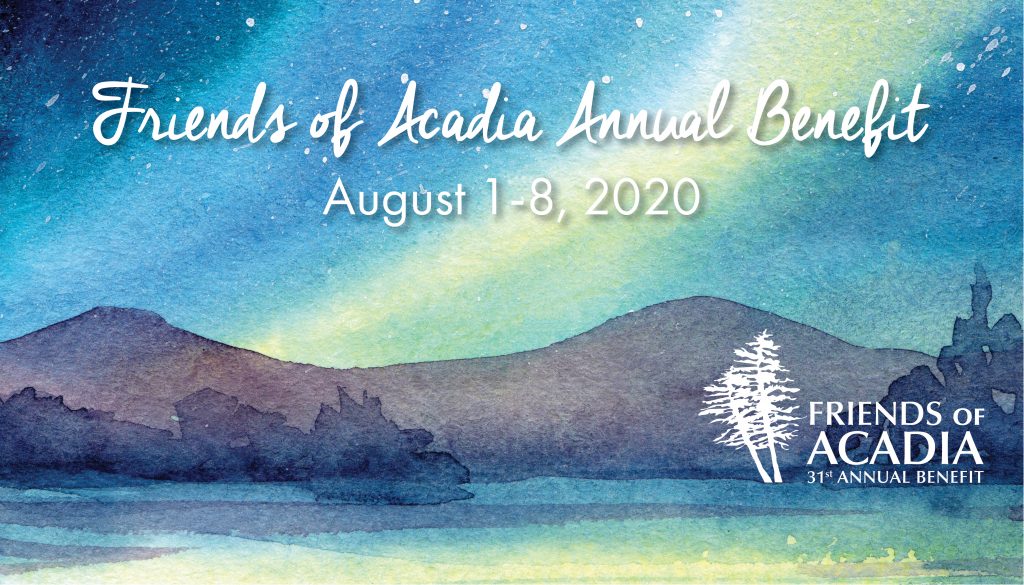 For 30 years, Friends of Acadia's Annual Benefit has been a highlight of the summer season and a wonderful way to bring our community together to celebrate the park while raising critical funds for conservation projects. Due to COVID-19, FOA will not hold the 31st Annual Benefit as in in-person event but we are excited to offer a virtual event program that will accomplish the same two goals. FOA's Benefit Committee, led by co-chairs Laura and Vassar Pierce, and FOA staff have re-designed the Benefit to take place on an online platform the evening of Saturday, August 8.
This year there is no ticket costs, all you have to do is register via your phone or computer.
To Register
PHONE: text the word: ACADIA to 843-606-5995 on your phone and follow the link to register
COMPUTER: visit EVENT.GIVES/ACADIA and click LOGIN/REGISTER
See auction items ahead of time at EVENT.GIVES/ ACADIA or stop by
Mount Desert 365 (147 Main Street, Northeast Harbor, ME) to see auction items on display.

If you have any questions, contact Shawn Keeley at shawn@ friendsofacadia.org or 802-233-6863
What we have planned…
SILENT AUCTION August 1 – August 8
featuring long-time Benefit artists and other unique offerings
LIVE EVENT August 8, 7:00 – 8:00 p.m.
Live Auction – bid on a stay on St. John in the US Virgin Islands, a getaway in the Loire Valley, France, and more
Paddle Raise – Christie's auctioneer Lydia Fenet will help FOA raise money for the Acadia Resilience Fund, which will help FOA meet challenges related to COVID-19 such as funding mobile ranger studios to connect kids to the park, hiring local workers, and addressing other challenges related to the pandemic.
About the Friends of Acadia Annual Benefit
The Friends of Acadia Annual Benefit has become a wonderful tradition celebrating conservation, friendship, and philanthropy, all to benefit Acadia National Park. Since its inception in 1990, the Benefit has raised over $15 million for Acadia; providing critical funds to support new and ongoing programs in Acadia that engage youth, protect natural and cultural resources, and contribute to a quality visitor experience in the park.
Benefit Patrons help to underwrite the costs of the event. Patron contributions can be made here.
A highlight of every Benefit is the Paddle Raise. Proceeds from the 2020 Paddle Raise are helping to fund the Acadia Resilience Fund to help the park address challenges related to the pandemic and Benefit participants will have the opportunity to virtually raise their paddles to support this initiative.
OUR SPECIAL THANKS to the Benefit Committee, this year's co-chairs Laura and Vassar Pierce; Chilton Trust, our Presenting Sponsor; and to Mount Desert 365 for donating the display space.