How to Minimize Your Impact on Acadia
If each visitor to Acadia walked off trail, took a rock, or left trash, the adverse impacts would quickly accumulate, impairing the environment for decades to come. Each summer, the Summit Stewards educate thousands of visitors on the trails about Leave No Trace. To reach visitors before they hit the park, the Acadia Digital Media Team and Summit Stewards created a series of short videos (view the combined videos below) to educate visitors about the 7 Leave No Trace Principles in Acadia National Park.
KNOW BEFORE YOU GO
Check for current Acadia closures due to weather, maintenance, and wildlife. Don't forget to wear layers and bring water and a map.
STICK TO TRAILS
There are over 150 miles of hiking trails in Acadia. By sticking to the center of the trail, you can prevent erosion and trail widening.
TRASH YOUR TRASH AND PICK UP POOP
Keep a small bag with you to secure and dispose of waste. Trash accidentally carried by the wind is a frequent occurrence on Acadia's summits and coastlines.
LEAVE IT AS YOU FIND IT
Summit trails are marked with rock structures called Bates cairns. Building your own rock stack or tampering with the cairns can mislead hikers and cause soil erosion.
BE CAREFUL WITH FIRE
The only legal place to build a fire in Acadia National Park is in designated fire rings at campgrounds and picnic areas with locally acquired firewood.
KEEP WILDLIFE WILD
You can protect Acadia's wildlife from being harmed by giving them their space and keeping food and trash secured.
SHARE OUR TRAILS AND MANAGE YOUR PET
Dogs must be on a leash. The carriage roads host multiple users—horses have the right of way and bicyclists yield to all.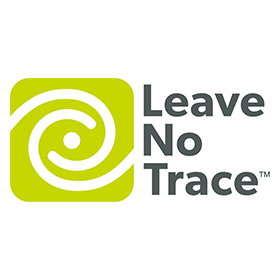 Leave No Trace is © 2004 by the Leave No Trace Center for Outdoor Ethics