FRIENDS OF ACADIA E-NEWS | March 2016


Dear Friends,

After an unusually warm winter, the general consensus here was that spring would come early and in full force. We were wrong—Monday, the second day of spring, brought six inches of fluffy white powder to Acadia National Park. The carriage roads, which had been "closed for mud season" for several weeks, temporarily re-opened so that Acadia-area residents and visitors could enjoy some spring skiing.

Otherwise, Acadia revelers have enjoyed the benefits of a warm winter. Many of Acadia's historic trails were clear and ice free, providing peaceful off-season hiking. And many happy cyclists have been seen on the closed sections of the Loop Road and even the Cadillac Mountain Summit Road! Aren't we lucky to have these superb trails, roads, and carriage roads to enjoy in so many ways? Thank you for your part in ensuring they stay that way.
---
Road Conditions: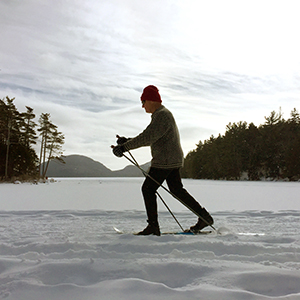 The carriage roads are temporarily open for spring skiing but will close again when the snow melts. The carriage roads close in early spring to prevent surface damage when when they are especially soft and susceptible. Please help protect them by staying off when they're posted—a road that seems hard at the trailhead may hide "wicked" squishy sections. The park will re-open the carriage roads to bicyclists, pedestrians, and equestrians once they're entirely dry.
The Park Loop Road is also still closed for the winter season. Two sections remain open to vehicles: Ocean Drive (between Sand Beach Entrance Station and Otter Cliff Road) and Jordan Pond (with access from Jordan Pond Road in Seal Harbor). Once the snow melts again the closed sections will be perfect for bicycling; if you are in the area, make sure to take advantage of the special experience of a car-free Loop Road! The closed sections will re-open around April 15.
---
Park Passes Now Available Online: Getting an entrance pass for Acadia just got a lot easier. Senators Angus King and Susan Collins pressed the National Park Service to modernize the sale of park passes, and the pilot program kicked off with Acadia on February 16. Entrance passes that are purchased online can be printed or stored on a mobile device. Park staff will scan a code on the pass to validate it. Acadia was the first of a group of five national parks to pilot electronic entrance passes.
---
Book Launch Party!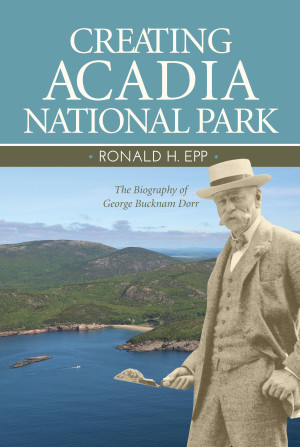 Please join us on Thursday, April 7, from 6:30 to 8:30 p.m., at the Jesup Memorial Library in Bar Harbor to toast the publication of the first biography of the man known as the "Father of Acadia". Creating Acadia National Park: the Biography of George Bucknam Dorr by foremost Dorr expert Ronald H. Epp is based on two decades of research both in the US and abroad, including federal, state, and private archives, newly-discovered and uncatalogued sources, and in-person interviews. This book will appeal to readers who care about the philanthropic roots of land conservation, those interested in what has been celebrated as "America's Best Idea," and above all, those who know and love Acadia National Park.
Ronald Epp will give a brief reading then be available to sign books (copies will be on sale at the event) while we mingle, enjoy wine and hors d'oeuvres, and celebrate George Dorr's many contributions to the coastal Maine communities and landscapes of Acadia National Park. Free and open to the public. RSVP to rsvp@friendsofacadia.org by April 4.
If you can't make it to the party, Sherman's Bookstore will have Creating Acadia National Park on the shelves April 1 (we happen to know they also process online orders). Or ask your local bookstore to carry it and spread the Dorr love. Friends of Acadia members can also purchase copies in person at our Bar Harbor office.
---
Register for the Roadside Cleanup


Join friends, family, neighbors, and coworkers for the 17th annual Earth Day Roadside Cleanup, to collect a winter's worth of trash from roadsides on MDI and Trenton. This year's cleanup is Saturday, April 30 from 8:30 to 11:30 a.m. Participating in the cleanup is a great way to take pride in your community, get outside, and celebrate spring, FOA-style! To be assigned to a cleanup location, please register now. Online registration will close Sunday, April 24.

Work with us in the park

Want to spend the summer working with us in Acadia National Park? Another round of seasonal job opportunities for the coming summer/fall season has been posted to our website. Many of our seasonal jobs are geared toward teens and young adults, and offer a terrific summer experience outdoors in Acadia! We currently have Acadia Youth Conservation Corps and Wild Gardens of Acadia Intern positions posted online.
Header Photo: A snowy morning on Northeast Creek in Acadia National Park. Friends of Acadia photo by Julia Walker Thomas.