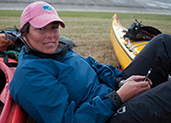 By Julia Walker Thomas, Friends of Acadia Communications Assistant
Acadia is one of my favorite places in the world, and as the communications assistant at Friends of Acadia this summer I am excited to share stories about the park and the people who love it. One subject I will be looking at is car-free visitation: its availability and steps FOA is taking with our partners to further improve accessibility and reduce congestion and carbon emissions in Acadia. Being able to access most of the park without the use of a personal vehicle will become more and more important as fuel costs and congestion on our roadways both continue to rise.
This weekend will be an important milestone for car-free visitation in the park; on Saturday we will be celebrating National Trails Day by officially opening the new Quarry Trail and Otter Cove Trail. These trails will connect Blackwoods Campground and the village of Otter Creek with Ocean Drive and the Ocean Path via Otter Cove, letting visitors see more of Acadia without having to drive or interact with vehicles while hiking. This is exciting—giving visitors who are camping in Blackwoods or staying in Otter Creek the ability to have more of a "backcountry" feel to their experience and access the popular Ocean Path sights Champlain/Gorham trails without driving all the way around the Loop Road or walking along the road. One of the best parts of being out in Acadia is getting away from the hustle and bustle of everyday life. With these new connector trails, we will be able to travel more freely through the park, accessing ocean and mountains, and most importantly, hike to our hearts desire.
I hope you will join us this weekend as we celebrate the latest stride toward an even more accessible park. There will be coffee and snacks at the Fabbri picnic area starting at 8:30am, and at 8:55 we will head toward Otter Cove Causeway for a ribbon-cutting ceremony. There will also be an optional trail work project following the ribbon cutting. You can register online or by calling 207-288-3340.
.