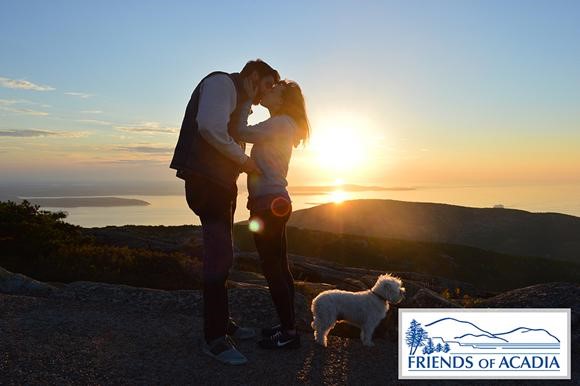 Dear Friends,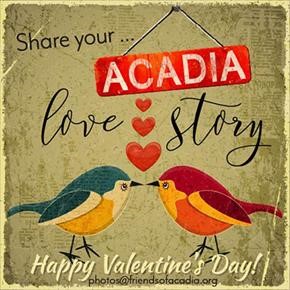 This is the month we celebrate love in Acadia—and not just because February is peak American Bald Eagle, and coyote mating season here in Maine. It's because this is the time of year we like to reflect on all the love stories from, and inspired by, this beautiful place. Last year, we asked you to share your stories of #AcadiaLove–we received more than 50 responses! There were chance meetings that turned romantic, relationships restored through time spent together in the park, proposals, weddings, and many other sweet stories that unfolded right here. View some of our favorite stories and photos, on our website.
This year we are again asking for your stories of love in, or inspired by, the park. Share your story using #AcadiaLove and tagging @friendsofacadia on public social media accounts, or email photos@friendsofacadia.org. Your story could be featured in our special Acadia National Park Valentine's Day Post!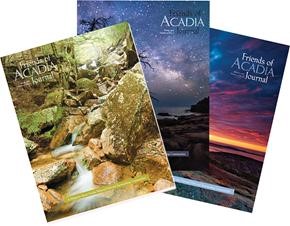 Give a Little Acadia Love
What better way to remind your loved one of shared happiness in Acadia than a Friends of Acadia gift membership for Valentine's Day? For a special rate of $35, you can give them a one-year membership with a gift package that includes a Friends of Acadia Journal, a lovely set of six "Acadia Night Sky" note cards, a member's calendar, and a Friends of Acadia decal. Plus, they will receive three issues of the Friends of Acadia Journal, a beautiful full-color magazine connecting them to the wonders of Acadia in every season. The special rate of $35 is valid through February 28, 2019. To order your Valentine's Day gift memberships, please click here to participate.
Give a Gift Membership
After the Shutdown
All of us at Friends of Acadia are deeply relieved that the partial federal government shutdown is over, but we are also mindful that though there was thankfully no physical damage to the park, it will be a while yet before Acadia National Park is back to normal. We welcome our friends at the National Park Service back to their jobs and offer our full partnership and support in jointly tackling the important work ahead. FOA will also continue to advocate with our elected officials to let them know that another shutdown must be avoided.
The handful of park rangers who were not furloughed did a tremendous job keeping an eye on Acadia, working long hours without pay and deserve our thanks for their commitment. FOA is also grateful for our supportive membership and for the people, businesses, and organizations in the surrounding communities who stepped up in so many ways to assist federal employees impacted by the shutdown, and who also treated the park lightly and respectfully, knowing that our collective stewardship was needed even more while Acadia was largely un-staffed.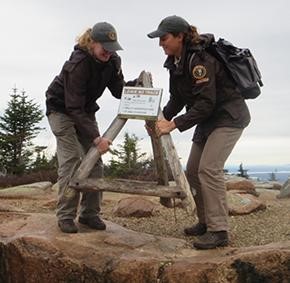 Work With Us in Acadia
Do you love Acadia and want to work with Friends of Acadia? Or, do you know a young person who is interested in a career in outdoor recreation, land protection, or digital media and wants to spend the summer working outside in a beautiful place?
There are job opportunities for the coming summer/fall season (and full time!) posted on our website right now. Many of our seasonal jobs are perfect for young adults and offer a terrific summer experience outdoors in Acadia National Park! Apply soon, deadlines are fast approaching.
Visit our website for more details: https://friendsofacadia.org/about-us/employment-opportunities/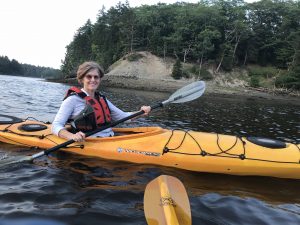 New Friend
Last month we welcomed a new member of the FOA team. Lisa Williams joined us for a completely new position—Communications Design and Web Associate, becoming the third member of the communications staff. Among her responsibilities are updating and expanding the website and contributing to FOA's digital and print design and publication projects.
Born and raised in Texas, Lisa eventually returned to reconnect with family roots in Maine. The holder of graduate degrees from the University of Virginia and Vermont College of Fine Arts, Lisa has more than a decade of experience in design and website work both in the private sector and for charities. Most recently, Lisa worked as a graphic designer for the "Health Journal" based out of Williamsburg, Virginia. She has operated her own communications firm, Indigo Art Design, with scores of area commercial and non-profit clients. An avid hiker, kayaker and occasional runner, she enjoys all forms of outdoor pursuits including spending time in Acadia National Park with her wife and their three dogs.
Business Members
Businesses can support Acadia National Park by becoming a Business Member of Friends of Acadia with a gift of $100 or $200 per year. Since its beginning, FOA has received generous support from local, state, and national businesses that sponsor publications and events. The overwhelming success of the Acadia Centennial Partners program in 2016 led Friends of Acadia to believe that businesses would be interested in a simple but longer-term partnership with FOA as a way of continuing to support the protection of Acadia. For a list of business members, visit the sponsorship page.
Thank you to our new and renewing business members: Bar Harbor Whale Watch and Vistra Energy.
Header Photo: A kiss after a sunrise proposal on Cadillac Mountain. August Melita