FRIENDS OF ACADIA E-NEWS | January 2017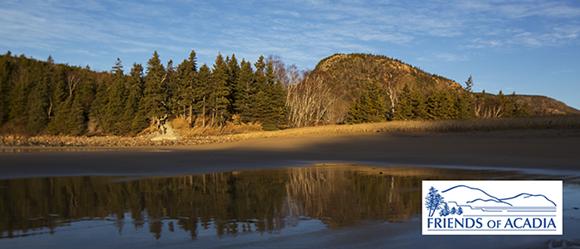 Dear Friends,
Happy New Year from all of us at Friends of Acadia…and welcome to Acadia's second century! We're excited to see what the future holds not only for all of us but for the generations yet to enjoy the park.
As you reflect on everything we have accomplished together, for Acadia, since FOA was established 30+ years ago, we hope you will think of all the milestones yet to come. The work of park staff and Friends of Acadia members and volunteers is never over—we need your help to insure that Acadia National Park's second century is as magnificent as its first.
Dawn of the Second Century
Thanks to a flurry of gifts at the end of 2016, we have met the goal for the Martha Stewart Challenge for the Second Century Campaign. But now we have another challenge grant to meet: a generous family has offered $500,000 to better fund the programs that will help protect Acadia's wildlife, ecosystems, carriage roads, and the Acadia experience that means so much to us all.
The Second Century Campaign will bring innovation, resources, and leadership to five vital and intertwined goals: Wild Acadia, The Acadia Experience, Carriage Roads and Trails, Tomorrow's Stewards, and the Friends of Acadia Endowment. Please make a gift to support the campaign and help us meet our current challenge grant goal.
Work in Acadia
Want to spend the summer working with Friends of Acadia in Acadia National Park? Or, do you know a young person who is interested in a career in outdoor recreation or land protection? January is the time of year when we begin posting seasonal job opportunities for the coming summer/fall season. Many of our seasonal jobs are geared toward young adults and offer a terrific summer experience outdoors in Acadia National Park!
Ridge Runner, Recreation Technician, and Cadillac Summit Steward positions will be posted in the coming weeks. We usually share job postings on social media, so follow us on Twitter or Facebook for timely announcements. Or check https://friendsofacadia.org/about-us/employment-opportunities/ weekly to be sure you don't miss the deadline for a job you are interested in.
Acadia Teacher Fellows
Do you know a teacher who would like to spend part of their summer teaching and learning in Acadia National Park? The Acadia Teacher Fellows program offers an amazing opportunity for hands-on learning about outdoor education and Acadia's resources. Teachers develop lesson plans and then share Acadia with their home classes when they return to school in the fall.
The National Park Service is now accepting applications from full-time, K-12 public school teachers for the Acadia Teacher Fellows program. Application deadline is March 1
Presidential Recognition
Speaking of Acadia Teacher Fellows, we recently heard from a past participant in the program (then called Teacher-Ranger-Teacher; since renamed Acadia Teacher Fellows). Delene Hoffner spent a summer in Acadia back in 2013. The program provided her with the funding to take her class to federally conserved lands near her school in Colorado, and she has since continued that tradition through the Every Kid in Park program this past year.
Delene's class wrote to President Obama last spring about the program and their experience. The president sent a personal response to the students as part of the National Park Week Celebration. How cool!
Read about Delene's experience through her own words: https://friendsofacadia.org/news-publications/friends-of-acadia-journal/my-summer-trt/. An update including President Obama's letter to her students can be found there.
Where Science, Nature, and Beauty Co-Mingle
Acadia connects young people with nature in so many ways. And the Friends of Acadia Journal can connect you with their life-changing experiences.
In the latest Journal, Natalie Overton writes about watching her younger brother gather important data as a citizen-scientist in the park. https://friendsofacadia.org/news/science-nature-beauty-co-mingle/
And Worcester Polytechnic Institute professor Frederick Bianchi writes about collecting audio recordings of Acadia's soundscapes with his students. https://friendsofacadia.org/news/acoustic-ecology-acadia-soundscapes/
Want to receive the Journal in your mailbox? Subscribe by becoming a member of FOA!
Header Photo: Early morning January light shines on Sand Beach and the Beehive. Friends of Acadia/Julia Walker Thomas. To see a timelapse of this sunrise, visit our Vimeo Page.
---