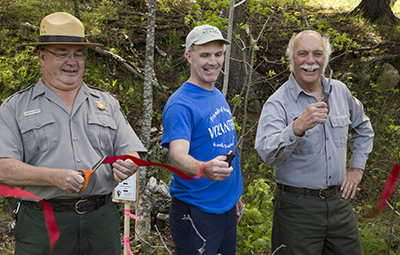 Inaugurating a new connector in Otter Creek
By Julia Walker Thomas and Aimee Beal Church
from the Fall 2014 Friends of Acadia Journal
One of the joys of backcountry camping is that simple act of unzipping your tent in the morning and stepping out into nature, knowing that anywhere you wish to go that day will be reached on your own two feet. Acadia is too small a park for backcountry camping, but starting this past June a new set of trails near Blackwoods Campground now offers visitors that same joy of finding adventures afoot. The brand-new Quarry Trail and Otter Cove Trail—connecting Blackwoods Campground with Ocean Drive and the Ocean Path through Otter Cove—were opened on National Trails Day, Saturday, June 7th, with more than 40 trail enthusiasts turning out to watch the ribbon-cutting and take part in an inaugural hike. Construction of these trails was in large part funded through Friends of Acadia's Acadia Trails Forever endowment, and the Acadia Youth Conservation Corps and some 200 Friends of Acadia volunteers helped National Park Service crews build them.
The trails open some fantastic new options for hikers and opportunities for car-free exploration of the park. Visitors camping at Blackwoods can now access the very popular and scenic trails on Gorham Mountain, the Beehive, Champlain, and beyond, without getting in a car nor even walking along the Loop Road. The new trails complete the last link in a "super-loop" with Blackwoods at one end, Bar Harbor at the other, and the Champlain and Cadillac mountain ranges offering myriad possibilities for the out and back legs.
The Quarry Trail can also make a special claim to promoting a car-free Acadia experience, as it was built using an old road, which dates back to the era when granite quarried in Otter Creek would be loaded onto ships in Otter Cove. Acadia's Trails Foreman Gary Stellpflug explains that this kind of transformation is not new in Acadia: "We used a whole section of the Quarry Road and turned that into our hiking trail. Which is a nod to history; in our rehabilitation program we've done that in any number of trails. We've reopened some trails that were abandoned in the 1940s and 1950s, partially because they're part of the cultural landscape but partially because they really made sense to the integrity of the trail system. That's one of the things that the Quarry Path does."
Many Otter Creek residents can remember taking the old Quarry Road to the shore for fishing, swimming, or just an enjoyable walk. In the Winter 2013 Friends of Acadia Journal's "Where in Acadia?" feature, resident Rick Higgins remembered childhood swims from Jimmy's Wharf as the tide came in, because "the water would be much warmer from the sun beating on the mud flats." Fifth-generation resident Dennis Smith recalls that some of his first memories are of walking down to the causeway with his babysitter and fishing for pollack—he says he's "been a fish fanatic ever since." Smith was interviewed for a Friends of Acadia video about the trail (it can be viewed at vimeo.com/friendsofacadia) in which he noted that his grandfather used the Quarry Road when cutting firewood in the park—an activity frowned on by George Dorr, much to the grandfather's disgust. Smith chuckled at the memory, recognizing that although past generations had to give certain things up when the park was formed, today's generations can easily see all that has been gained in return.
It is a miracle of good planning and fiscal resourcefulness that the 10-year trail building and renewal objective of the Acadia Trails Forever (ATF) Partnership is now in its 15th year and still going strong. Every year, park planners and trails personnel consider proposals to add or restore historic and connector trails using a comprehensive and well-rationalized set of guidelines addressing historic, recreation value, and other concerns. With dependable funding from Friends of Acadia's ATF Endowment, trail crews don't have to wait to find funding once priority projects have been identified. The result: hiking in Acadia just keeps getting better and better. And that's one of the joys of Acadia!
Otter Cove Connector Trails from Friends of Acadia on Vimeo.
JULIA WALKER THOMAS was the seasonal communications assistant at Friends of Acadia this past summer. She is a freelance photographer based out of Sarasota, Florida and Bar Harbor.
AIMEE BEAL CHURCH is the communications and outreach coordinator at Friends of Acadia.
Photo: ANP Volunteer Coordinator Jonathan Gormley, FOA President David MacDonald, and ANP Trails Foreman Gary Stellpflug cut the ribbon on the new trails in Otter Creek. FOA photo by Aimee Beal Church.