A committed corporate sponsor steps up for Acadia's natural resources
By Lisa Horsch Clark
Fall/Winter 2013 Friends of Acadia Journal
If Mr. Dorr were coming to your house for dinner tonight, what would you tell him about Acadia National Park? Certainly the deep forests, clear waters, and beloved trails he knew still exist, but clearly the park isn't the same as it was almost one hundred years ago. With an increase of 540% in park visitation during his lifetime, George B. Dorr likely knew that visitors to the new park would have a dramatic impact on its resources. But he and other park founders couldn't have predicted climate change and the impacts it would have on the water, air, and land of Acadia. The 21st-century Acadia is still enchanting but it is different, due primarily to these two significant factors: visitors and climate change.
Acadia is one of America's most visited national parks, drawing more than 2.4 million visitors each year to its relatively small 35,000 acres. Friends of Acadia recognizes the fine balance the park staff maintains between providing access to these millions and protecting the spectacular natural and cultural resources of Acadia.
In the last issue of the Friends of Acadia Journal, David Manski, former chief of resources at Acadia National Park, discussed the case for Wild Acadia and shared the goal of "a more intact and functional natural and cultural landscape, where people can come and be inspired for the next 100 years and beyond." As we approach the park's centennial in 2016, we—park staff and FOA leadership— constantly ask ourselves, How can we best prepare Acadia for the next 100 years? While strategic goals are still being defined, at the heart of preparations is resource protection— for what is Acadia without public access to the land, native plants and trees, and clean air and water? To this end, Friends of Acadia and the park established Wild Acadia, a set of restoration, outreach, and research initiatives that will ensure the park is protected for today's visitors and the many millions who will visit in the years to come.
These protection measures come at a cost. Happily, Friends of Acadia had the great fortune early this year to establish a new partnership with Canon U.S.A., Inc., a leader in digital imaging solutions. Canon was eager to make a significant and lasting difference for natural resource protection in Acadia, and stepped up to help the park to tackle two of Wild Acadia's most pressing issues: invasive species management and water-quality monitoring. A fitting partner for resource protection, Canon identifies its corporate philosophy as that of Kyosei, which they define as "all people, regardless of race, religion, or culture, harmoniously living and working together into the future." Their dedication to Kyosei guides their tradition of commitment to protect and preserve our most precious of resources and landscapes.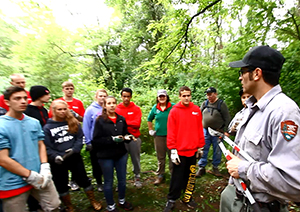 Invasive Species Management
As time and conditions allow, certain exotic plants will take over landscapes, wiping out native flora and with them the complex community of life dependent on those native plants. With Canon U.S.A.'s generous funding, Acadia National Park expanded the 2013 exotic plant management team (EPMT), enabling the park to treat 27 of the most highly aggressive exotic plant species that threaten natural habitats and alter natural scenes in Acadia. The team protected the park's biodiversity, restored wetlands and other important habitats, and improved the visitor experience by enabling people to enjoy native park landscapes.
This year's achievements of the EPMT were beyond all expectations. The team treated more than 97 acres and surveyed an additional 305 acres for invasives in Acadia National Park, documenting the plants removed, number of acres restored, and methods of management for use as a historical reference and also to share with other parks managing invasive species. The team updated the exotic plant management plans for all 27 major exotic plant species and the team leveraged 200 volunteer hours to maximize efficiency, leading volunteers in the (nontechnical) hand-pulling of invasive plants on 17 acres of park land. All efforts led to a more natural, wild ecosystem.
Water-Quality Monitoring
Integral to ecosystem health, the waters that dominated the landscape of Acadia also provide a variety of recreational pursuits including fishing, sightseeing, canoeing, and swimming. Protection of the health of Acadia's lakes, streams, and wetlands, and their use as a source of public drinking water, were significant factors in the park's establishment in the early 1900s.
Jordan Pond, the clearest lake in Maine, has been experiencing decreasing clarity in recent years. The cause and—more importantly—the effect on the broader ecosystem and what can be learned about climate change and visitor impacts, is unknown. Canon U.S.A.'s partnership enabled Acadia to establish a formal, continuous water-quality monitoring program at the lake in 2013. This automated monitoring will produce a more comprehensive picture of water conditions, which will enable park staff to better understand these troubling changes and make better decisions about lake protection measures. It quickly became clear in project planning that without the funding opportunity offered by Canon's partnership this important monitoring program simply could not happen.
Acadia's resource protection staff built their capacity by partnering with University of Maine scientists Dr. Jasmine Saros and Dr. Courtney Wigdahl to select, launch, and monitor a NexSens CB-400 data buoy moored at the heart of Jordan Pond. The data buoy was synced with a weather station installed at the Jordan Pond House, both transmitting near-real-time data via phone line to the project computer.
The outcome was an exponential increase in water-quality measurements. More than 7,700 measurements were taken with the new monitoring system from July through September 2013 compared to the 219 measurements taken in Jordan Pond since 1942 using the old monitoring system. The more robust measurements enabled the partners to join the Global Lake Ecological Observatory Network (GLEON), an international coalition documenting changes in lake ecosystems. Dr. Wigdahl presented a project overview and preliminary findings at the public meeting of the Acadia Advisory Commission and hopes to present at the 2014 meeting of GLEON, to be held in Montreal in October.
Friends of Acadia is fortunate to be partnering with Canon U.S.A. The company's gifts to preserve and protect Acadia enable growth in capacity and good, data-driven decision-making. We look forward to continuing and growing our partnership with Canon U.S.A. to tackle additional challenges facing Acadia. "Our company commitment to the environment is an integral part of our corporate philosophy," said Kotaro Fukushima, senior director and general manager of Canon U.S.A.'s Corporate Communications Division. "We are excited to be partnering with the Wild Acadia program so that future generations can enjoy the park and its beauty for years to come."
Restoring Acadia's landscapes and watersheds to a Wild Acadia standard would benefit the long-term health of the park under even the best of circumstances. However, we now know that climate change will bring sea level rise, larger and longer storm events, and changes in temperature. These factors heighten the stresses on Acadia's living systems. We have hope that a more natural habitat—a Wild Acadia—will allow them to endure these changes.
LISA HORSCH CLARK is the director of development and donor relations at Friends of Acadia.