from the Fall/Winter 2013 Friends of Acadia Journal
Youth Conservation Corps
With a full crew of 16 rugged teens, the 2013 Acadia Youth Conservation Corps kept busy this summer. While the group worked throughout Acadia, most of the focus of the work was on trails, and three trails in particular: the Deer Brook and Maple Spring Trails and the Quarry Path.
The AYCC's work on the Deer Brook Trail included highlining large stones, benchcutting to relocate a section of trail, and revegetating the trailside. In contrast, the work on the Maple Spring Trail was the rehabilitation of a historic trail. Some of the work was similar to Deer Brook but no new trail was cut. By summer's end the AYCC team had enhanced both trails by creating tread, beautifying the trailsides, halting erosion, and handling a variety of laborious tasks so the ANP trail crew could work on the more technical aspects of trailwork.
Over in Otter Creek, the AYCC worked on the Quarry Path. When complete, this exciting new connector trail will run from Blackwoods Campground to Otter Cove, across the causeway, and to the Gorham Mountain parking area. The teens spent the summer grubbing, bench-cutting, and graveling.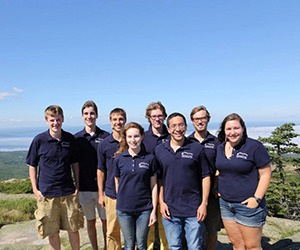 Acadia Youth Technology Team
A small sign with a QR code atop Cadillac Mountain allows visitors with smart phones to view a time-lapse video of a Cadillac sunrise—no matter what the hour or weather. A small child uses an iPad to correctly identify a hemlock tree at Sieur de Monts. A large school group watches together as fluffy peregrine falcon chicks blink sleepily from a large video screen far below their cliffside nest.
In their third year, this innovative team of teens and young adults took the program to a new level, completing and refining several ongoing projects and tackling a few new ones. Some use technology to allow Acadia visitors to enhance their time here—like the digital media interpretation kit, which allows many people to watch the peregrines simultaneously, rather than limiting viewers to one at a time as the old spotting scope setup did. And some of the team's projects reach out to virtual visitors—who may be planning a trip to Acadia or may never even make it here—with time-lapse videos and an ambitious online "virtual museum" of 3-D images of Acadia's historical artifact collection.
The "virtual museum" will be housed on the Friends of Acadia website starting sometime in 2014. Several time-lapse videos are already available through the Friends of Acadia channel on Vimeo at http://vimeo.com/friendsofacadia, alongside FOA videos about other projects and events.
Equally significant was the hiring of an evaluation fellow to develop and implement tools for measuring the success of the AYTT's projects. For an innovative and ground-breaking program like the AYTT, evaluation is a crucial step in understanding its effectiveness—to inform both the design of future projects and the creation of similar programs in other national parks, modeled on the AYTT.
Stewardship Volunteer Program
Thousands of volunteers and dozens of groups, led by Friends of Acadia crew leaders Anna Adams and Ben Dunphey as well as a small cadre of volunteer crew leaders, were kept quite busy during the 2013 season.
Volunteers worked on dozens of projects in Acadia this season; some highlights include replacing bridges on the Great Meadow Loop and the Acadian Ridge Trail, both of which are Friends of Acadia village connector trails; grubbing, bench-cutting, and graveling on the new Quarry Trail in Otter Creek; and "flossing" (clearing leaves and vegetation) between coping stones and clearing drainage ditches on the carriage roads from the south end of Eagle Lake towards Jordan Pond—an area that had not been worked on in years. Volunteers boarded boats and headed out to outer islands on several occasions (always a special treat!) to spruce up the Islesford Historical Museum and do trail work on Isle au Haut.
Finally, volunteers put in hundreds of hours working with the Acadia National Park vegetation crew to control the spread of invasive plants—including Japanese knotweed, Japanese barberry, garlic mustard, and honeysuckle—in the park and the surrounding communities.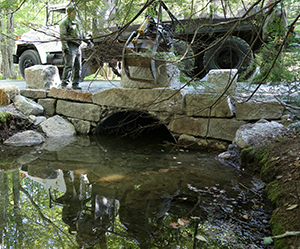 Exciting Changes for a Small Tributary
As masterful as was the construction of Acadia's carriage roads—state-of-the-art in the early 1900s—the roads' engineers didn't know everything that Acadia's natural resource managers know today about water flow, and in any case they could not have anticipated the current increase in heavy rainfall events caused by climate change.
So it's no surprise but no bad reflection on those early engineers that several culverts in the carriage roads' drainage system are critically undersized, causing problems from flooding and repeated washouts to hurdles for spawning brook trout and other native fish.
One such culvert, accommodating a small stream on the east side of Eagle Lake where it flows under the carriage road and into the lake, got an extreme makeover this fall. With funding from Friends of Acadia, park maintenance staff replaced the undersized culvert with a new one made from corrugated metal. With a fish-friendly flat bottom and a generous diameter, the new culvert will be able to accommodate even the largest storms and should last 50 years.
Hilary Krieger, employed by FOA as the park's environmental compliance/recreation management intern, managed the project from start to finish. She notes, "The new culvert will enhance the Eagle Lake watershed by facilitating fish spawning and recruitment to the next generation. The decrease in stream sedimentation will foster good water quality and a healthier watershed."
Observing that good communication between divisions was essential to the project's success, she adds, "This project taught me that a bit of ingenuity and teamwork can help negate the need for compromise. With this one project, we were able to protect Acadia's cultural resources, decrease maintenance costs, and promote a healthier environment simply by changing the shape of a culvert."
Let's Go to the Hop
The annual George B. Dorr Society outing is a chance for Friends of Acadia to connect with and thank a dedicated group of FOA supporters who have included Friends of Acadia in their estate plans. In late July, Dorr Society members met at the Bar Harbor town pier and embarked on the Bar Harbor Whale Watch's Miss Samantha with Acadia National Park's cultural resources program manager Becky Cole-Will and naturalist Zack Klyver. And what destination do you pick for a group of lifelong Acadia lovers who likely know the park inside and out? A place rarely found on the maps.
The Hop is a small islet just a "hop, skip, and a jump" from the north end of Long Porcupine Island. The two are joined at low tide by a stony beach with striking views of Mount Desert Island. A launch transported guests to the beach, where Becky presented a short history of Native American habitation of Acadia's outer islands. In particular, she emphasized that the coast was a winter (not summer!) home for native peoples, with milder temperatures and more dependable food sources in wintertime than the inland forests.
After her presentation and some exploration along the beach and rocks of the Hop, guests reboarded the Miss Samantha for a delicious lunch catered by the Jordan Pond House and continued interpretation by naturalist Zack Klyver. He pointed out harbor porpoises, seals, an immature eagle in its nest, and an exquisite natural arch along the cliffs of Long Porcupine.
Lisa Horsch Clark, FOA director of development and donor relations, reminds members that "anybody can join the Dorr Society by including a gift to Friends of Acadia in their will or estate plan, then documenting the planned gift with us. It's actually quite easy to do." For more information on planned giving or the George B. Dorr Society, contact Lisa at 207-288-3340 or lisahorsch@friendsofacadia.org.
Membership Table's Record Year
Friends of Acadia's membership table at Jordan Pond House had a record-breaking season in 2013, with more than 450 new members joining at the table—nearly 100 more than the previous highest number in 2012. The achievement of the 22 membership table volunteers was especially remarkable given that 15 scheduled days at the table were canceled due to rain.
Since it was established in 2007, the membership table has gained approximately 2,000 new members for Friends of Acadia. The volunteers talk about Acadia with visitors, sharing their love for the park and their enthusiasm for FOA's role in protecting its natural beauty. The volunteers make it easy for visitors to join or renew their membership.
For more information on volunteering at the "MT," contact development officer Sharon Broom at 207-288-3340 or sharon@friendsofacadia.org.
Clean Water, Clean Shores: A Great Day on the Ocean
On Saturday, September 7th, community members of MDI and neighboring islands were invited to volunteer to clean up coastal shorelines in the fourth annual Clean Water, Clean Shores cleanup. More than 75 volunteers collected 120 bags of trash as well as two chairs, the bow of a small skiff, dock materials, and dozens of salvageable buoys off Black, Eagle, Lamp, Pond, and Sheep lslands, as well as the MDI shoreline of Acadia National Park.
Volunteers were directed to the outer islands via boats from Clean Water, Clean Shores partners including Maine Coast Heritage Trust, Maine Island Trail Association, US Fish and Wildlife, as well a private boat captained by Nathaniel Snow of Gott's Island and MDI. Friends of Acadia sponsored a cookout for the volunteers at the Seal Cove boat ramp as they returned from the islands.
The Clean Water, Clean Shores project is designed to create awareness of pollution and its effects on the shorelines of Mount Desert Island and neighboring islands and communities. The cleanup is organized by the combined efforts of Acadia National Park, Friends of Acadia, the Island Institute, Maine Coast Heritage Trust, Maine Island Trail Association, MDI Paddlers, the Nature Conservancy, the Town of Tremont, Tremont Harbormaster, US Fish & Wildlife, and Western Mountain Mapping.
Starry Skies above Acadia
With clear skies and thousands of participants, the 5th Annual Acadia Night Sky Festival, held September 26th–30th, was an incredible success. From the keynote presentation by Nobel Prize-winning physicist Dr. Alex Filippenko, to solar viewing at Sieur de Monts springs, three nighttime star parties in the park, boat cruises, outdoor movies, arts events, and lectures, the festival attracted its biggest crowd ever and inspired countless exclamations at the wonders of Acadia's heavens. Friends of Acadia is a co-sponsor of this festival, contributing critical funding to support festival programs and engaging volunteers to assist throughout the festival. The ultimate goal of Friends of Acadia's participation is to encourage festival participants to work in their own communities to eliminate light pollution and protect precious dark skies.
Festival posters featuring the Milky Way emerging from the ocean near a park trail sign are still available at www.acadianightskyfestival.com. The dates for next year's celebration are September 25–29, 2014.
Take Pride in Acadia Day
Friends of Acadia and Acadia National Park hosted more than 350 enthusiastic volunteers on Saturday, November 2nd, together; they raked the leaves and cleared drainage ditches from 8.8 miles of carriage roads in preparation for winter. The well-coordinated volunteer effort, now in its 23rd year, focused on areas where clogged drainage ditches and culverts could result in significant damage to road surfaces during the freeze-and-thaw cycles of a coastal Maine winter. After the morning's work, crews returned to park headquarters for a hot lunch—the event's traditional "CCC" meal of chili, cornbread, and cider (plus an extra "C" of cake—thank you Janet Anker!). The event is made possible by financial support from area businesses, including Bar Harbor Bank & Trust, Birch Bay Village, The Bluenose Inn, The First, Galyn's, The Knowles Company Real Estate, and Window Panes. Other businesses, including Coastal Kayaking, Downeast Transportation, MDI YMCA, National Park Sea Kayaking Tours, National Park Tours, the Quietside Café, and Wallace Tent and Party Rental, donated vans or busses for transporting volunteers, food, and more to make the day a success.
Acadia Quest
Nearly 200 families signed on to the 2013 Acadia Trail Quest—the most registered teams since the Quest began in 2008. Teams represented 15 states, plus two teams from Canada, one from England, and one from Germany, as well as dozens of local teams and teams from throughout the state of Maine. The 2013 Trail Quest was an experiential scavanger hunt designed to encourage teams to explore Acadia's trails. Teams were given a Quest card, a park pass, and a map and asked to complete 12 hikes in Acadia, including trails on Isle au Haut and at Schoodic as well as Friends of Acadia's village connector trails. As in past years, all teams completing the Quest were entered in a drawing for three grand prizes. This year's winners were Team Forst from East Hampton, New York; Team Capuano/Stiver from Ypsilanti, Michigan; and Team Ploof from Essex Junction, Vermont.
Centennial Planning
While 2016 may seem far in the future, community excitement over Acadia National Park's Centennial is gaining steam. At the helm of planning and organizing is the Acadia Centennial Task Force, which includes six FOA board members, four community members, two FOA staff, and the park superintendent and interpretation chief. The task force has been meeting regularly to brainstorm event ideas, reach out to community partners, and develop a unifying theme and image for the Centennial.
The first project the Centennial Task Force undertook was to identify a Centennial tagline. Combined with a logo, the tagline will convey the overall theme of the celebration and be used by partner organizations and businesses to identify affiliated products and events. The task force solicited input from Acadia National Park and Friends of Acadia staff before selecting the final slogan: "Acadia's Centennial: Celebrate our Past! Inspire our Future!" A working group has initiated a nationwide logo design contest (see page 6 for more information) to solicit the visual image to accompany the tag line.
The Task Force also immediately formed two other working groups. The first researched best practices and lessons learned from other national parks that have or are about to celebrate their centennials. In particular, Rocky Mountain National Park (2015 centennial) presented excellent information online that helped guide the task force in putting together the logo contest. Another working group has begun thinking about how Friends of Acadia might license the Centennial logo to nonprofit organizations and commercial retailers for use in product development, fundraising, and merchandising. Additional working groups will be formed around topics such as how to involve the arts community, how to market the Centennial locally and farther afield, and how to reach out to the statewide community of organizations, agencies, and businesses.
In October, the Centennial Task Force rolled these ideas out to a group of community organizations who have expressed interest in participating in the Centennial in some fashion. These organizations, called the "Acadia Centennial Partners" (ACPs), begin sharing ideas and plans for how each organization might uniquely celebrate the Centennial with programming that is appropriate to their organization. The ACPs will meet at least twice a year to continue sharing ideas, and the Centennial Task Force plans to develop a website to facilitate communication among ACPs.
Acadia was founded by philanthropists who donated lands and fortunes to create a national park for the American people. That rich history continues today with over forty organizations working together to plan a yearlong celebration honoring the heritage of that gift and to inspire the next generation of park stewards.
New Member on the Board
At the Friends of Acadia 2013 Annual Meeting in July, Hank Schmelzer was elected as the newest member of FOA's Board of Directors. A resident of Mount Desert, Hank was the president and CEO of the Maine Community Foundation from 2000 to 2008. Prior to entering the field of philanthropy, he practiced corporate and securities law for many years in Boston, becoming Vice President and Counsel of New England Mutual Life Insurance Company. He transitioned from law to business management and from 1991 to 1998 served as president and CEO of the New England Mutual Funds.
Hank's motivation for serving on the FOA board is clear: "because the Park has been so important to me for almost my entire life (70 years now) and because of the fabulous work that FOA does to ensure Park's preservation and successful future."
He has been on many corporate and nonprofit boards over the years, including the Board of Trustees of Maine Public Broadcasting Network, the Board of the College of the Atlantic, and the Board of Overseers of the University of Maine. Hank was a Captain in the U.S. Army (military intelligence) and served in Vietnam, where he received a bronze star with oak leaf cluster and the Vietnamese cross for gallantry. He is an avid skier, hiker and student of Italian language and culture. His favorite activities in Acadia include "hiking on the mountain trails and carriage roads, as well as the splendid coastline and islands."