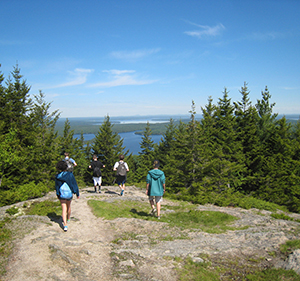 An experienced field educator shares secrets to hitting the trails with young people
By Sylvie Piquet
Summer 2013 Friends of Acadia Journal
If you're thinking of taking a hike with kids, here's some advice: never, ever, call it a hike. You are going on an adventure, exploration, or wilderness scavenger hunt! There are many ways to excite and get youth out on Acadia trails with some planning, preparation, and the right frame of mind.
Directing an outdoor education and recreation center, it is my job to connect youth with nature. Despite being an outdoorswoman, as a child I despised the proposition of a 'hike' because it usually meant a group of adults slowly walking along a path, jabbering away. If the adults had said, "let's embark on an exploration to track wildlife," that same trail—with those same slow-as-molasses adults—would have had me bounding outside and eagerly scouring the trails.
It's important to create a positive experience when adventuring into the natural world with youth—often their only time away from the ever-present digital screens. This break from electronic living offers an opportunity for kids to be more aware of their thoughts, interact face-to-face with their family or peers, and (re)learn all that nature has to teach us. Before embarking on the next trail outing with kids, consider the following tips for planning and preparing for your adventure!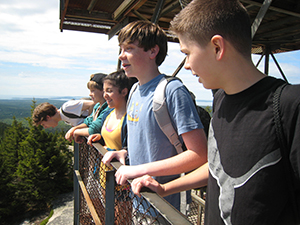 Planning
• Enthusiasm is contagious—get excited about the trip you are planning even if it's a hike you have done a dozen times. If you are looking for it, you will notice something new.
• If possible, plan a loop so you explore a different trail coming back.
• Set ground rules for your trip: always stay on marked trails; never get out of visual sight from your hiking partners; if you come to a fork in the trail, wait for the group; if confused or feel that you're lost, stop and wait—do not venture forward.
• Break out the map to introduce your kid(s) to the trail and other natural elements you may encounter, and to plan an adventure activity!
• Adventure activities are a great way to offer a goal for the trip. Consider packing a picnic to eat at the summit, bringing a swim suit and a towel for a mid- or end-of-hike swim, or carry a fishing pole and tackle along if your trail will take you by a pond, lake, or stream. With a goal for the walk in the woods in mind, it will establish both a reason for the outing and a sense of accomplishment at the end of day.
• Involve kids in planning! There is no better way to engage youth in an activity than to give them a leadership role. What trail looks best on the map? What activity will this adventure include? What supplies do we need?
Preparing
• Preparation is a great opportunity for kids to take an active role and teaches youth about important practices and essential equipment for exploring the outdoors.
• Always pack: extra water and snacks, clothing layers (temperatures can drop at the top of a mountain, on the ocean, or with changes in the weather), a first aid kit, and a cell phone (for emergencies only).
• Check the weather report. Planning with the weather—rather than against it—is a great ingredient for a successful adventure. If you know rain is in the forecast, choose a wooded trail for natural cover. If the sky will be clear, choose a trail with a view.
• Recommended trails in Acadia National Park for youth: Beech Cliffs, Beech Mountain, The Bubbles, Day Mountain, Flying Mountain, Great Head, Jordan Pond Nature Trail, Kebo Mountain, Ship Harbor Nature Trail, and Wonderland.
On the Trail
• Turn off your electronic devices and commit to keeping them off.
• Assign everyone a role: the Navigator carries the map; the Trail Guide hikes in front, stops at every split in the trail, and calls water/snack breaks; the Caboose hikes in back and decides when a break ends and it is time to continue moving; you could add a time-keeper if your adventure is time-sensitive.
• Stop and listen to the sounds around you—can you hear the sound that is the farthest away? The closest?
• Tree ID game: Can you guess what this tree is named? Investigate the leaves, needles, and bark to find white pine, red pine, oak, maple, and more! Visit the Acadia National Park bookstore to find tree identification books and brochures.
• Color hunt game: It is amazing how many colors of the rainbow you can find along a trail—especially if you're looking for them. You can use props for this game, or not. Collect paint color swatches next time you are in a hardware store and bring them along to match to colors along the trail. Or simply keep tally of how many different colors you see. Colors can be found in any thing natural: on trees, the forest floor, rocks…the sky is (literally) the limit!
Camp Beech Cliff (CBC), an outdoor education and recreation center located on MDI, propels hundreds of youth into the woods and waters of Acadia year-round. CBC Outdoor Skills Counselor, Ryan, shares his thoughts on hiking with kids: "It's a good time to get away from screens and open their eyes to nature." His favorite thing about hiking with kids is  "witnessing that spark ignite when a kid is first captivated by the natural world."
If you want one of the sweetest natural rewards, set your alarm clock, ready your headlamp, and time your adventure to reach the summit for the first burst of sun over the horizon. Recently a CBC alumni visited camp and was flooded with many wonderful memories. One stood out in particular:
"One of my counselors took five or six of us up Cadillac Mountain one Sunday morning to watch the sun rise. I think we were about twelve. We arrived in the dark and while we waited he gave us some advice. He said the secret to watching the sunrise is not to anticipate a particular moment, or to constantly search the horizon for the first ray of direct light, or be the first to shout 'There!' He said it was about being calm. About all the moments that lead up to that first kiss of sun. About taking in all the subtle shifts of color and light, of movement in the world around you, and letting their magic play in your heart and mind. He said it was about letting someone else shout "there!" and hoping they hadn't missed the best parts. And he taught us it was about holding the whole experience close even as you went about the rest of your day."
In Last Child in the Woods, author Richard Louv cites a study from Stephen Kellert of Yale University about the long-term effects of wilderness-based education programs on youth. Kellert reports that "learning to cope in wilderness and outdoor settings can enhance emotional and affective development…'including increased self-confidence, self-esteem, optimism, independence, and autonomy… fostering various interpersonal abilities including enhanced cooperation, tolerance, compassion, and friendship.'" Louv's extensive research reiterates this same message in many findings. Interaction with nature has a profound positive effect on all people and plays an important role in the development of youth.
Engaging youth in the outdoors develops their interpersonal and intrapersonal skills, attention and observation, and strengthens their appreciation for the Earth and its resources. Connecting youth with nature turns passive bystanders into passionate naturalists. I invite you to identify one or many young people in your life and plan, prepare, and embark on an adventure. You won't regret it. You may even make a habit of it.
SYLVIE PIQUET is the camp director at Camp Beech Cliff, the only ACA-accredited day camp in the region. She is a graduate from Bowdoin College, a registered Yoga Teacher, Mindful Life Training Coordinator, and especially enjoys working with campers during the flagship summer camp program to inspire wonder, excitement, and connection with each other and the natural world.
Camp Beech Cliff is an independent nonprofit located in Mount Desert whose mission is to enrich the lives of people of all ages through its summer camps and year-round outdoor education and recreation programs inspiring personal growth, connections among people, and an appreciation of the natural world. Camp Beech Cliff is a partner with Friends of Acadia on Family Fun Day and other youth-oriented programs. www.campbeechcliff.org