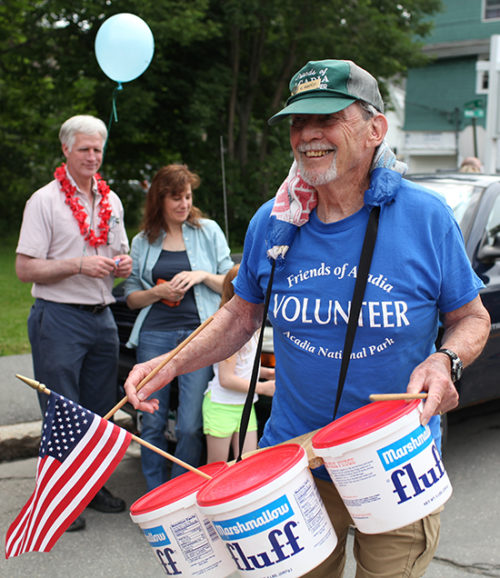 From the Fall/Winter 2016 Friends of Acadia Journal
By Al Wiberly
My wife, Marilyn, had fond childhood memories of Acadia and led me here for a short vacation in 1983. We tented in Seawall Campground, and that visit kick-started the 20-plus years of our unfolding romance with Acadia's many-splendored "garden." On our first walk, a (sadly) long-gone sign at the Ship Harbor trailhead asked us to "Stop and Listen. Do you hear surf? Bird calls? Wind in the spruces? Can you smell the ocean? More is hidden than visible."
Did these questions and my answers echo from memory 25 years later on a springtime hike in the Smokey Mountains? "The sounds of silence fill my ears/ The green so green it brings my eyes to tears/ That wash my sight so crystal clean/ That now I see things that remain unseen."
We did take that trailhead sign's cue then and often since. Our eyes captured Katahdin, sunsets, starry skies. Our ears heard the gentle singing of a bell buoy off Bass Harbor Light. Our noses savored beach rose perfume and aromatic flavor of birch beer from a scraped yellow birch. Plus we have discovered new Acadian trivia every season since—the mysterious carved, dated initials on a rock at Seawall; a bronze plaque on a huge oak tree at Indian Head planted on the day Lincoln was assassinated.
Such dreams fade, however, as we see the effects of all of us using more of what there is. More people, more cars. Rising, warmer, and acidifying seas, northward migrating flora and fauna, the loss of entire species. Zooming out, Acadia appears as a small oasis on a planet that could—failing sufficient and informed collective action— be part of the ruins.
Zooming in, such dark thoughts urged us to become "gardeners." In 1987 the opportunity appeared with FOA and the remarkably talented, exuberant George Feltus. George warmly welcomed and mentored all of us drop-in volunteers in his body-building and entertaining tutorials on how to help the dedicated Acadia trail crew build and maintain park resources.
In the many years since, we personally have literally covered miles of ground within both Acadia and Great Smoky Mountains national parks. Our labors have spanned high lining, rock quarrying, restoring and destroying vegetation, clearing culverts, policing visitor-wildlife interactions, and interpreting history and natural resources with visitors—both as FOA workers and "VIPs" (volunteers-in-parks, which is the nation-wide park volunteer program). Such adventures have been spiced with laughter (as with the visitor who asked why so many Civil War battles were fought in national parks). The common thread that weaves this tapestry together are the joys we have experienced working, joking, sharing, singing, and occasionally suffering with people we now count among those we admire and love the most. They have contributed immeasurably to our wellbeing and longevity.
Marilyn and I now belong to a generation of volunteers decreasing in stamina and mobility. Although some comrades we knew well are forever "gone-bye," they live on in memories. But replacements are arriving. For both the old and new generations, I submit this poem in an offering of hope:
Thoughts While Hiking on a Fall Day
The stream spills river-ocean bound down its mountain path
Gurgling, grumbling, tumbling, fumbling, foaming brilliant laughing white over mossy rock-strewn beds.
Far from its birth in distant oceans
Where vapors spring alive upon the crests of wind-tossed, tide-driven waves.
Not knowing their birth or destiny,
Yet pursuing a timeless cycle from ocean to flatlands, to mountain tops
Then journeying, returning in spring-fed river flows to a glistening grey-green-blue salty womb.
So are we all born unknowing whence we came
Nor where, what streams we may become.
That gurgle, tumble, fumble, foam brilliant laughing white
Over mossy rock-strewn beds in spring-creek-river flows
To where we once began.
Al Wiberly is a volunteer crew leader with Friends of Acadia's trail and carriage road stewardship program.
Photo: Al Wiberly plays a mean set of Fluff drums as part of FOA's "Imprecision Drill Team" during the Bar Harbor July 4th parade. FOA/Julia Walker Thomas photo.