A Teacher-Ranger reflects on a once-in-a-lifetime experience
By Delene Hoffner
Fall/Winter 2013 Friends of Acadia Journal
I never imagined what an amazing world of discovery would open up when I applied to be a Teacher-Ranger-Teacher at Acadia National Park! I pinched myself every day I was at Acadia, thinking, "Is this really happening? Am I really here, doing all this?!" It brings tears to my eyes to think of the ways Acadia National Park has filled my heart with wonder and enriched my world of teaching.
My TRT experience surpassed all my expectations, in so many ways. As a child, I visited many national parks but I had never attended a ranger-led program. Can you believe that? My first ranger-led program was "Super Sand Sleuths" on Sand Beach.
I'll never forget the first time I saw the view of Sand Beach from the top of the stairway leading to the beach. The bright blue sky contrasted with the sparkling gray ocean and the fascinating rocks hugging each side. The beach was bare except for a few visitors; then, our group of rangers and teachers headed to the sand for our class. Learning on the beach? I have to say, as a landlubber, I was bedazzled with excitement.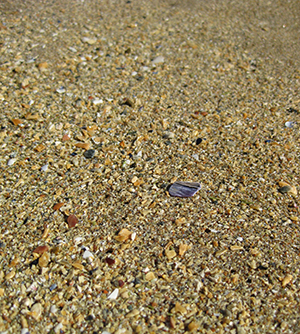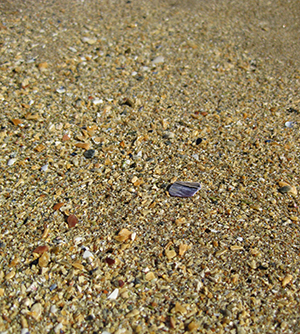 I rarely get to be on a beach by the ocean and have never been trained on a beach. Alongside more than 15 children, we became detectives working to uncover the mysteries of Sand Beach. This was my first experience hearing a national park ranger give their interpretive program. I was surprised by the finely tuned components of her hour-long lesson. We had games, made models, and created our learning with the ranger's guidance. My favorite discovery was that the sand is not only rock bits but tiny pieces of shells, urchins, green mussels, and crab shell. I didn't know that and probably would not have figured it out on my own. "Taking a closer look to discover more" became my theme for the summer. What fun!
Now I have attended more than fourteen ranger-led programs. I was impressed with the incredible ANP interpretive rangers and enjoyed working with them. I discovered the high caliber of training, research, preparations, and work involved in bringing Acadia's natural resources to life for visitors. I learned so much from many rangers. I want to thank them all for sharing their knowledge and talents with me.
Our TRT supervisor, Cynthia Ocel, was an exceptional leader who set up many phenomenal experiences for us. I really admire her professionalism, wisdom, talents, and hard work, and she was key to the success of the TRT experience for me. I enjoyed the trainings, hikes, cruises, history, nature, and other opportunities, where I was immersed in everything that makes Acadia a national treasure. I gained new knowledge, experienced insightful lessons, and grew as a teacher so much last summer. I will always be grateful for this amazing opportunity.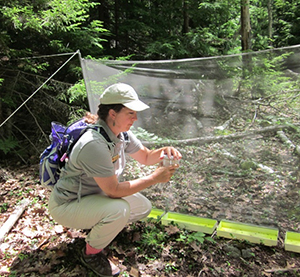 Some of my top experiences include:
• Attending numerous ranger-led programs and trainings, on the ocean, shore, and mountains
• Seeing wildlife I'd never seen. Puffins, whales, a bobcat, unusual birds, and even a porcupine!
• Learning and co-leading the Super Sand Sleuth program
• Attending trainings specific to leading programs and working with children
• Receiving my "Leave No Trace" certification training (and I climbed Schoodic Mountain—it was so hard!)
• Creating activities for an ANP Children's Map (my assigned TRT project)
• Creating a lesson plan about topography for use on the National Parks website
• Attending SEA Teachers, a 5-day training at Schoodic
• Participating in the 2013 Family Fun Day—fabulous!
• Sharing the wonders of Acadia with numerous visitors
Along with my own new education, I have been inspired to create an adventure of discovery for my students. Learning should be an exploration, where discoveries spark the curiosity to want to learn more! I'm excited to share my experiences and my learning with my students, colleagues, and community through lessons, a classroom unit on the national parks, presentations to staff and conferences, and our spring field trip.
I am already using the teaching techniques and games I learned from the park rangers and teaching my students about "Leave No Trace" principles. In September, all of our fourth graders took a field trip to the top of Pikes Peak as part of our "Life Zones of Colorado" study. When we returned, I was proud to be able to teach the topography lesson I designed as part of my TRT experience, in which students learn about topographical maps then create their own map using a 3-D model.
Throughout this year I am teaching my national parks unit. Students will have the opportunity to create a presentation about a national park with their team; these teams will then present at local libraries for our community. The unit will culminate in a spring field trip (funded by Acadia's TRT program) to Florissant Fossil Bed National Monument or Bent's Old Fort National Historic Site.
Along with my own class of 26 students, I teach science to two other fourth-grade classes (78 students in all). As a presenter, I will share my TRT learning at local and national teacher workshops. When I teach one teacher, I imagine the 27 students this may influence. When I reach 300 teachers, I estimate my TRT experience might impact over 8,000 students this year alone! Multiply that times seven to show the collective impact of myself and the six other TRTs alongside whom I had the great pleasure of working: Ronny Armstrong, Kate Drummond, Teri Green, Karen Lingly, Judith McConnell, and Melissa McDonald. Clearly, the Teacher Ranger Teacher Program is a gift that gives exponentially.
I am forever grateful to Friends of Acadia for funding the TRT Program at Acadia National Park, and I admire the insight shown by FOA members through their continued support. I truly am so honored to have been selected for this once-in-a-lifetime experience! It has changed my view of national parks, inspired my use of the natural world as my classroom, and transformed my teaching with rich, new ideas. Thank you, Friends of Acadia, for inspiring students and touching the future through the Teacher Ranger Teacher Program.
DELENE HOFFNER is a 4th grade teacher at School in the Woods in Academy School District 20, Colorado Springs, Colorado. She has been a teacher for over 25 years, and was honored by President Clinton with the Presidential Award for Excellence in Teaching Science.
UPDATE January 2017: Delene Hoffner has continued to bring her classes to visit federally conserved lands near her school in Colorado, most recently through the Every Kid in Park program that started in 2016. Delene's class wrote to President Obama about the program and their experience. The president sent a personal response to the students as part of the National Park Week Celebration.