Where natural and cultural resources intertwine
By Rebecca Cole-Will and Judy Hazen Connery
Fall/Winter 2013 Friends of Acadia Journal
If George B. Dorr visited Acadia's Sieur de Monts area today, he might be justifiably confused by his surroundings. Sixty-nine years after his death, Mr. Dorr's beloved Sieur de Monts has changed considerably. The great fire of 1947 burned through, sparing only the spring canopy and the Abbe Museum. The National Park Service rebuilt the Nature Center in 1949, the Wild Gardens were created in 1961, and new access roads altered circulation patterns in the early 1990s.
But Mr. Dorr might soon be able to see the Spring Pool looking very close to his original design. Constructed shortly after he acquired the property in 1909, the Spring Pool was a central feature of Dorr's designed landscape. Early photographs show the rock-lined pool in the center of an open, grassy glade, surrounded with low-growing plantings.
But over time, shrubs and exotic invasive plants formed a tall, dense screen, completely obscuring the historic pool. Freezing and thawing dislodged some of the stones ringing the pool, and they slipped out of place into the water. The pool filled with leaves and silt, burying gravel spawning beds of brook trout. And with those gravels buried, abundant native brook trout that once delighted visitors became a rare sight in the Spring Pool and under the canopy.
One of the first steps in managing the Spring Pool was to understand its significance and context. The National Park Service's (NPS) Olmsted Center for Landscape Preservation (OCLP) provided this information in the form of a cultural landscape inventory (CLI) of the Sieur de Monts area in 2009. The CLI is a critical management tool for cultural resource preservation. It inventories and documents landscape characteristics, including the condition, integrity, and character-defining features that make landscapes historically significant (and thus eligible for listing in the National Register of Historic Places). For Sieur de Monts, the CLI research process documented the significance of the Spring Pool to Mr. Dorr's plans for the designed landscape and provided baseline information of changes over time. The CLI determined that the period of historical significance for Sieur de Monts was from 1909 to 1949, spanning the period from the land acquisition to rebuilding after the fire of 1947.
The CLI also recommended rehabilitation as the appropriate treatment. For cultural resources, the distinction between rehabilitation and restoration is important. Cultural resources managers seldom choose restoration for preservation treatment of historic properties because it implies that the resource would be returned to the exact conditions when it was first created.
Cultural landscapes are incredibly dynamic places and it would be nearly impossible to "turn back the clock," in this case to 1909, when the pool was constructed. Rehabilitation, by definition, means that the property is repaired, historic character is preserved, and changes made over time may be retained. For the Sieur de Monts Spring Pool, this means that changes made between 1909 and 1949 would be identified and preserved. For example, the Dorr memorial plaque and plantings around it, installed in 1947, would be retained.
Of course, Acadia's cultural resources are complexly intertwined with its natural resources, and any rehabilitation project requires close attention to its potential effects—both positive and negative—on the associated natural landscape. Rehabilitating the spring pool gave managers an opportunity to improve wildlife habitat—specifically, replace fish spawning gravel—as well as remove exotic invasive plants and replace horticultural varieties with native plants similar in form and flower but with less impact on habitat.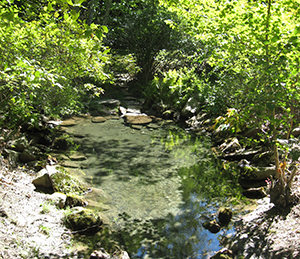 In 2010, the park's exotic plant management team began removing Japanese barberry, Oriental bittersweet, Japanese knotweed, and glossy buckthorn that had invaded the Spring Pool and surrounding forests, as well as tall winterberry bushes that obscured the Pool. In 2011 and 2012, in addition to continued exotic plant management efforts, two seasonal gardeners, supported by NPS project funding, weeded the historic plantings around the Dorr Memorial, Spring Pool, and Nature Center, and installed silt fencing and wood chips to protect the stream from siltation while the next phase of work was planned. An NPS arborist evaluated trees for hazards and removed several large, defective branches that posed a threat to visitors and staff. Meanwhile, in consultation with environmental protection staff, including FOA's environmental protection intern, Hilary Krieger, plans were drawn that protected natural and cultural resources during rehabilitation, and wetland permits obtained for the work that was to come.
By this summer, the park's trail crew was eager to begin the work resetting the historic stones around the Pool. With years of experience as master stoneworkers, trail crew staff bring a deep understanding of history, respect for resources, and a light touch to their rehabilitation work. Trails foreman Gary Stellpflug and work leader Chris Barter consulted historic photographs and plans, and met on-site with Judy Hazen Connery, a natural resource specialist, as they outlined the next phase of rehabilitation work. Acadia National Park and Friends of Acadia staff salvaged historic plants—perhaps some that came from Mr. Dorr's own garden—saving them to be replanted along the pool after the heavy stone work was completed.
Timing is important for work in and around water. To protect aquatic organisms, such as fish, and their habitats, by law instream work may be conducted only between July 15th and October 1st. Immediately before the work began after Labor Day, park wildlife biologists Bruce Connery and Bik Wheeler electro-shocked brook trout and released them downstream from the work area. The trails crew of David Schlag and Brad Ryan, led by Jeff Chapin, had a narrow work window that was almost immediately shortened by heavy and sustained rains in September. With help from the park's fire engine operator, Fred Mason, both thEe Spring and canopy pools were drained, requiring generators, pumps, yards of hoses, more silt fences, and sand bags. A crane was set up and fencing was placed to secure the work site and protect visitors and staff.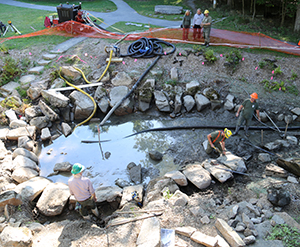 Working in earnest to reset the stones before the October 1st deadline, the crew closely followed the historic photos, matching the shapes and alignments of massive granite boulders much like a jigsaw puzzle. They leveled stone stairs and removed a set of granite steps added sometime in the recent past, and made other adjustments to slope and angle to ensure that the rocks would not again slip down into the pool. The upper banks were stabilized, and the lawn extended to minimize future maintenance and match the original plan. And on September 30th, the day before the government shutdown, the equipment and dams were removed, water-level restored, and this second phase of the project was completed.
The final step, if funding can be found to support the work, will be to replace historic and appropriate native plants such as ferns, blue flags, and marsh marigolds. Perhaps by Acadia's centennial in 2016, Sieur de Monts will look as it once was intended—a fitting monument to George B. Dorr, "Father of Acadia."
REBECCA COLE-WILL is the cultural resources program manager at Acadia National Park. JUDY HAZEN CONNERY is a natural resources specialist at Acadia National Park.
Editor's Note: the print edition of the Fall/Winter 2013 Friends of Acadia Journal incorrectly identified the above historical photo as of George B. Dorr. In fact, it is William Bourke Cochran, a member of the US House of Representatives and friend of George B. Dorr. The error was the Journal's, not the authors'.