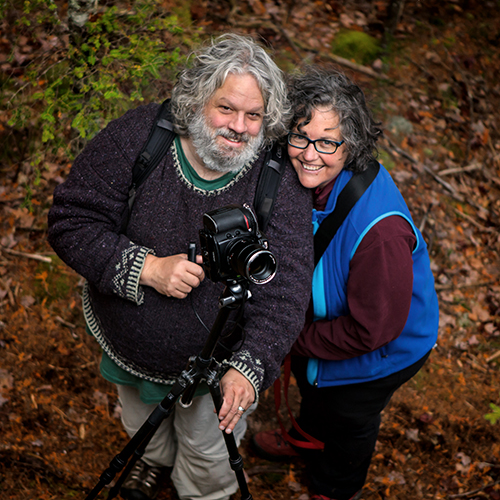 From the Fall/Winter 2016 Friends of Acadia Journal
Ask Brenda Beckett and Howie Motenko how they first heard about Friends of Acadia, and they'll just laugh. "It seems like FOA has always been there," explains Brenda. The couple became members long before moving to Bar Harbor, back when they lived in southern Maine and visited for a week every winter. They made a plan to move here, someday. Says Howie, "then one year we came in the summer—and at the end of a magical week we looked at each other and said, what are we waiting for?"
It was the following year, after they'd found jobs (he as a software engineer at the Jackson Lab, she as a physician assistant at MDI Hospital) and made the move, that their FOA connections started to grow. A workshop on light painting, a technique of nighttime photography where the subject is lit up with flashlights, inspired the idea of light-painting Acadia's historic carriage road bridges. They'd get some friends to wield the flashlights, Howie— a talented photographer—would wield the camera, and Brenda would supply her amazing home-baked treats to entice the friends. They knew that Friends of Acadia's campaign to restore the carriage roads had been an integral part of the organization's formation, so they decided to sell prints of the photos and donate the proceeds to FOA.
The project was a runaway success: drawing upwards of 50 volunteers outside, at night, in winter for each photo shoot and in the process building community, camaraderie, a deep appreciation for Acadia's cultural treasures, and an increased awareness for FOA. Plus, they worked with FOA development director Lisa Horsch Clark to set up an exhibit of the photos, which generated $4,000 in sales that they happily donated; they later gave three of the images for FOA to reproduce on the notecards that accompany FOA gift memberships.
Ask Lisa what Howie and Brenda do for FOA, and she'll just laugh. "What don't they do?" Following the Painting Bridges success, their involvement snowballed. It quickly became clear that Howie's photographic talents, combined with the couple's unstinting enthusiasm for any proposal, would make them valuable allies. They began making in-kind donations to the Annual Benefit Auction, giving photographic prints as well as excursions in the park through their "Acadia Photo Safari" business. When FOA needed nighttime before-and-after photographs of new dark-sky-friendly lighting at Blackwoods and Seawall campgrounds, Howie was there. When a project for the Second Century Campaign needed a group of gorgeous photos on specific subjects immediately, he delivered a thumb drive within a few days. And when area businesses were invited to become Acadia Centennial Partners and create official centennial products—and donate at least five percent of proceeds—Brenda and Howie hosted two "Lobster Picnic Photo Safaris" aboard their 28- foot "lobster yacht" and donated all of the profits. Says Lisa Horsch Clark, "Brenda and Howie are fun people to work with—easy, creative, generous. They're just joyful givers. And they love the park."
Their giving is not limited to photography. They are among the youngest members of FOA's George B. Dorr Society and show up for the society's gathering every year—just appearing in the group picture from that event is a reminder to all that it's never too early to include FOA in one's estate plans. And this past February, Howie was appointed to the 16-member Acadia National Park Advisory Commission, which was formed by Congress to consult with the National Park Service on matters relating to the management and development of the park.
When asked what advice they might give to somebody first looking for a way to give back to Acadia, Brenda points out that FOA makes it easy to get involved, saying, "don't feel intimidated—just show up." Howie adds that "using my skills and my passion is the best way I can make a difference for Acadia. If people look to the resources they naturally have, they're likely to end up achieving something they believe in."
—Aimee Beal Church
Photo: Howie Motenko and Brenda Beckett, near Upper Hadlock Pond. Photograph by George Soules.