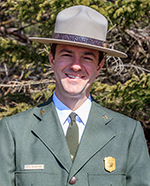 Superintendent's View: Getting There from Here in Acadia
By Kevin Schneider
Fall/Winter 2016 Friends of Acadia Journal
As I write this column, Acadia National Park is releasing the preliminary concepts for its long-needed transportation plan. The transportation plan represents an important moment for Acadia as we try to determine how to best provide safe and efficient transportation and maintain a high-quality visitor experience, while also protecting the integrity of park resources and values.
This summer, I saw for myself just why a transportation plan is so important to Acadia's future. I saw parking lots overflowing with cars, visitors unable to park, and Island Explorer buses jammed to capacity. This summer we closed the Cadillac Summit Road on nine occasions due to extreme congestion. To me, these conditions indicate real issues that must be addressed.
In addition to the challenges we are experiencing now, we also need to be prepared for the future. As of September, the park's year-to-date visitation was up 17 percent over 2015—on top of a 35 percent increase in visits between 2006 and 2015. Suffice it to say that we are busy and getting busier! This is why coming up with an innovative system to manage parking and congestion is so important now.
Paradoxically, I also learned this summer that Acadia's congestion problems are closely related to specific locations and times of day. For example, you can visit Sand Beach for a spectacular picnic dinner and often enjoy a prime parking spot in the bargain. Similarly, I covered plenty of delightful miles on hiking trails and carriage roads that were rarely crowded.
This summer, I also heard some of your ideas, concerns, and perspectives about transportation in Acadia. These conversations have been vital to me as I settle into Acadia, learn the park and the communities, and assimilate many different ideas and perspectives.
The preliminary concepts for the transportation plan are conversation starters and represent a variety of possibilities. Ideas include establishing a reservation system for private vehicles, using queuing to manage traffic levels, replacing private vehicle access with an expanded bus system in certain park locations, and restricting vehicle length on some roads. Some of the preliminary concepts include strategies that would be in place only during particular seasons or times of day; others include adaptive strategies that would be implemented only if and when triggers or thresholds are reached.
The transportation plan is important to the quality of life for people living in the many communities that surround the park. Acadia's boundary is highly integrated with neighboring towns. There are many points of entry, and many ways that residents use park roads. The Island Explorer bus system, roadside parking on state roads, and one-way directionality of the Park Loop Road all impact transportation in Acadia's surrounding communities as well as within the park. The transportation plan is intended to help reduce congestion and safety issues on roads on both sides of Acadia's boundaries.
Friends of Acadia is playing a critical role in the transportation planning process. FOA funded the development of a model analyzing congestion on the summit of Cadillac Mountain, which will help us identify levels of traffic that lead to traffic problems there. FOA's Cadillac Summit Stewards have been key to helping us manage visitor use on Cadillac. Dollars raised through FOA's Second Century Campaign can help with potentially significant costs of implementing pieces of the preferred alternative, once it is identified.
Friends of Acadia is also an important and well-respected voice in the public discussion about transportation in Acadia; as part of the FOA community you are a part of that. Although the public comment period for the preliminary concepts will be over by the time this column is published, you will have the opportunity to review and comment on the draft plan and environmental impact statement in 2017. And I continue to benefit from the one-on-one conversations I've had with many of you and I know those will continue.
As we move through our transportation planning process, I encourage you to stay involved and engaged. Visit the plan's website at parkplanning.nps.gov/ACADTransportationPlan. It is only with the help of many that we will come up with a solution that ensures high quality experiences for Acadia's visitors for years to come, protects the park's incredible natural and cultural resources, and better serves the neighboring communities. ❈