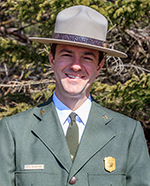 Superintendent's View: Meeting the Challenges of Our Second Century
By Kevin Schneider
Summer 2016 Friends of Acadia Journal
Acadia National Park's Centennial year is fully upon us now. In just my first few months on the job as superintendent, I have been amazed at the outpouring of support I have seen from our communities. The Centennial Task Force has signed up more than 400 individuals, businesses, and organizations as partners, which have committed to hosting an event or donating a portion of their proceeds to the Centennial. The number of events celebrating Acadia is staggering—I recently printed the list of events, and it was nearly 40 pages long! We are very grateful to the Centennial Task Force for helping create such a buzz about the park.
As we reflect on Acadia National Park's first one hundred years of history, it is undeniable that private philanthropy and volunteerism have been a cornerstone. This iconic national park would not exist without the vision and commitment of private citizens. The tradition of private philanthropy remains alive and well at Acadia thanks to the dedicated work of Friends of Acadia. Across the National Park Service, Friends of Acadia is known as one of the highest-performing organizations, which truly sets the bar for how friends groups in parks around the nation do their work.
Yet the challenges we will face into the future are incredibly complex, and the National Park Service will never be able to resolve them alone. As Acadia begins its second century, Friends of Acadia will be vital to our success.
Now, Friends of Acadia is stepping up to the plate yet again to help make Acadia National Park's second century as impactful as its first. The Second Century Campaign will be crucial as we tackle the most pressing challenges of our next century of stewardship. Through this campaign, FOA has committed to raising a staggering $25 million. This is an exceptionally ambitious goal, and the Second Century Campaign is strategically focused on the park's most important challenges in the coming years.
The Wild Acadia program will restore watersheds, re-connect streams with the ocean to provide for fish passage, and prevent infestations of noxious weeds. In the face of a changing climate, the park's natural resources face pressures on an order of magnitude we have never seen before. We must use sound science to make decisions about the park's natural resources, and Wild Acadia will help us.
Acadia provides transformative experiences for our visitors, and a visit generates memories for a lifetime. Yet with increasing visitation, preserving high-quality experiences for our visitors is one of our greatest challenges. Acadia saw a 35% increase in visitation between 2006 and 2015. As Acadia prepares a transportation plan (and I hope you will stay engaged in this planning process by reviewing our preliminary alternatives when they are released later this summer), the Acadia Experience will help the park provide a level of excellence that would otherwise be impossible.
For many people, Acadia's 130 miles of trails and 45 miles of carriage roads define their experience at the park. The Second Century Campaign's Carriage Roads and Trails pillar will add to the existing endowments to address immediate maintenance needs. Well maintained trails are crucial in managing the impacts of millions of footsteps, and they help us protect the park's fragile resources.
We all recognize that America's youth will soon be the next guardians of our national parks, and that kids aren't spending time in the outdoors like they did even 20 years ago. Tomorrow's Stewards will create opportunities for young people to experience Acadia and be transformed—like we once were— by the park. As leaders, one of our primary tasks is to build other leaders, and this is what Tomorrow's Stewards will do.
Finally, an endowment to insure the long-lasting financial health of Friends of Acadia is a smart investment that will likewise insure the financial health of Acadia National Park. This endowment will provide a predictable funding stream and allow the organization to focus effort on its primary mission of generating support for Acadia.
Acadia National Park is fortunate to have an organization like Friends of Acadia—so much work that otherwise wouldn't be possible gets done because of our Friends. For me, it's exciting and humbling to collaborate with our partners in leading this park into its next chapter of history. All of us at Acadia National Park sincerely appreciate your support of Friends of Acadia and we hope you will join us as we meet the challenges of our second century of stewardship in Acadia.