Restoring degraded habitats for Acadia National Park's second century
By David Manski
Summer 2013 Friends of Acadia Journal
Acadia National Park encompasses one of America's most beautiful landscapes. Yet the condition of some of the park's natural and cultural resources is not the same as it was when Acadia was established in 1916. Although ecosystems are naturally dynamic and change over time, a century of development and recreation have degraded some of the park's natural communities and cultural landscapes. While we have been working to stop this degradation from continuing, much more work is needed to restore some of the features of Acadia that have suffered the most. To this end, we have begun planning of a dedicated effort to return to a "Wild Acadia"; not the same as it was in 1916, but a more intact and more functional natural and cultural landscape, where people can come and be inspired for the next 100 years and beyond.
Here are four examples of important park habitats that are in critical need of restoration or rehabilitation: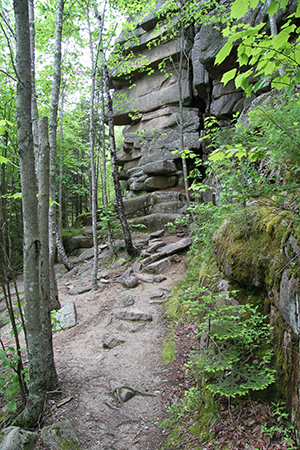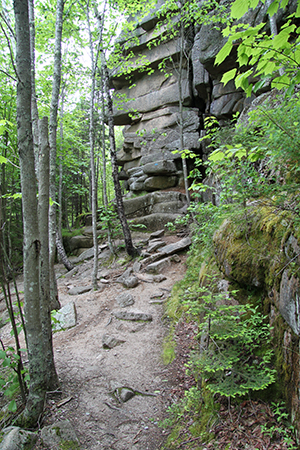 Streams: The park's 200-plus miles of trails and roads cross many crossings and tributaries. Nearly 70% of these waters have poorly designed or poorly functioning culverts that restrict passage by fish and other aquatic organisms because they are too small or steep, create impassable waterfalls, or otherwise obstruct movement. These culverts cut species off from habitats important for spawning, foraging, and avoiding predators. Many culverts in the park are also undersized and during heavy rains cause serious flooding and erosion. With climate change increasing the intensity of rain events in our area, we must replace problem culverts with ones that are larger and fish friendly.
Forests and wetlands: Exotic and invasive species are degrading the integrity of many natural communities in the park. For example, eight non-native plants (glossy buckthorn, Japanese barberry, oriental bittersweet, bush honeysuckle, Canadian and bull thistles, purple loosestrife, and Japanese knotweed) are well established and are outcompeting and threatening our native flora. An invasive insect common on many parts of Mount Desert Island is the European red fire ant. Through competition and predation, this species reduces native insect biodiversity in the park and may be harming ground nesting birds and small mammals. Perhaps of most concern, many invasive forest insects are rapidly moving closer to Acadia each year, threatening to kill many of our native trees. The emerald ash borer and Asian long-horned beetle have now invaded New Hampshire and Massachusetts, respectively. The hemlock wooly adelgid has been found on landscaping plants in a couple of locations on Mount Desert Island. If any of these invasive forest pests become established in Acadia, our magnificent forests could be devastated.
Soils and Vegetation: Fragile sub-alpine vegetation on Cadillac Mountain, an iconic destination in Acadia, is severely trampled and damaged from millions of human footsteps each year. Asmuch as 16% of the summit vegetation and soil has been damaged. In 2008, we identified 335 different visitor-created trail segments on the summit, totaling nearly 1.5 miles. These social trails result in the loss of vegetation and soil from the summit. Other popular trails and destinations in the park
show similar signs of trampling and overuse.
Cultural Landscapes: At Acadia, we have numerous iconic cultural landscapes, such as the carriage roads and Park Loop Road, which evoke the history of the park and local communities. Unfortunately, vegetation succession has deteriorated the appearance and integrity of several important historic landscapes. For example, the Carroll Homestead today looks nothing like the original farm where four generations of Carroll family lived, worked, and played from 1825 to 1917. The disappearance of the past agricultural landscape represents a loss of the area's cultural heritage. Similarly, the landscape features at Sieur de Monts have dramatically changed from George Dorr's original design. Baker Island and Dorr's Old Farm property are other examples of landscapes of cultural importance. While not, strictly speaking, an aspect of "Wild Acadia," the restoration of cultural landscapes is an important part of restoring Acadia to historic conditions. In order to protect and celebrate Acadia's history, we must identify key landscape features and devise and implement management plans for each.
With the approach of the park's 100th anniversary, I believe it is time to focus attention on restoring the integrity and vitality of Acadia's disturbed natural habitats and cultural landscapes. With Friends of Acadia's assistance, we have already started to address some of our priority restoration needs: we are managing invasive plants, rehabilitating the historic cultural landscape on Baker Island, and replacing problem culverts. It will take much more effort and funding to finish this important restoration and rehabilitation work, to repair the park's important natural and cultural landscapes for Acadia's second century.
This is both an opportunity and a responsibility for all of us who care for Acadia. We have the chance to ensure that future park visitors will be able to experience a more "Wild Acadia." A more Wild Acadia will not only better protect the park today, but enable the park to be resilient to the global changes that it will face in the future and inspire future generations of park visitors and local residents.
DAVID MANSKI is chief of resources at Acadia National Park.