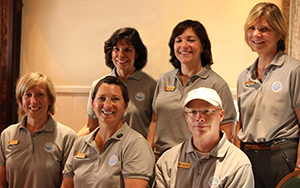 BAR HARBOR, MAINE – This past summer, seven schoolteachers left behind their chalkboards for another sort of classroom, as Acadia National Park teacher-rangers stationed on Mount Desert Island, the Schoodic Peninsula, and St. Croix Island International Historic Site. The Teacher-Ranger-Teacher (TRT) program at Acadia strives to connect teachers from diverse schools to national parks. These teachers then return home to provide their students with a national park experience in their own classrooms. For Acadia, the TRT program is an investment in teacher training and experience—leading to connections with national parks during the school year and into the next generation.
Thanks to generous support from a Friends of Acadia donor, Acadia National Park was able to expand its TRT program this year from two to seven teachers and add a class field trip component to the experience, enabling teachers to bring their students to visit Acadia or another national public land during the school year. Friends of Acadia plans to support the teacher-rangers at Acadia again in 2014, allowing Acadia to plan for an expanded TRT program at a time when other national parks are reducing or eliminating the program due to budget constraints.
This year's teachers came from schools near and far. Ronny Armstrong teaches audio-visual production and AP computer science at Boswell High School in Fort Worth, Texas. Kate Drummond teaches chemistry in Skowhegan Area High School in Skowhegan, Maine. Teri Green is a pre-K teacher at Cave Hill School in Eastbrook, Maine. DeLene Hoffner is a 4th grade teacher at School in the Woods in Colorado Springs, CO. Karen Lingley teaches grades K-2 at Robbinston Grade School in Robbinston, Maine. Judith McConnell teaches grades K-5 at Owings Mills Elementary in Baltimore, Maryland. Melissa McDonald is a 7th-10th grade science teacher at Gilboa-Conesville School in Gilboa, New York.
The teachers spent six weeks working in the park. Most of their time was spent engaging with park education projects, learning about park resources, and developing lesson plans to use in their classrooms and at Acadia. Their experience also included exposure to a variety of field work performed in the park such as public interpretive programs, research studies, boat and road patrols, trail construction, community outreach, and volunteer projects. They took part in the citizen-science "BioBlitz" initiative at the Schoodic Research Learning Center and assisted at Family Fun Day, the park-oriented field day put on by Acadia National Park and Friends of Acadia.
During National Park Week in April, teacher-rangers can wear their TRT uniform to school and engage an even wider audience of learners through presentations that relate to Acadia and the National Park Service. The TRT program benefits kids, teachers, and Acadia National Park. It offers schoolchildren an invaluable opportunity to connect with their national heritage and gain an understanding of special natural and cultural places and the need to protect them.
Here's what teachers said about the Teacher-Ranger-Teacher program:
"This experience has made clear to me the importance of involving students in authentic research outside rather than just in the classroom. I will use every opportunity to use the outdoor environment on my school campus in my teaching."
"I was amazed by the wide range of experiences and trainings I was given. I really learned so much and did many firsts in my life. I cherish this experience! On top of all that, I have numerous ideas and lessons that I gathered while a TRT that I want to apply to our school environment. It's going to be an experience that keeps giving!"
"I never imagined that step I took by applying to be a TRT would open up a world of discovery for me! I pinch myself every day I'm here, thinking… 'Is this really happening to me? Am I really here doing all this?!'
More information about becoming a teacher-ranger is available on Acadia National Park's website at: http://www.nps.gov/acad/forteachers/development/teacher-ranger-teachers.htm. This link will direct you to a downloadable application form. You can also reach Cynthia Ocel, education coordinator, at (207) 288-8812 or email her at cynthia_ocel@nps.gov.