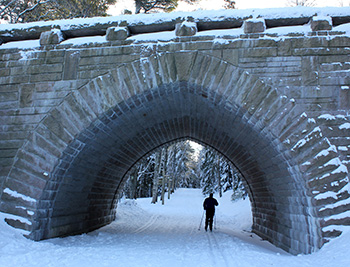 BAR HARBOR, MAINE – The pristine crushed-stone surfaces of Acadia National Park's carriage roads make them ideal for cross-country skiing in wintertime. Add the park's spectacular scenery and trail grooming by the volunteers of the Acadia Winter Trails Association (AWTA), and it's no wonder that skiing is a highlight of the season for many area residents and winter visitors alike. With the first significant snowfall for the 2013–2014 winter season coming over the weekend, the AWTA volunteers were out early Monday morning on Acadia's historic carriage roads, grooming cross-country ski trails for both classic and skate-style skiers.
Sunday's storm left eight to ten inches of snow on the carriage road surface, promising excellent skiing for as long as cold temperatures hold. Skiers taking advantage of the wintery conditions were treated to some of the most scenic cross-country skiing anywhere—winding through and around the freshly snow-coated forests, lakes, and mountains of magnificent Acadia National Park.
Started in the late 1980s as a personal mission of several local ski enthusiasts, AWTA formally partnered with Friends of Acadia and Acadia National Park in 1990. Today, two sets of volunteer groomers operate from the Hulls Cove Visitor Center and the Brown Mountain Gatehouse. They may maintain cross-country ski routes if new snow exceeds six inches and the road bed is frozen. A map of grooming routes and information about current conditions can be found at http://friendsofacadia.org.  Acadia National Park also reports grooming conditions on Twitter, and Friends of Acadia posts on facebook.com/friendsofacadia.
FOR IMMEDIATE RELEASE: Monday, December 16, 2013
CONTACT:  Terry Begley, Programs and Events Coordinator, terry@friendsofacadia.org