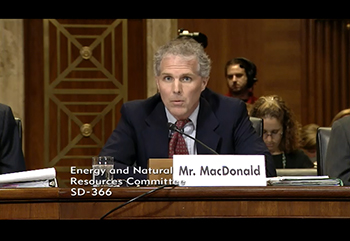 On July 25, Friends of Acadia president David MacDonald traveled to Washington to testify before the full US Senate Committee on Energy & Natural Resources, at a hearing on "Funding the National Park System for the Next Century." He joined Jonathan Jarvis, director of the National Park Service; Craig Obey, senior vice president of government affairs for the National Parks Conservation Association; Dan Puskar, executive director of the Association of Partners for Public Lands; and others, in speaking to the committee about the critical need for adequate federal funding for national parks and about the many positive impacts the parks offer the US economy and the American people.
In particular, David MacDonald explained that private individuals have a strong desire to contribute toward Acadia's well-being, but their enthusiasm for giving back decreases when they feel the federal government is not meeting its responsibility to fund the parks. "Our donors are not inspired to invest if the government is disinvesting," he said. He also spoke to Acadia National Park's great appreciation for and support of volunteers working in the park.
You can watch the full hearing below, or at http://www.energy.senate.gov/public/index.cfm/2013/7/full-committee-hearing-funding-the-national-park-system-for-the-next-century. David's testimony begins at 2:35:05 of the webcast. He answers several follow-up questions beginning at 2:51:25.