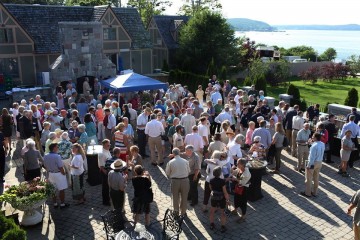 BAR HARBOR – More than 250 members, volunteers, and supporters of Friends of Acadia gathered in the Bar Harbor Club's ballroom on Thursday, July 17th, for the organization's Annual Meeting. FOA board chair Ed Samek, Acadia National Park superintendent Sheridan Steele, FOA conservation director Stephanie Clement, and FOA president David MacDonald presented information about Friends of Acadia's financial outlook, its conservation successes from 2013, and the outstanding partnership with the National Park Service to preserve park resources, engage the next generation of park stewards, and ensure a sustainable future for the park.
A highlight of the event was the presentation of the Marianne Edwards Distinguished Service Award, Friends of Acadia's highest honor, to outgoing Volunteer Trail Crew Leader Julia Schloss. While making the presentation, David MacDonald noted Schloss' unwavering commitment to Acadia National Park over two decades as a volunteer leader, her "keen insights and fearless approach" to challenges, and the thousands of hours she has spent working on the Acadia's historic trail system. The Marianne Edwards Award is named for the organization's late founder.
The Conservation Colleague Award was presented to Canon U.S.A., Inc., a leader in digital imaging solutions, for their corporate commitment to the natural world and our national parks and for their generous leadership in tackling resource protection work at Acadia in helping to launch Friends of Acadia's Wild Acadia restoration and research initiatives.
Other special award presentations were the Community Preservation Award, given to the Bar Harbor Chamber of Commerce for their collaborative, constructive approach last year to the twin challenges of sequestration in the spring and government shutdown in the fall; and for creating greater appreciation for the economic importance of Acadia National Park at the local, regional, and state-wide levels; and the Excellence in Volunteerism Award, given to Acadia Winter Trails volunteer Mark Fernald, for his remarkable efforts grooming Acadia's carriage roads for cross-country skiing.
After the meeting, attendees enjoyed a convivial reception outside on the Bar Harbor Club patio overlooking Frenchman Bay.
FOR IMMEDIATE RELEASE: Wednesday, July 30, 2014
CONTACT:  Aimee Beal Church, Communications and Outreach Coordinator, aimee@friendsofacadia.org