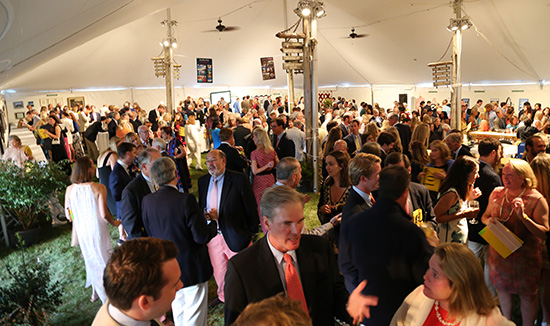 NORTHEAST HARBOR, MAINE – Friends of Acadia celebrated community commitment to conservation and philanthropy on Saturday night at the organization's 26th Annual Benefit Auction. Inside the big tent on the lawn of the Asticou Inn, a good-spirited crowd raised vital funds for Friends of Acadia's work to preserve, protect, and promote stewardship of the park.
The event's great success was thanks to the efforts of many. More than 100 generous artists, businesses, and individuals donated auction items, including Acadia-themed artwork, local and far-flung adventures, and artisan-designed accessories and jewelry; and the 500 guests were enthusiastic bidders in both silent and live auctions. Courtney Urfer Thompson, volunteer chair of the Annual Benefit Committee, thanked the assembled guests and captured the sentiment of the night with her statement that, "Mount Desert Island would not be what it is without Acadia National Park and the park would not be what it is without Friends of Acadia".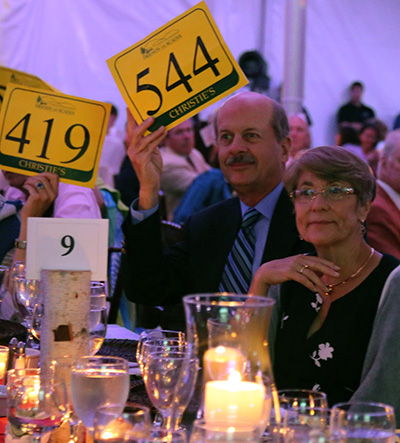 The auction culminated with more than 60 guests making on-the-spot donations to support restoration and maintenance of Acadia's 100-plus historic roadside vistas. The funds raised for this project will be combined with federal funds from a challenge grant established by Congress in honor of the National Park Service centennial, which coincides with Acadia's centennial in 2016. The park is currently addressing a backlog of vista maintenance, with support from Friends of Acadia.
The Benefit Auction continues online until August 20 with selected items available for bidding at www.charitybuzz.com/friendsofacadia. Listings of all auction item donors, sponsors, patrons, and volunteer committee members can be found on the Friends of Acadia website at www.friendsofacadia.org. For more information about the Friends of Acadia Annual Benefit Auction to be held during Acadia's centennial year on Saturday, August 13, 2016, or to find out how to contribute to next year's event, contact Friends of Acadia Senior Development Officer Shawn Keeley at 207-288-3340 or shawn@friendsofacadia.org.
Photos: (top) Under the silent auction tent at the 26th Annual Friends of Acadia Benefit; (bottom) ANP Superintendent Sheridan Steele, accompanied by his wife, Barbara, "bids" to contribute to vista restoration in Acadia at FOA's Benefit Auction.
FOR IMMEDIATE RELEASE: Monday, August 10, 2015
CONTACT:  Shawn Keeley, Senior Development Officer, shawn@friendsofacadia.org