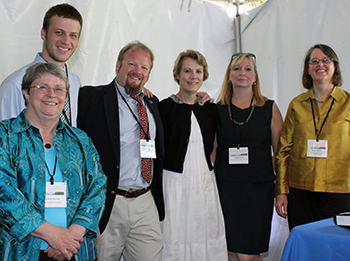 From January through mid-spring of each year, the staff at Friends of Acadia turns their thoughts to hiring. This is the time during which seasonal positions for Acadia's busy summer season are planned, advertised, and filled. Says FOA communications coordinator Aimee Beal Church, "hiring seasonal positions to work in the Friends of Acadia office and out in the park on various FOA projects takes a lot of planning and time, but it's gratifying to find candidates so enthusiastic and excited about these projects that make a real difference for Acadia."
By this time, mid-April, many positions have already been filled but several are still open or just being posted. Among these are the team leader for the Acadia Youth Technology Team, a teen-powered think tank for connecting young people to Acadia, and a field crew leader to work with the hundreds of volunteers who help out on Acadia's trails and carriage roads. In addition, there are two jobs located at our convivial Bar Harbor office: a seasonal development assistant and–a rare opportunity–a full time conservation projects manager who will work closely with closely with Acadia National Park staff, partners in the surrounding communities, and FOA volunteers and members to develop and implement projects involving youth education and involvement in the park; trails and carriage roads; and community conservation and outreach. This last opening closes on April 15, so interested applicants should act quickly!
For more information and application instructions, visit the employment opportunities page on the Friends of Acadia website.