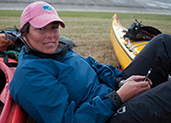 By Julia Walker Thomas, Friends of Acadia Communications Assistant
My favorite part of my job as Communications Assistant at Friends of Acadia is going out in the field, meeting new people, hearing their stories of experiences in the park, and learning things about Acadia I never knew.
While working on our latest video, I met Dennis Smith and Karen Zimmerman. They live in Otter Creek, just off one of the connector trails—the Quarry Trail. Dennis is a fifth-generation Otter Creek resident and is very passionate about the land he grew up exploring and working on. He told me about growing up on Mount Desert Island, and how some of his first memories are of walking down to the causeway with his babysitter and fishing for pollack—he says he's "been a fish fanatic ever since."
Karen is equally passionate about the area; she invited me hiking one day to explore the new connector trails that Friends of Acadia had just inaugurated. On our hike we explored the old quarry across from Blackwoods, scrambling over massive blocks of granite cut over a hundred years ago and walking by huge mats of reindeer lichen. We then walked down the old road from Grover Avenue to Jimmy's Wharf–the same path Dennis also walked as child with his friends to go swimming, though he says the wharf "wasn't very good swimming, too muddy." While we walked I saw more blocks of granite abandoned so long ago they seemed to be growing out of the ground. As we traveled further along the path to the wharf, I thought of all the different people who must have walked this same path over the years: the men who cut the original road through the woods, cut the granite, drove the oxen, and built the boat landing; the Otter Creek residents who had fish houses down on the cove; kids like Dennis who walked through the woods to go swimming off the wharf; and people like me who, though it was my first time there, felt a deep emotional connection to the artifacts from the past that remained. Places like the Quarry Trail are so important in parks like Acadia: they not only preserve the natural beauty of the park but also make people aware of the passage of time and feel the presence of generations that came before them.
Like the granite and the path through the woods, people like Dennis and Karen help share the story of Acadia too. They are a vital connection to the past and help keep the true spirit of the park alive through their enthusiasm and love for Acadia.
ConnectorTrails from Friends of Acadia on Vimeo.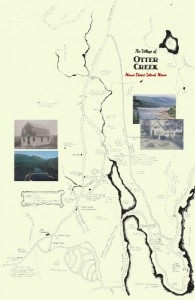 Karen's beautiful map of Otter Creek featuring the new connector trails. Click on the map to view a larger version.
 ©Z Studio Design  http://www.zzzinc.com/