Pursuing outdoor recreation and exercise close to home, and following recommended physical distancing guidelines, are key to enjoying the benefits of being outdoors in Maine during the ongoing coronavirus crisis. Like any outing, getting ready to spend time outdoors during these times of stay-healthy-at-home orders and social distancing requires forethought, planning, and flexibility.
First and foremost, staying within 30 minutes of home helps minimize the possibility that asymptomatic carriers of the COVID-19 virus might inadvertently spread it to other areas. Park staffs and local emergency medical personnel may not be able to respond as quickly as usual. Call outs for an accident or injury risks diverting them, and scarce resources, from the coronavirus fight.

Questions to ask before heading out:
Does my trip put vulnerable gateway communities at risk and/or will it strain limited local resources?
Will I encounter surfaces that could transfer the virus to me or from me?
Is there a likelihood I will encounter members of vulnerable populations such as those with compromised immune systems, over age 60, or pregnant?
Does the route I'm contemplating include sections where it will be difficult to safely maintain physical distancing of at least six feet?
If you answered "yes" to any of the above, please consider other options.
And, although state orders require people to maintain a minimum of six feet of separation whenever possible, studies suggest that those engaged in intense exercise such as running or bicycling can leave behind a "plume" of airborne particles warranting even wider separation in those situations.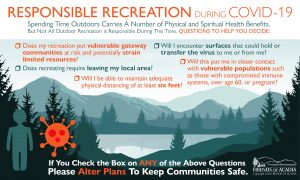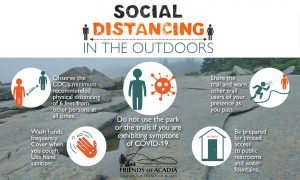 Latest COVID-19-related Acadia Information Stay Connected to Acadia Acadia is For Kids
RETURN TO: STAYING CONNECTED TO ACADIA DURING COVID-19
You can help keep Acadia strong by JOINING or DONATING today!
Join the Conversation – via social media!