Packing the appropriate gear, wearing the right clothing and planning ahead can make all the difference for a safe and enjoyable experience for your winter visit to Acadia National Park.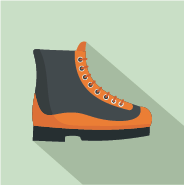 Warm boots with a good tread are essential to help prevent slipping even on dry ground, but especially on wet or icy surfaces.
Non-cotton Layers allow for adjustments as your body heats up or cools
down with changes in activity. A wind-proof, waterproof outer layer is essential.
There are patches of ice on nearly every trail. Bring ice cleats microspikes for your boots.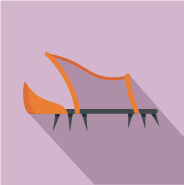 Hiking pants or thick leggings are great for a mild winter day's exploration, but you'll need thermal clothing especially if you want to play in the white stuff. Gaiters help keep snow from getting into boots.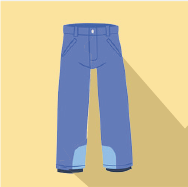 Warm Hat, Scarf, Gloves & Mittens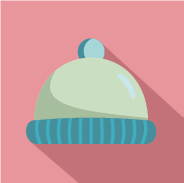 A good thick hat will help keep the winter wind out of your ears and help keep in your body heat. Warm gloves are essential too.
Drink plenty of water to stay hydrated. Keep water deep
inside your pack to prevent freezing. Hydration system water lines left exposed can freeze up.
Sun screen, lip balm, brimmed hats, sunglasses or goggles
help with intense reflections off the snow and water. You
can get a sunburn even on a cloudy day and especially with
sunlight reflecting off snow.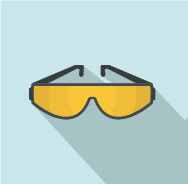 You'll be surprised
how many calories you can burn doing winter activities. You need fuel to help keep up your energy.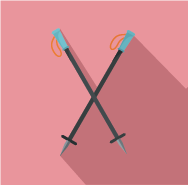 These help maintain
traction and balance. Snow baskets attached at the bottom help prevent
the poles from sticking too deep into the snow.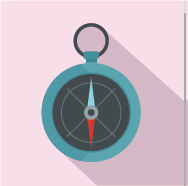 The list includes a headlamp, extra batteries, matches or
lighter, space blanket or bivvy sack, small first aid kit, twine, duct tape, and a pocket knife. Consider carrying a small insulated pad for sitting to insulate you from the ground
Acadia Winter Trails & Grooming Routes
Hike with a friend. If you hike alone, let someone know your itinerary and your expected return time. Cell phones do not have signal in all areas of the park.

Daylight hours are short, and the sun sets quickly. Begin early in the day, allow extra time, and be prepared with a headlamp and extra batteries.

Deep snow may obscure trail blazes or markers. Up-to-date maps, a compass, and knowledge of how to use them are essential. Do not rely solely on a GPS.

Dress in layers and always bring along extra clothing. While you are exercising, add or remove layers to stay comfortable and minimize sweating. In Acadia, weather can switch from snow, to ice, to rain and back to sunshine in a very short time. A waterproof outer layer is essential. Wear a wool or poly-base layer next to your skin instead of moisture-retaining cotton. Hypothermia can occur in temperatures well above freezing and become serious if you get wet and chilled.

Eat and drink frequently. Dehydration hastens the onset of hypothermia. Do not underestimate the amount of food that you'll need. Snowshoeing for example, burns about 600 calories an hour.

Turn around or find another route if ice conditions make travel unsafe. Strap on ice cleats or traction aids for boots are recommended.

Stay alert for the signs of hypothermia or frostbite. Wind chills on open peaks and ridges can quickly become life-threatening. Know the symptoms and how to counter or treat them before you set out.

If you are not experienced in winter activities, consider initial outings in areas that you are familiar with or consult someone who is experienced and familiar with the area and local conditions.

On groomed ski trails please follow the user guidelines to avoid damaging tracks or causing conflicts.
KNOW BEFORE YOU GO ■  Learn about and respect the spaces we all own but share with others ■  Bring along reusable water bottles or hot drink tumblers to limit waste and stay hydrated.
STICK TO TRAILS ■  There are over 150 miles of trails to select from in Acadia National Park. Add to this the famous Carriage Roads, and the Acadia explorer has a wide selection of enjoyable options.
LEAVE IT AS YOU FIND IT ■  Leave plants, rocks and historical items as you find them so others experience the joy of discovery.
TRASH THE TRASH ■  Pack it in, pack it out. Put litter, even crumbs, peels and cores in your nearest waste/recycling bin.
KEEP WILDLIFE WILD ■  Maine is home to a variety of furry and feathered creatures some active in the winter as well as summer. To keep them – and you – safe, don't approach them. ■  Keep your furry canine buddies leashed when enjoying dog-friendly trails, and pack out their waste.
SHARE OUR TRAILS & PARKS ■  Silence your cell phone before stepping into nature, and speak softly without using the speaker function. ■  Be considerate when passing others on the trails and yield to the uphill hiker or skier.