Ten years ago, the sound of a ringing cell phone in the wilderness was still new—maybe even amusing. Amusement has turned to concern as youthful obsession with all things electronic has begun to pull a whole generation away from the outdoors altogether. When today's kids grow up, will they be moved to nurture and protect natural treasures like Acadia? Determined to go with—and leverage—the trend, Friends of Acadia has partnered with the park to hire and equip a team of teenagers and their college-age leaders with ipads, apps, and other digital tools and send them outdoors in Acadia to explore how youth might use technology to engage with the park and with nature.
Through an initial $25,000 gift in honor of Friends of Acadia's 25th anniversary in 2011, FOA hired and equipped four local high school students and an assistant team leader. This funding was matched by the park, which hired the team leader and organized and hosted the program. Friends of Acadia involvement was critical to the success of the program: as an independent organization, Friends of Acadia has flexibility to hire teenaged interns and purchase certain computer equipment, without which, says park interpretive ranger Adrianna MacLane, "the AYTT would have been a very different, and far less successful, program."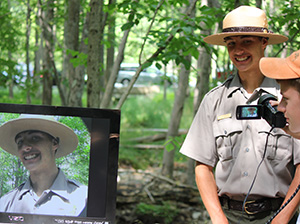 In 2011 the team spent 10 weeks learning about park programs and experimenting with the ipads as well as digital cameras, smart phones, webcams, apps, and QR codes; they produced specific proposals for technology projects, as well as general principles regarding technology use. Friends of Acadia continues to support the partnership financially and administratively. In 2012 the team began implementing selected proposals and developing tools for evaluating the impact of these projects. This work continued in 2013 with the addition of an evaluation fellow to the team.
In addition to the specific ideas and tools the team has generated on how to engage youth in nature, this project benefits the park in two greater senses. On a local level, the Acadia Youth technology team is itself a highly successful program to engage youth—the team members—as stewards of Acadia. And on a national level, the project creates a model for how the park service at Acadia and elsewhere can work with young people on similar questions.
Open Acadia Youth Technology Team positions are generally posted in January or February for the following summer. See Employment Opportunities.
How You Can Help
Like all of Friends of Acadia's unendowed programs, the Acadia Youth Technology Team depends on the unrestricted dollars that come from Friends of Acadia's dedicated members. If you're already a member—thank you! If you're not yet, visit
Giving and Membership
to learn more about the value of Friends of Acadia membership.