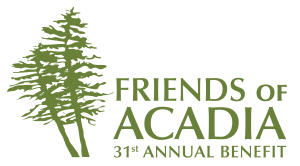 31st Annual Benefit
Saturday, August 8, 2020
Asticou Inn
Northeast Harbor, Maine
Thank you for your interest in the 31st Annual FOA Benefit. If you would like to attend the benefit, please contact Shawn Keeley at 207-288-3340 or shawn@friendsofacadia.org.
Special thanks to our Benefit Co-Chairs, Laura and Vassar Pierce and the entire 31st Annual Benefit Committee for their leadership.
Key Dates for the 31st Annual Benefit:
March 4 – Patron Program begins
May 4 – Benefit Invitations mailed and Individual and Young Friend tickets available online and by mail
July 31 – Benefit Catalog mailed to expected guests
August 5 – Patron Preview Party in Northeast Harbor
August 8 – Annual Benefit at the Asticou Inn in Northeast Harbor
If you have any questions about the Benefit or would like to contribute an item to the silent or live auctions, please contact Shawn Keeley 207-288-3340, shawn@friendsofacadia.org
About the Friends of Acadia Annual Benefit
The Friends of Acadia Annual Benefit has become a wonderful tradition celebrating conservation, friendship, and philanthropy, all to benefit Acadia National Park. Since its inception in 1990, the Benefit has raised over $15 million for Acadia; providing critical funds to support new and ongoing programs in Acadia that engage youth, protect natural and cultural resources, and contribute to a quality visitor experience in the park.
The event begins with a cocktail hour and Silent Auction at 6:00 p.m., followed by dinner and Live Auction with Christie's Auctioneer Lydia Fenet at 7:30 p.m., and culminates in dancing to live music until 11:00 p.m.
Benefit Patrons who help to underwrite the costs of the event are invited to the Patron Preview Party, hosted the Wednesday evening prior to the event.
Patron contributions can be made here.
A highlight of every Benefit is the Paddle Raise. Proceeds from the 2019 Paddle Raise are helping to fund the restoration of 17 Acadia National Park's Carriage Road Bridges. In 2018, more than 70 donors raised their paddles to collectively contribute over $300,000 to support the park's acquisition and restoration of the Bass Harbor Head Lighthouse.
For an idea of our past auction items, view the 2019 Benefit Auction Catalog here.
Bids may be placed at the Benefit Auction event on Saturday, August 8, 2020, or via absentee bid until Friday, August 7, 2020 at noon.