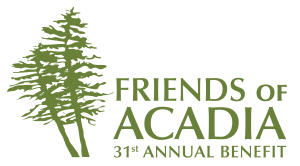 31st Annual Benefit – re-envisioned
Saturday, August 8, 2020

This summer, FOA's meetings and events will look significantly different than previous years, including the 31st Annual Benefit. Please watch the video message from FOA President David MacDonald below. David explains that the Annual Benefit has always been a wonderful way to accomplish two goals: bringing our community together to celebrate the park and raising critical funds for conservation projects in Acadia. While we do not plan to hold our traditional Annual Benefit and Patron Party as in-person events due to COVID-19, we are excited to offer an Annual Benefit program that still accomplishes these goals through a virtual event on August 8th and other opportunities to support the Benefit throughout the summer.
FOA will be sharing updates on our event plans on this webpage, via email to our Benefit community, and through social media channels in the coming weeks and months so please stay tuned. Our special thanks to the Benefit Committee and this year's co-chairs Laura and Vassar Pierce, whose flexibility and leadership have been instrumental in helping FOA navigate these uncertain times.
If you have any questions about the Benefit, please contact Shawn Keeley 207-288-3340, shawn@friendsofacadia.org
About the Friends of Acadia Annual Benefit
The Friends of Acadia Annual Benefit has become a wonderful tradition celebrating conservation, friendship, and philanthropy, all to benefit Acadia National Park. Since its inception in 1990, the Benefit has raised over $15 million for Acadia; providing critical funds to support new and ongoing programs in Acadia that engage youth, protect natural and cultural resources, and contribute to a quality visitor experience in the park.
Benefit Patrons help to underwrite the costs of the event.
Patron contributions can be made here.
A highlight of every Benefit is the Paddle Raise. Proceeds from the 2019 Paddle Raise are helping to fund the restoration of 17 Acadia National Park's Carriage Road Bridges. In 2018, more than 70 donors raised their paddles to collectively contribute over $300,000 to support the park's acquisition and restoration of the Bass Harbor Head Lighthouse.