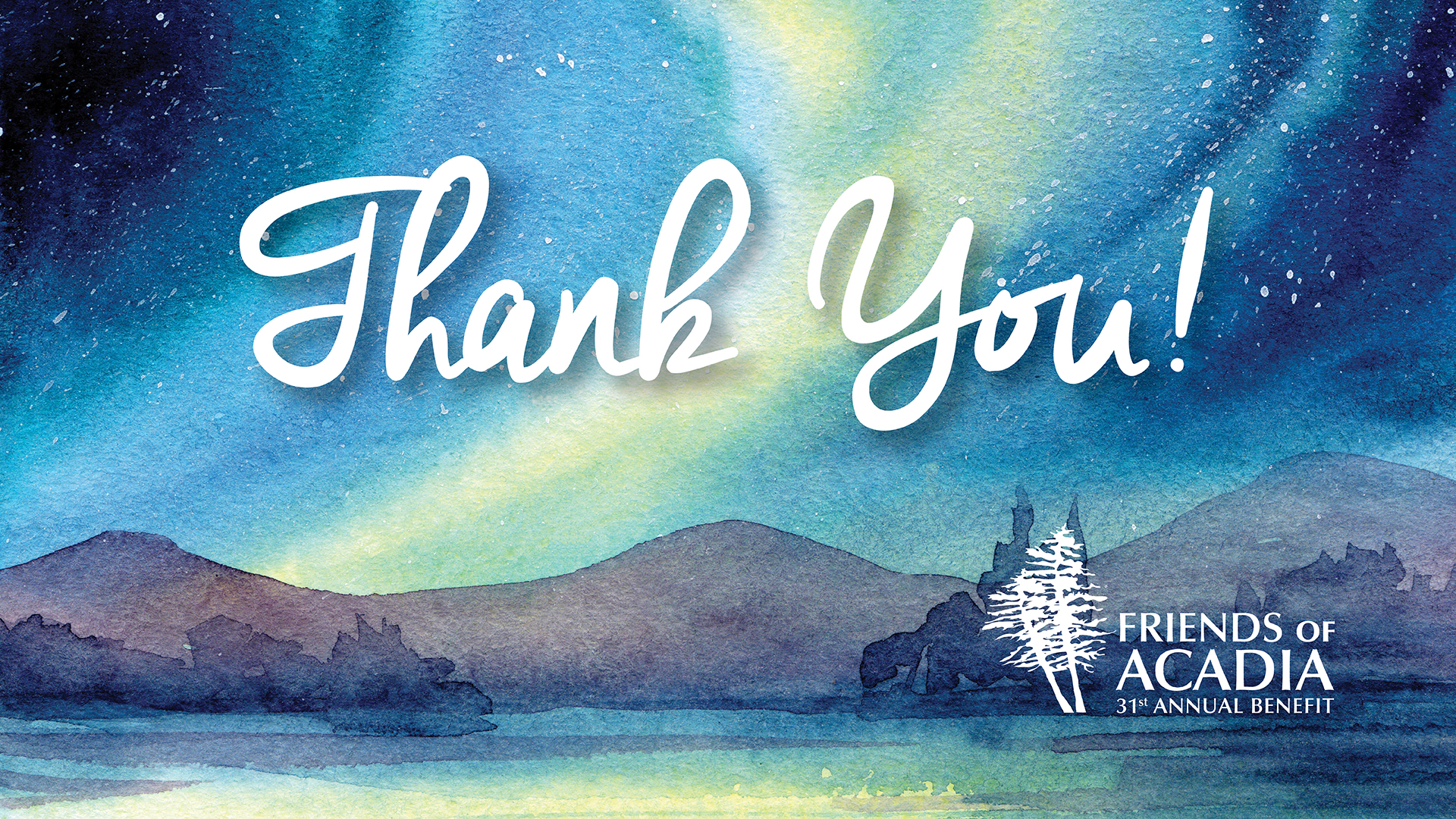 31st Annual Benefit
Re-envisioned
For 30 years, Friends of Acadia's Annual Benefit has been a highlight of the summer and a wonderful way to bring our community together to celebrate the park while raising critical funds for conservation projects. Due to COVID-19, the 31st Annual Benefit was our first virtual Benefit in history. Thanks to leadership of our Benefit Committee, led by co-chairs Laura and Vassar Pierce, our Re-envisioned Benefit still featured some of its signature elements including the silent auction, live auction, and paddle raise, culminating in a live broadcast on the evening of August 8th.

Our special thanks to Christie's auctioneer Lydia Fenet, our Presenting Sponsor Chilton Trust, FOA's Benefit Patrons, Mount Desert 365 who donated auction display space in Northeast Harbor, and everyone who joined us in one way or another to help raise funds for Acadia National Park including our FOA Benefit Committee.

Please save the date of Saturday, August 14, 2021 for the 32nd Annual Benefit.
A highlight of every Benefit is the Paddle Raise. Proceeds from the 2020 Paddle Raise launched the Acadia Resilience Fund to help the park address challenges related to the pandemic and Benefit participants raised their paddles to support this initiative.
To learn about Mobile Ranger Studios, one of the initiatives funded by the Acadia Resilience Fund, watch this video.
If you missed the Benefit and would still like to contribute to the "Acadia Resilience Fund," please use this form to donate: https://friendsofacadia.org/2020paddleraise/
About the Friends of Acadia Annual Benefit
The Friends of Acadia Annual Benefit has become a wonderful tradition celebrating conservation, friendship, and philanthropy, all to benefit Acadia National Park. Since its inception in 1990, the Benefit has raised over $15 million for Acadia; providing critical funds to support new and ongoing programs in Acadia that engage youth, protect natural and cultural resources, and contribute to a quality visitor experience in the park.
Benefit Patrons help to underwrite the costs of the event.