Help Maintain the Historic Carriage Roads and Trails of Acadia!
A half-day goes a long way
Our Drop-in Stewardship Volunteer Program occurs every Tuesday, Thursday, and Saturday from June through the end of October. While being led by our amazing Volunteer Crew Leaders, you'll help with important work like cutting back vegetation, clearing drainage features, building bogwalk, tread work, weeding carriage roads, and other tasks.
Projects run from 8:15 a.m. to 12:15 p.m., weather permitting, and no experience or reservation is required!
As a drop-in volunteer, you'll see a new side of Acadia, feel a deeper connection to the park, and leave this national treasure a little better than you found it.
Drop In to Help Out
Drop-in stewardship volunteers help keep Acadia's trails and carriage roads safe, accessible, and looking sharp. And half-day's work goes a long way. Come volunteer!
Read More
Frequently Asked Questions:
Projects vary throughout the season, but we always try to have an option for every ability level. Examples of projects include cutting back brush growing into a trail corridor with loppers and hedge trimmers, raking leaves out of drainage features, spreading gravel on trails using wheelbarrows, weeding the carriage roads, and building bogwalk.
Nope! Just show up! (Note: in cases of inclement weather, we will cancel for the day.) See the upcoming project schedule to see what's ahead.
This program runs from June – October (weather permitting) on Tuesdays, Thursdays, and Saturday mornings from 8:15am – 12:15pm. We ask that participants arrive at Headquarters around 8:15am to ensure they have time to sign up for a project and fill out any paperwork. At 8:30am a member of the Stewardship Crew will give a brief safety overview as well as introduction to the Stewardship Program, then volunteers will meet up with their Volunteer Crew Leader, hop into a van and head to their project site. Participants will return to HQ around 12:00pm.
Check out the upcoming project schedule to see what we're working on!
Acadia National Park Headquarters on 567 Eagle Lake Rd, Bar Harbor, ME 04609 [Directions]
Look for us by the picnic tables/flagpole in front of the administration building.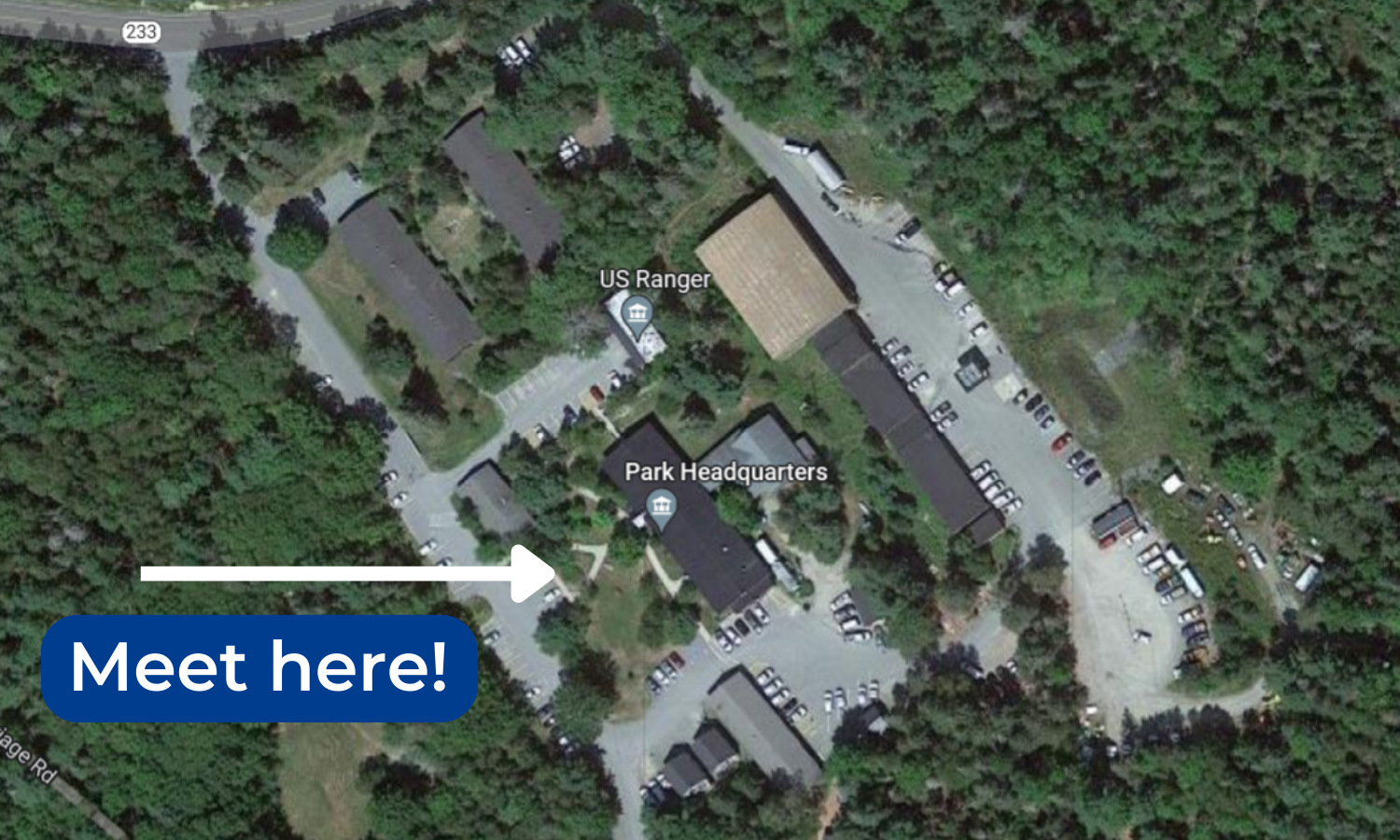 We provide tools, gloves, training, leadership, and transportation.
We ask that you please bring water, snacks, insect repellent, clothing layers, and sturdy close-toed shoes. Ticks carrying Lyme disease are very common in Maine. We recommend wearing long socks and light-colored pants, which you can tuck into your socks to prevent ticks from climbing under your clothing
Anyone can come to the Drop-in Stewardship Volunteer Program! All ability levels are welcome, and no prior experience is required. We do require that all youth 17 and under need to be accompanied by a parent or legal guardian. And although we love pets, please leave them at home when you come to volunteer for their safety and yours.
If you are interested in bringing a group with more than five volunteers, please check out our service group page.
Ask one of our VCLs (Volunteer Crew Leaders), like Peter here, next time you're out in the field!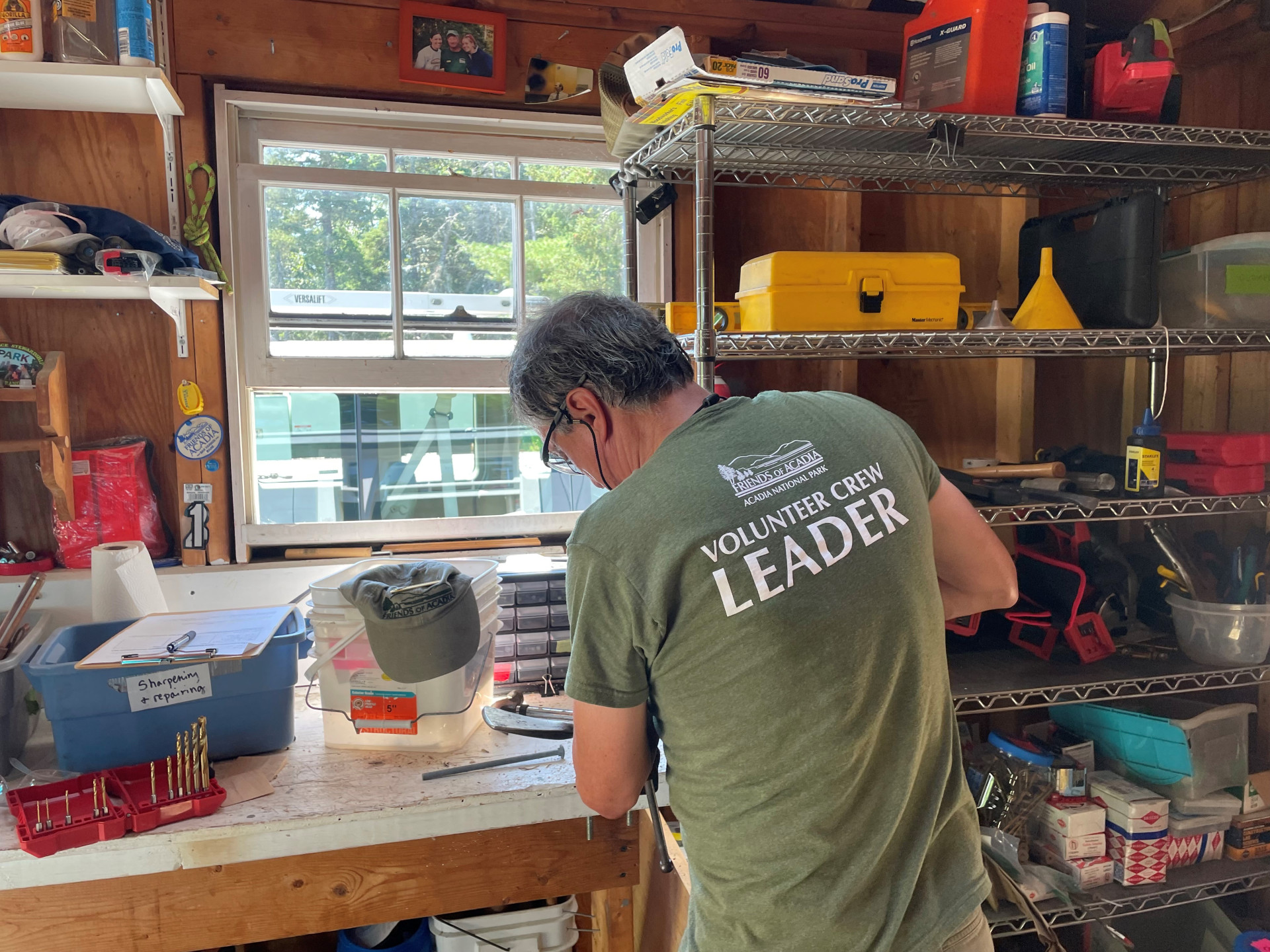 Any other questions?
Please contact the Stewardship Coordinator, Nikki Burtis at 207-370-7938 or by email at nikki@friendsofacadia.org
Join us as a Drop-in Stewardship volunteer!
No need to register, and no previous experience needed.
Got a whole group interested in volunteering?
We love having groups come out to volunteer – although groups DO need to register and be scheduled in advance. Whether it's a church group, rotary clubs, or a group of Acadia-loving friends, if you have five people or more, head over to our Service Group page to sign up.