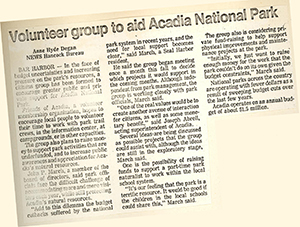 In 1986 Friends of Acadia founders envisioned a membership-based and volunteer-powered organization that would translate their love for Acadia into tangible good for the park. For more than three decades, that vision has guided our work—from modest early volunteer projects and small equipment donations, to major achievements such as Acadia Trails Forever, establishing the nation's first endowed trail system.
"In my 22 years at Acadia, I have watched Friends of Acadia grow from a small, fledgling organization to one of the most effective friends' groups in the country. Acadia National Park is a far greater place today because of the leadership of FOA's staff and board and the generosity and dedication of its many donors and volunteers." –Len Bobinchock, Acadia National Park Deputy Superintendent (retired)
Thirty (plus!) Years at a Glance
1985 Marianne Edwards and a group of park volunteers discuss the need for a citizen organization to help Acadia National Park. Park Superintendent Ron Wrye approves the idea.
1986 The legislative boundary of Acadia National Park is established. Friends of Acadia is incorporated with an initial contribution of $50 from Marianne Edwards.
1987 The first Journal of Friends of Acadia is distributed as an insert in area newspapers.
1988 FOA has 350 members.
1989 FOA's first fundraising campaign raises $25,000 to relight Bear Island Light.
1990 Friends of Acadia's first annual Benefit Auction is held.
1991 The Carriage Road Campaign is announced. The first annual Take Pride in Acadia Day draws 57 volunteers to rake Acadia's carriage roads.
1995 FOA has 1,500 members.
1996 The Carriage Road Campaign ends, leveraging a commitment of $6 million in federal appropriations to reconstruct the carriage roads, and creating a $4 million fund to maintain the roads in perpetuity.
1997 FOA with state and local partners avert a clear-cut on 1,600 acres on the Schoodic Peninsula adjacent to park lands. Wheelchair-accessible carriages are donated to Acadia National Park and their maintenance endowed. The Ridge Runners program is established and endowed. FOA hires its first field crew leader to lead volunteers on work projects in Acadia National Park.
1998 Working with the park, FOA achieves a first-in-nation legislative jet-ski ban on all ponds inside Acadia.
1999 The Acadia Youth Conservation Corps is endowed with an anonymous gift. FOA co-develops and co-funds the Island Explorer bus system. Acadia Trails Forever, the campaign to restore and endow the trails of Acadia, is announced and receives the first-ever $5-million gift to a conservation organization in Maine, making Acadia the first national park in the nation with an endowed trail system.
2000 The first Earth Day Roadside Cleanup is held.
2002 L.L.Bean pledges its first $1 million to support the Island Explorer.
2005 Acadia Winter Trails, the volunteer program that grooms Acadia's carriage roads for cross-country skiing, is endowed. The Acadia Land Legacy partnership is established to purchase from willing sellers privately-owned properties within park boundaries.
2006 The first Family Fun Day is held at Little Long Pond.
2007 FOA purchases and protects 25 acres on Acadia Mountain, threatened by development. FOA purchases 369 acres in Trenton for the Acadia Gateway Center.
2008 Acadia Quest is introduced, challenging young people and their families and mentors to explore, discover, and protect Acadia.
2009 The accomplishments of Acadia Trails Forever's first 10 years include 5.6 miles of village connector trails built; 1.8 miles of abandoned trails reopened; over 3,000 steps, 16,760 square feet of walls, and 259 culverts repaired or constructed.
2010 Friends of Acadia has over 3,500 members. FOA lobbies the Maine Legislature successfully to limit open carry of firearms in Acadia. A formal relationship with the Wild Gardens of Acadia is established to ensure their future viability. Cumulative FOA grants to Acadia National Park and communities surpass $15 million.
2011 The Acadia Youth Technology Team is initiated with a $25,000 grant to celebrate FOA's 25th anniversary. Lower Hadlock and Round ponds are protected through Acadia Land Legacy.
2012 The first phase of the Acadia Gateway Center is inaugurated, giving the Island Explorer bus fleet a permanent home.
2013 FOA funds the Wild Acadia watershed-based natural resource management program and a forward-thinking water-quality monitoring program at Jordan Pond, Maine's clearest lake—both with leadership support from Canon U.S.A. The Teacher-Ranger-Teacher program at Acadia (now Acadia Teacher Fellows) is significantly expanded with FOA support.
2014 FOA hires the first Cadillac Summit Steward team to reduce impacts and increase visitor engagement in the protection of Cadillac Mountain's fragile alpine environment. The Island Explorer transports its 5-millionth rider.
2015 An ambitious new vista-clearing program along Acadia's motor and carriage roads gets support from a Congressional Centennial Challenge Grant, matched by FOA. The 1,400-acre Schoodic Woods property opens with a new campground and new hiking and bike trails, and the lands—now permanently protected—become Acadia National Park's newest asset.
2016 The community-based Acadia Centennial engages more than 450 Acadia Centennial Partners to "celebrate our past and inspire our future" and FOA is honored with a National Park Service Director's Partnership Award for its role in the celebration. Friends of Acadia announces the Second Century Campaign. FOA has more than 4,500 members.
2017 Friends of Acadia membership exceeds 5,000.