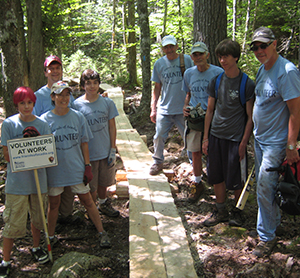 Volunteering for Acadia
Acadia National Park was created by the individual efforts of people who loved this place and were motivated to care for it. Today, you can be a part of this legacy by volunteering in the park with Friends of Acadia. Whether you volunteer for a few hours, a few months, or year after year, you'll see a new side of Acadia, feel a deeper connection to the park, and leave this national treasure a little better than you found it.
Many hundreds of volunteers contribute thousands of hours each year on essential projects. Together, they make a real and lasting difference for Acadia National Park.
"I see the impact of our Friends' efforts every time I walk the trails, ride the carriage roads, or catch the Island Explorer. We could not have made the tremendous improvements of the past twenty-five years without them. From both a park manager's and park lover's view, I am deeply grateful to Friends of Acadia." —Jim Vekasi, Acadia National Park Chief of Maintenance from 1992 through 2011
There are many different ways to put your particular skills and interests to work for the park:
Stewardship Volunteers work on trails, carriage roads, and other outdoor projects in the park on Tuesday, Thursday, and Saturday mornings from June through October; drop-in volunteers are encouraged
The Acadia Winter Trails Association grooms the carriage roads in winter for cross-country skiing
The Advocacy Network receives email updates about opportunities to weigh in with state and national lawmakers on issues important to Acadia National Park
Friends of Acadia office, event, and membership table volunteers help out within the organization to maximize FOA's effectiveness in meeting our mission
The Schoodic Committee works on volunteer and other projects specific to the Schoodic District of Acadia
The Trenton Village Connector Trail Committee maintains a public walking/nature trail behind the Acadia Gateway Center
The Wild Gardens of Acadia Committee maintains the Gardens at Sieur de Monts and includes docents who help interpret the Gardens to visitors
Take Pride in Acadia Day is the park's most important annual volunteer event, marshaling the efforts of more than 400 volunteers to prepare Acadia's historic carriage road system for winter.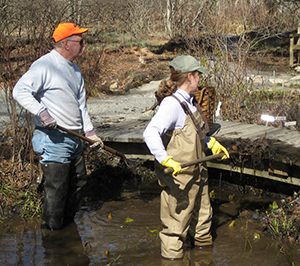 Friends of Acadia membership dollars pave the way for volunteer stewards to provide their best work. Each year we provide transportation, tools, training, and leadership on outdoor stewardship projects. If you would like to support the work of our volunteers, we invite you to make a donation and join Friends of Acadia.

For more information about volunteering, call us at 207-288-3340 or use the form below: