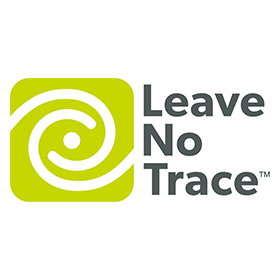 Leave No Trace
KNOW BEFORE YOU GO ■ Learn about and respect the spaces we all own but share with others ■ Bring along reusable water bottles or hot drink tumblers to limit waste and stay hydrated.
STICK TO TRAILS ■ There are over 150 miles of trails to select from in Acadia National Park. Add to this the famous Carriage Roads, and the Acadia explorer has a wide selection of enjoyable options.
LEAVE IT AS YOU FIND IT ■ Leave plants, rocks and historical items as you find them so others experience the joy of discovery.
TRASH THE TRASH ■ Pack it in, pack it out. Put litter, even crumbs, peels and cores in your nearest waste/recycling bin.
KEEP WILDLIFE WILD ■ Maine is home to a variety of furry and feathered creatures some active in the winter as well as summer. To keep them – and you – safe, don't approach them. ■ Keep your furry canine buddies leashed when enjoying dog-friendly trails, and pack out their waste.
SHARE OUR TRAILS & PARKS ■ Silence your cell phone before stepping into nature, and speak softly without using the speaker function. ■ Be considerate when passing others on the trails and yield to the uphill hiker or skier.