With its pink-granite mountains and coastline, uniquely varied ecosystems, and historic trails and carriage roads, Acadia is a place where magnificent natural and cultural treasures interweave to create a visitor's dream destination. Its small size, many recreational opportunities, and easy access from surrounding communities make Acadia ideal for visitors young and old, whether they spend just a few hours, a week, or a lifetime here.
But Acadia's size and appeal also make it highly vulnerable to the impacts of heavy visitation—whether from thousands of footsteps compacting fragile soils, auto emissions obscuring brilliant starry skies, or overflow roadside parking damaging delicate vegetation (and causing unpleasant, if not dangerous, driving conditions).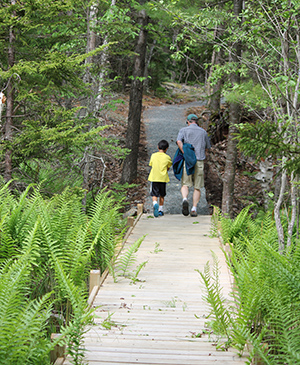 Please consider the park's long-term well being when making your travel and recreation plans. Browse these pages for a variety of resources to guide you; plus photos, articles, and other information about Acadia's unique resources to inspire you!
Seasonal Information
Current Weather
Carriage Road Courtesy – Bicycles
Acadia Winter Trails
Getting Around
Island Explorer
Wheelchair and Accessible Access
Local Tour Operators
Activities
Acadia Quest
Bark Ranger
Ranger-led Program
Seasonal Opportunities
Acadia Youth Conservation Corps
Acadia Digital Media Team
Summit Stewards
Stewarship Crew
Taking Care Acadia
Leave No Trace
Do's and Don'ts (parking, rocks, vegetation, berries, wildlife)
Giving Back
Advisories
Acadia National Park notices
Climate Change
Invasive Species