Be a Rock Star Steward in
Acadia National Park
You're an enthusiastic adventurer – a devotee of the great outdoors! We love that about you!
We also love that you're mindful of the impact you have on incredible places like Acadia National Park. (We all have an impact, but reducing it as much as possible helps ensure our public lands remain as glorious as we remember them, and that's something we can all get behind.)
It helps to have some intel on how best to do that. Sure, we all know not toss our trash on a trail, but what's the right course of action when confronted with a puddle?
We have the answer below, along with a handful of other stewardship tips that'll ensure you're a standout steward in Acadia and every outdoor space you adventure in.
Here's how to be a rock star steward in Acadia National Park:

Stay on Trail!
Staying on trail is a wise environmental approach (and one that'll spare you from time spent lost in the woods, too). It keeps the impact from foot traffic to a confined space – allowing the surrounding vegetation to thrive.
On many of Acadia's summits, the evergreen forest gives way to open swaths of exposed granite that are swirled with low-lying flowers and shrubs. Those plants make the most of the shallow pockets of soil. They're tough! But they're also fragile. A few boot steps can destroy them.

Your duty as a plant protector is to rock hop and keep your boot steps on hard surfaces!
Walk Through Puddles

Maybe your parents discouraged puddle-walking when you were a kid, so you tend to detour around them when hiking on a trail. The thing is, that detour ends up making the trail wider and wider, which creates a bigger impact on the natural surroundings.



So go ahead and walk right on through. Besides, a little mud on your boots is a hiker's badge of honor.
Let Cairns Be Cairns
Cairns are rock piles or stacks that serve to mark the trail – they're super handy in Acadia on stretches of exposed granite, where the trail can be harder to follow (and we know already how important it is to stay on the trail).
The park's cairns are pretty unique, too. They're known as Bates cairns and feature two rocks at the base, a "mantel" rock on top of those, and a directional rock on top that points the way. It's a design developed by Waldron Bates in 1896 for Acadia trails – hence the name.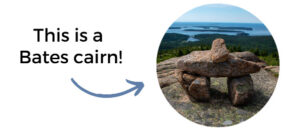 Bates cairns have an important job, so when you see one, let it be (you're welcome to thank it for its noble work as a trail guide). And avoid making your own rock stacks, lest other hikers confuse them for cairns and get detoured from the trail (more on that below).
Stack No Rocks
Pancakes are great for stacking. Rocks you find on public lands? Not so much.
Stacking rocks might seem like a harmless way to pass the time, but those stacks could confuse passing hikers who might think they're cairns and then be detoured from the trail. Moving rocks around can also damage our environment. Rocks play an important role in our ecosystems by providing habitat for lichen and insects. They also prevent soil erosion and flooding. Rock on, rocks!

Remove the Poop
Ideally, all human pooping would take place in a toilet – not in the woods. Acadia has a bunch of well-maintained toilets conveniently positioned near trailheads and popular park destinations (check a current map before heading out so you can seize all restroom opportunities, and note that some restrooms are closed in winter. Even better, try to "go" before you go).
If nature calls unexpectedly and nowhere near a restroom, you have two options: bag it and carry it out or dig a hole and bury it. If you choose to dig, the hole should be 6-8 inches deep and 200 feet (70 big steps) from water. Those conditions can be difficult to find in Acadia due to thin soils (especially on those aforementioned expanses of granite) and because many trails are close to rivers and ponds that supply public drinking water for the area. Packing an emergency poop bag and some toilet paper makes good sense for this reason!
Pet Poop, Too
Exploring Acadia with our pets is the best (on a leash, of course)! As their humans, it's our duty to remove their poop. That means bagging it AND disposing of it, as opposed to leaving it on the side of a trail hoping we'll remember to grab it later. Truth is, Acadia is a wonderfully distracting place, and people forget. A lot. So bag it, carry it out, and dispose of it properly. Learn more about visiting Acadia with your pet.
Ride the Island Explorer Bus
One of Acadia's many perks is the free Island Explorer bus service. This fleet of buses brings visitors to and from a host of locations within the park as well as around Mount Desert Island and surrounding communities. It takes the pressure off parking (win!), reduces traffic congestion and emissions within the park (win!), and let's you relax and enjoy your exploring (win!). Shout out to L.L.Bean for their continued support of the Island Explorer.

Check out some car-free itineraries for exploring Acadia National Park.
Learn how to be an Island Explorer Pro!

More about Leave No Trace
Being a rock star steward is about enjoying the outdoors and helping to ensure those places remain awesome for years to come. Leave No Trace principles are a foundational guide for anyone who ventures out. Beyond what we talked about above, the principles include respecting wildlife, leaving what you find, and minimizing campfire impacts. Learn more about Leave No Trace.
Top 5 Things to Know
Have the best time in Acadia with these pointers. (In a nutshell: plan ahead, pack your patience, and recreate responsibly!)
Learn More
Planning a Trip to Acadia
Check the Acadia National Park website often for updated information to help plan your trip. Reservations and park entrance passes can be purchased at Recreation.gov. You can also download the new National Park Service app on your phone for easy planning on the go.
Plan Your Trip!