Ski Acadia
---
Grooming Reports for Ski Conditions on the Carriage Roads in Acadia National Park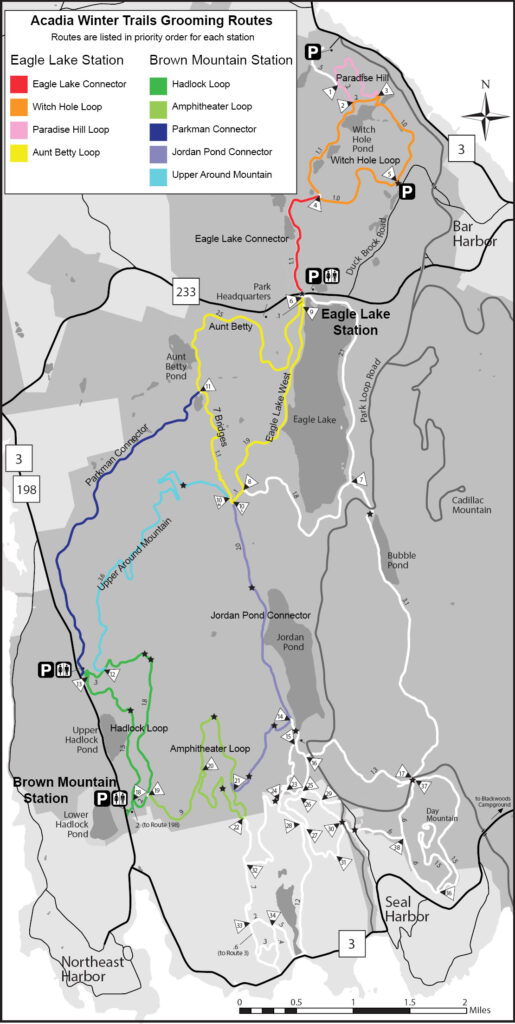 Winter trail grooming is done by volunteers of the Acadia Winter Trails Association and must be done at times that are both convenient and safe. Volunteers may groom the carriage roads if new snow exceeds six inches, and the roadbed is frozen.
Two teams of volunteers now operate from bases at the Hulls Cover Visitor Center and the Brown Mountain Gatehouse, setting tracks for classic and skate-style cross country skiing on routes established in the grooming agreement with the park. More information about this volunteer group can be found on our Acadia Winter Trails Association page. See the map for route details.
#SkiAcadia Grooming Update (1/18/22) Yesterday's warm temperatures and powerful storm brought lots of rain to the Acadia region. Much of the snow base has melted from the carriage roads. This combined with today's freezing temperatures has covered much of the park in ice.
While we wait for another significant snow event to build the snow base back up to allow for grooming, please exercise caution in these icy conditions. If the next snowstorm does not build the base up enough for grooming, skiers are encouraged to set their own tracks.
You can use #SkiAcadia on your social media to share conditions with fellow skiers. Happy skiing!