Ski Acadia
---
Grooming Reports for Ski Conditions on the Carriage Roads in Acadia National Park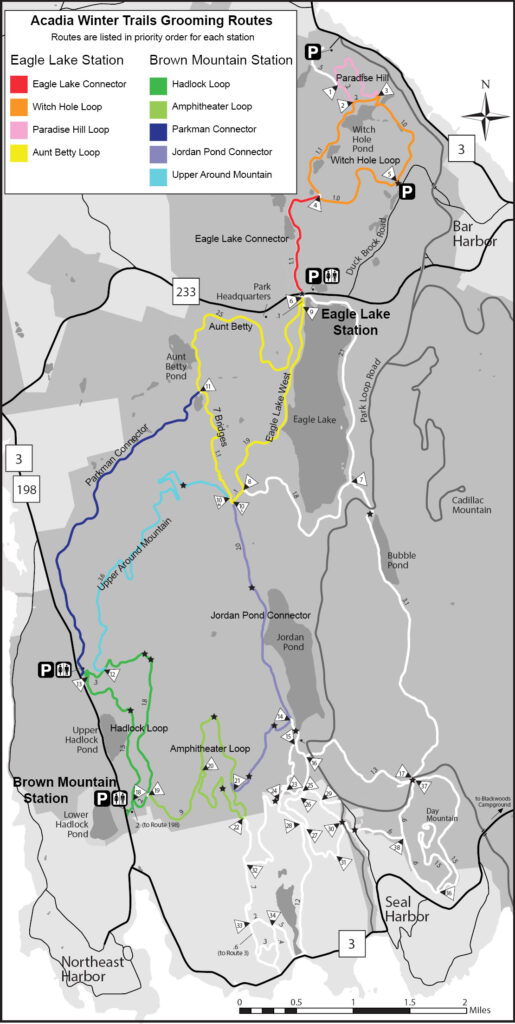 Winter trail grooming is done by volunteers of the Acadia Winter Trails Association and must be done at times that are both convenient and safe. Volunteers may groom the carriage roads if new snow exceeds six inches, and the roadbed is frozen.
Two teams of volunteers now operate from bases at the Hulls Cover Visitor Center and the Brown Mountain Gatehouse, setting tracks for classic and skate-style cross country skiing on routes established in the grooming agreement with the park. More information about this volunteer group can be found on our Acadia Winter Trails Association page. See the map for route details.
#SkiAcadia Update (3/5/22 8:30 am)
Thanks to the Acadia Winter Trails Association volunteer groomers who packed and tracked the following areas very early this morning: Eagle Lake Connector, Aunt Betty Loop, Parkman Connector, Upper Around Mountain, and Amphitheater Loop.
Hadlock Loop is packed but not tracked except for one short uphill section from intersection 13 up to 12.
Paradise Hill Loop, Witch Hole Pond Loop, and Aunt Betty Loop were packed and tracked yesterday morning.
Please remember to travel in your suggested lane: classic skiers in set tracks, skate skiers in the middle, and walkers/snowshoers on the opposite side of the classic tracks. Doing this will help preserve conditions for all users.
Enjoy the beautiful day out there!
You can use #SkiAcadia on your social media to share conditions with fellow skiers. Happy skiing!