Winter Grooming Report
---
Grooming Reports for Ski Conditions on the Carriage Roads in Acadia National Park

Winter trail grooming is done by NPS volunteers of the Acadia Winter Trails Association and must be done at times that are both convenient and safe. Volunteers may groom the carriage roads if new snow exceeds six inches, and the roadbed is frozen.
Two teams of volunteers now operate from bases at the Hulls Cover Visitor Center and the Brown Mountain Gatehouse, setting tracks for classic and skate-style cross country skiing on routes established in the grooming agreement with the park. More information about this volunteer group can be found on our Acadia Winter Trails Association page. See the map below for route details.
#SkiAcadia Updates
3/20/23 9 a.m.
Aunt Betty Loop is groom thanks to volunteer groomer Mark!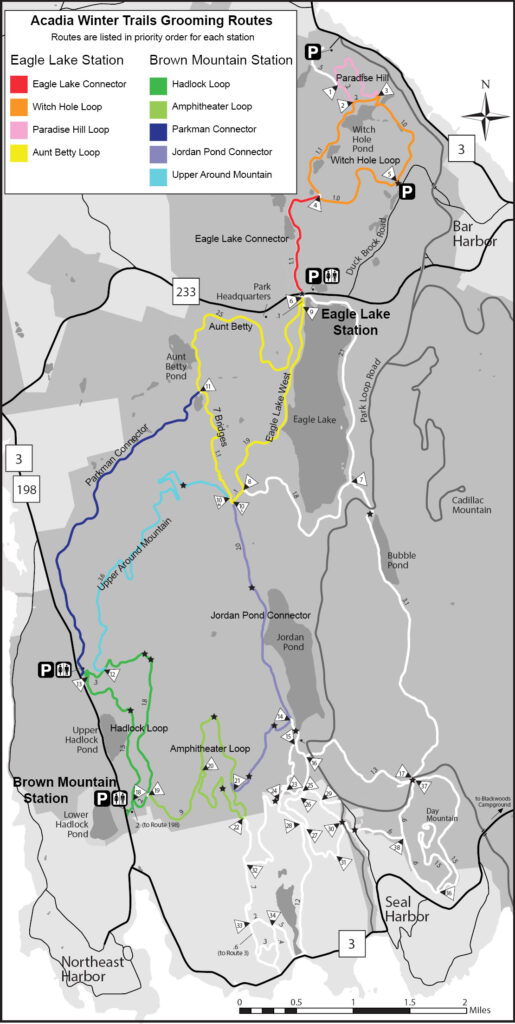 Share the Trails!
When grooming occurs we'll post updates right here and on the Friends of Acadia Facebook page.
Post your experiences and conditions reports by tagging @friendsofacadia and using #skiacadia on social media.
Permitted recreational uses include walking, running, bicycling, snowshoeing, and skiing.
Please be respectful of other users
Avoid trampling groomed ski tracks
Federal law requires that all pets must be kept on a leash no longer than six feet