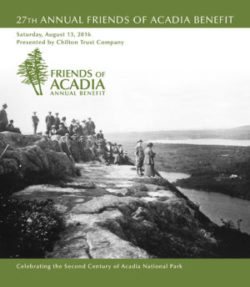 With more than a hundred fabulous items each year, all from generous donors, the Benefit Auction Preview Catalog is great fun to look through! And bidding on auction items is a fun way to support Acadia National Park. Browse the listings below, or view the complete catalog (with photos) in the PDF version [2 MB].
Bids may be placed at the Benefit Auction event on Saturday, August 13, 2016, or via absentee bid until Friday, August 12, 2016. The online auction will be open Tuesday, August 16 through Wednesday, August 24, 2016.
---
2016 LIVE AUCTION
Lot#1: Salzburg Package for 4 Guests
Travel to the storybook baroque city of Salzburg, Austria. Your party of 4 will stay at Schloss Leopoldskron, dubbed the "Sound of Music" palace because it was the site of and inspiration for several movie scenes. Built in 1736 and surrounded by 17 acres of manicured grounds, Schloss Leopoldskron features magnificent views of the mountains and fortress.
In 1918, the Schloss had fallen into disrepair. It was purchased by Max Reinhardt, Europe's most famous theater director and co-founder of the Salzburg Festival, who renovated it and added several opulent rooms. Today, Schloss Leopoldskron is home to the Salzburg Global Seminar, and Karl Lagerfeld chose it for his December 2014 Chanel fashion show.
Package includes:
3 nights in 2 Superior Suites in the Schloss
Daily buffet breakfast in the Schloss
Private "behind the scenes" tour of the Salzburg Festival for 4
The Original Sound of Music Bus Tour for 4
1 private half-day tour of Salzburg for 4
3-course lunch for 4 at the adjacent Weiher Wirt restaurant
A private tour of Schloss Leopoldskron
4 tickets to a concert or performance
Bikes are available for use on the lovely bike paths throughout Salzburg and the surrounding countryside
Mutually agreed-upon date, subject to room availability.
ESTIMATED VALUE: $4,500
DONORS: Donna and Bill Eacho
Lot#2: Architectural Boat Tour of Historic MDI Homes with Keith Kroeger for 6 Guests
Join renowned architect Keith Kroeger for a unique tour by boat of some of Mount Desert Island's most notable homes. Learn about their history, distinctive architectural elements, and the history of summer cottages along this special part of the coast.
The tour will begin with coffee and refreshments at Julia and Hans Utsch's home on Somes Sound, where you will board their boat, Sea Biscuit, and head out to explore homes along Northeast Harbor, Seal Harbor, and other villages. Lunch provided, prepared by chef Philippe Gudet of Points of View.
Mutually agreed-upon dates through August 12, 2017.
ESTIMATED VALUE: $5,000
DONORS: Keith Kroeger, Julia and Hans Utsch, Nonie and John Sullivan
Lot#3: Enchanted Escape to Bovey Castle in England's Dartmoor National Park for 2 Guests
A 4-day, 3-night stay at Bovey Castle, set on a 275-acre estate in the heart of Dartmoor National Park in Southern Devon, England. Bovey Castle is a Jacobian-style mansion overlooking the River Bovey and expansive countryside. This experience offers the ultimate escape to delight all the senses and reinvigorate the mind.
Enjoy 2 days of exhilarating horseback riding guided by Liberty Trails through Dartmoor National Park, featuring lunch at a remote spot of beauty. Round out your days with a reviving spa treatment at Bovey Castle followed by dinner in one of the hotel's stylish restaurants. The other 2 days, choose to explore Dartmoor National Park and the estate as you would like; fly fishing, golf, cycling, and falconry are all available. The estate includes an 18-hole championship golf course designed by John Frederick Abercromby in 1926.
Includes transfers from Exeter airport and Exeter train station, two days of riding, breakfast, lunch, and dinner. Drinks are not included. To be scheduled between March 2017 and November 2017.
ESTIMATED VALUE: $7,500
DONORS: Bovey Castle and Liberty Trails
Lot#4: Dan Falt Maine Black Bear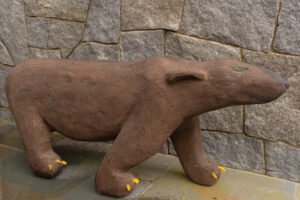 Commissioned 10 years ago and displayed indoors, this unique and whimsical bear by celebrated contemporary wood sculptor Dan Falt is the perfect addition to your Maine home. That mysterious smile—what do you suppose she is thinking? 55" long x 23" high x 12" wide.
ESTIMATED VALUE: $10,000
DONORS: Jennifer and Winston Holt
Lot#5: A Week in North Carolina's Blue Ridge Mountains for 8 Guests
Enjoy a fall getaway for 8 at a peaceful mountain home set on 42 acres adjacent to 4,000 acres of US Forest Service Lands, just minutes from the popular mountain towns of Cashiers and Highlands. Fabulous views of several prominent mountains with no lights or houses in view.
The main house has 3 bedrooms with queen beds, each with private bath. Main house also includes kitchen with sub-zero, Wolf stove, separate bar, and screened porch. The game house, the Aeire Cottage, includes another bedroom with a king bed and bath, outdoor fireplace, indoor fireplace, pool table, bumper pool table, and game table. Landscape features Japanese garden with waterfall and tea/yoga house.
Neighbor Carol Ann Cannon will host the group for a cocktail party at her home, which has stunning views of Whiteside Mountain, famous for its sheer granite cliff: the highest cliff of this type east of the Mississippi. Enjoy a guided "four waterfalls" hike, where you will see the headwaters of the Chattooga River. A round of golf for 4 at the High Hampton Inn and Country Club and access to the Chattooga Club in nearby Cashiers for lunch or dinner included.
Mutually agreed-upon dates in October or November 2016 or October or November 2017.
ESTIMATED VALUE: $8,500
DONORS: Martha and Thomas Black
Lot#6: Bubble Pond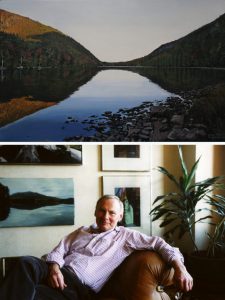 After many years of supporting the Friends of Acadia Annual Benefit, longtime FOA member, island resident, and internationally renowned artist Richard Estes has created Bubble Pond to honor Acadia's Centennial.
Estes is described as "the master realist painter" by David and Carl Little in their 2016 Art of Acadia. His paintings generally consist of reflective, clean, and inanimate city and geometric landscapes. He is regarded as one of the founders of the photorealist movement of the late 1960s. Estes has been compared to Piet Mondrain, Sol Lewitt, and Chuck Close for his modernist abstract and realist painting, Canaletto for his artistic process, and Jan Vermeer for his cerebral interest in mirrors and reflection. His work has been exhibited by the Metropolitan Museum of Art, Art Institute of Chicago, Guggenheim, and Whitney Museum of American Art and appears in private collections around the world.

Prior to the auction, the painting will be on display at the Gallery at Somes Sound in Somesville, Maine. 14" x 22.5" oil on board.
ESTIMATED VALUE: $60,000
DONOR: Richard Estes
Lot#7: Raise Your Paddle to Help Restore the Historic Seaside Path and Other Village Connector Trails
For more than 100 years, the Seaside Path has been an important connector trail linking two iconic places on Mount Desert Island: Jordan Pond and Seal Harbor Beach. Designed and maintained by the Seal Harbor Village Improvement Society, the path traverses both park and private land, winds through a mossy, coniferous forest, and passes beneath the triple-arched Stanley Brook Carriage Road Bridge. Although the path was removed from Acadia's formal trail system in the 1950s, recent trail management plans call for the restoration and in some places relocation of the Seaside Path as part of a broader effort to restore village connector trails.
As Acadia enters its second century, restoring or establishing village connector trails is an important part of the park's strategy to reduce traffic and provide car-free experiences in Acadia.
ESTIMATED VALUE: Priceless
DONORS: You!
SILENT AUCTION

Special Offerings

Lot#101
Candlelight Dinner with Torches for 20 Guests at Bear Island
Drinks at the lighthouse at sunset and dinner at the boathouse under the flags of nations, with pounding sea below you. What makes "summers in Maine" more memorable than a romantic evening at Bear Island Lighthouse? The lighthouse compound, first built in 1828, is now home to your host Dr. Martin Morad. You and your friends will enjoy a romantic evening watching the sunset from the lighthouse, explore the BI compound, munch on grilled goodies at the "Table of Friends" at the foot of the old bell-tower, and work your way down to the boathouse for a 4-course dinner featuring BI signature dishes prepared by Dr. Morad. Transport from Clifton Dock included. Mutually agreed-upon date.
ESTIMATED VALUE: $10,000
DONOR: Martin Morad
Lot#102
Chelsea (NYC) Art Walk and Luncheon for 6
Enjoy a morning tour of Chelsea's behind-the-scenes art world with curator Patterson Sims and collector Sydie Lansing. Lunch at a Chelsea/High Line restaurant to follow. 6 guests on a mutually agreed-upon date.
ESTIMATED VALUE: $2,500
DONORS: Sydie Lansing, Patterson Sims
Lot#103
Boston Museum Art Package for 2
Enjoy a morning tour of the Museum of Fine Arts Boston, followed by lunch with Lillie Johnson and a 1-night stay at the Seaport Hotel and World Trade Center. Package also includes introductions to the curators at the Isabella Stewart Gardiner Museum and the Peabody Essex Museum. Mutually agreed-upon dates through August 2017.
ESTIMATED VALUE: $1,000
DONORS: Lillie and Ned Johnson
Lot#104
Sunset Cruise and Cocktails for 10 aboard Gallopin'
Join Bob Bell for an Acadian Sunset Cruise and Cocktail Party for 10 aboard Gallopin', a 70-foot Hattaras motor yacht. Departing from Northeast Harbor at 5:30 p.m., enjoy a 3-hour cruise around Sutton Island, Greening Island, and through the narrows of Somes Sound with breathtaking views of Acadia. Available August 14–27, 2016. This catered event will include a full bar.
ESTIMATED VALUE: $4,000
DONOR: Bob Bell
Lot#105
Private Performance of Love Letters, a 2-person play
A private performance of A.R. Gurney's Love Letters is the perfect complement to a dinner party when you are looking for something different and entertaining. Actors Ephron Catlin and Chloe Hatcher require only a table, two chairs, and less than an hour to deliver Gurney's enduring romance about first loves and second chances.  Mutually agreed-upon date through September 2016 or July, August, September 2017.
ESTIMATED VALUE: $500
DONORS: Ephron Catlin, Chloe Hatcher
Lot#106
Opera Tickets to Aida and Dinner for 2
The Met's monumental staging is a dazzling backdrop for Aida, a star-crossed love story set amid the clash of ancient empires. Enjoy the performance from 5th-row center seats and dinner at the Grand Tier restaurant. April 16, 2017.
ESTIMATED VALUE: $800
DONOR: Louise Hartwell
Lot#107
Live Filming of CNBC's Fast Money in NYC's Times Square
Get a behind-the-scenes look at CNBC's daily post-market show, Fast Money, at a live taping at 5 p.m. Monday through Friday at the NASDAQ Market in New York City's Times Square. Meet host Melissa Lee and the show's panel of traders on the set.
ESTIMATED VALUE: $500
DONORS: CNBC, Sarah and Dan Nathan
Lot#108
1914 and 1916 National Geographic magazines featuring Acadia articles
July 1914 issue featuring, "The Unique Island of Mount Desert," written by George B. Dorr, Ernest H. Forbush, and M.L. Fernald; "The Need of Conserving the Beauty and Freedom of Nature" by Charles W. Eliot. June 1916 issue featuring "Our First National Park East of the Mississippi."
ORIGINAL PRICE: 25¢ per copy
DONOR: Mike Hays
Lot#109
Photo Shoot with Jennifer Holt
2-hour photo shoot of your family, grandchildren, garden, favorite place on MDI, etc. Digitally developed photos will be provided via flash drive.
ESTIMATED VALUE: $500
DONOR: Jennifer Holt
Lot#110
Cuban Gift Basket
A wooden gift box including a selection of Cuba's finest cigars, fresh from Havana. 10 hand-rolled cigars from a plantation, wrapped in banana leaf, a box of 10 tubos of Romeo and Julietas, a box of 20 Montecristos, and a pack of 3 #3 Romeo and Julietas, plus a crystal cigar ashtray, cigar cutter, and lighter. The gift box also includes Cuban coffee and a set of 6 espresso cups.
ESTIMATED VALUE: $500
DONOR: Linda Levy Goldberg
Lot#111
Dinner for 4 at Bobby Van's Steak House
Dinner for 4 guests at any of Bobby Van's 11 locations in New York City, Long Island, and Washington DC; bottle of wine included.
ESTIMATED VALUE: $350
DONORS: Joseph Smith, Bobby Van's Steak House
Lot#112
Wooden Boat School Gift Certificate
The WoodenBoat School in Brooklin, Maine has been teaching hands-on boat building and a variety of other skills for 36 years. This gift certificate is good for tuition to any one of the 90+ WoodenBoat School courses offered during the 2017 and 2018 seasons. Courses include boatbuilding, woodworking, modelmaking, metalworking, boat design, sailing, watercolors, and more.
ESTIMATE VALUE: $800
DONOR: WoodenBoat School
Lots #113–122
Own a piece of history!
Vintage trail and carriage roads signs to adorn your garden, deck, or house. Ten signs will be sold separately.
ESTIMATED VALUE: Priceless
DONOR: Acadia National Park
Travel and Adventure
Lot#201
Frenchboro Picnic for 25
Join Ildiko and Gil Butler for a special day trip to the Butlers' residence on Frenchboro, including transportation and a lobster picnic for up to 25. The residence is a beautiful cottage built with strong Japanese influences situated in the heart of Frenchboro. The garden, a masterpiece by Pat Chassé, is a remarkable space that is both calming and awe-inspiring. Mutually agreed-upon dates before Labor Day, 2016 or during the 2017 summer season.
ESTIMATED VALUE: $2,000
DONORS: Ildiko and Gilbert Butler
Lot#202
2-day Exploration of Isle au Haut and Surroundings for 4
Isle au Haut is a seldom-explored treasure of Acadia. On the first day, your group will cruise to Isle au Haut from Stonington Harbor aboard the Otter or Mink (depending on departure time), explore the island on a nature walk guided by Kathie Fiveash, enjoy lunch at the Maine Lobster Lady food truck, cruise back to Stonington for dinner at Aragosta, and spend the night at Pilgrim's Inn in Deer Isle. The following morning you will start your day with breakfast at the Pilgrim's Inn, then take to the water again for a lighthouse tour that includes Mark Island
Light, Goose Rocks Light, Brown's Head Light, Heron Neck Light, and Isle au Haut Light. Mutually agreed-upon dates between September 1, 2016 and July 31, 2017.
ESTIMATED VALUE: $1,500
DONORS: Isle au Haut Boat Services, Kathie Fiveash, Aragosta, Pilgrim's Inn
Lot#203
Schoodic Adventure for 4
Schoodic Peninsula—where over 1,400 acres was added to Acadia National Park in 2015—is a magnificent region of Acadia. 2 couples enjoy 2 nights in executive apartments at Schoodic Institute's historic Rockefeller Hall. Schoodic Institute president Mark Berry will lead a conservation hike or bicycle ride on the park's trail network and introduce guests to the Institute's science, research, and education programs. Dinner for 4 at Raven's Nest restaurant in Winter Harbor, lunch for 4 at J.M. Gerrish Provisions, and round-trip tickets aboard the Katie Grace, a new Bar Harbor-to-Winter Harbor ferry operated by Frenchman Bay Research Boating. Mutually agreed-upon dates prior to August 12, 2017 (ferry and Raven's Nest closed October to May).
ESTIMATED VALUE: $1,800
DONORS: Schoodic Institute, Frenchman Bay Research Boating, Raven's Nest, J.M. Gerrish Provisions
Lot#204
OceansWide ROV Adventure for 6 Exploring the Frenchman Bay Sea Floor
Join Buzz Scott, founder of OceansWide and expert ROV pilot, for an exploration of the depths of Frenchman Bay. Your group will board the Osprey, College of the Atlantic's research vessel, and head out into the bay, using the ROV to explore life beneath the water's surface. From the cabin of the Osprey, Buzz will teach each member of your group how to pilot the ROV, explain how this technology is used for research and education, and interpret the sea life you are discovering. This half-day trip, leaving from the COA pier, is available on mutually agreed-upon dates August 20 – September 30, 2016 or June 1 – August 12, 2017. Lunch provided.
ESTIMATED VALUE: $2,000
DONORS: OceansWide, College of the Atlantic
Lot#205
Pamlico Tandem Excel Kayak by Wilderness Systems
16' kayak has been used fewer than a dozen times and has been stored inside. Features adjustable sliding seats that comfortably fit large adults plus a child seat between the adult seats; adjustable foot braces; built-in, cockpit-deployable pedal-driven rudder system; 2 lightweight paddles, 230-cm adjustable-length carbon fiber Aqua Bound "Tripper AMT"; 2 Kinetic Systems "MTI" adult life preservers in like-new condition (Type III PFD); carry handles on front and rear; foam car-top carriers and straps.
ESTIMATED VALUE: $1,500
DONORS: Alice and David Bullwinkle
Lot#206
Bicycle Package
Description not available at press time.
ESTIMATED VALUE: TBD
DONOR: Bar Harbor Bicycle Shop
Lot#207
25 Tickets for Bar Harbor Whale Watch
The largest animals on Earth swim in the Gulf of Maine. Your group of 25 will enjoy a half-day adventure and the chance to see Humpbacks, Finbacks, Minke whales, and more.
ESTIMATED VALUE: $1,500
DONOR: Bar Harbor Whale Watch
Lot#208
Night Sky Photography Adventure
Join Nate Levesque for a night-sky photo tour of Acadia National Park, where you will take photos alongside Nate and learn the process of night-sky photography. Following the photo shoot, Nate will walk you through the post-production process to bring out the best in your night-sky photographs. Mutually agreed-upon dates before August 12, 2017.
ESTIMATED VALUE: $500
DONOR: Nate Levesque
Lot#209
Baker Island Adventure
Boxed picnic lunch for 8 on Baker Island with transport provided by the Seherr-Thoss family aboard their 20' Boston Whaler with Northeast Harbor Fleet's tender, Annie, in tow. Bring the kids for a fun-filled day of chasing fairies and building gnome homes. Boat departs from the fleet dock at 11 a.m. on a mutually agreed-upon date August 14 – 17, 2016, or in August 2017.
ESTIMATED VALUE: $750
DONORS: Harry and Elizabeth Seherr-Thoss
Lot#210
Acadia Carriage Ride and Picnic
Carriage ride for 4 guests with a picnic lunch. Mutually agreed-upon date and time between August 14 and August 20, 2016.
ESTIMATED VALUE: $400
DONORS: Carol and Rolf van Schaik
Lot#211
Acadia Carriage Ride with Wine & Cheese
Carriage ride for 4 guests with wine and cheese. Mutually agreed-upon date and time between August 14 and August 20, 2016.
ESTIMATED VALUE: $350
DONORS: Carol and Rolf van Schaik
Lot#212
Paddle Board Lesson for 6 on MDI
2-hour stand up paddle board session for 6 people in Frenchman Bay or Long Pond. Mutually agreed-upon dates through August 12, 2017.
ESTIMATED VALUE: $300
DONOR: Acadia Stand Up Paddle Boarding
Lot#213
Paddle Board Lesson and Lunch among Islands of Eggemoggin Reach
Learn paddle boarding with former FOA board chair Dianna Emory among the conservation-protected islands of Eggemoggin Reach, including several where Acadia National Park holds easements. Lunch included. Good in September 2016 or June/July 2017.
ESTIMATED VALUE: $500
DONORS: Dianna and Ben Emory
Lot#214
Sailing and Lunch among the Islands of Eggemoggin Reach
Sail among the conservation-protected islands of Eggemoggin Reach, including several where Acadia National Park holds easements. Your vessel is featured on the cover of the 2016 Wooden Boat Benjamin Mendlowitz calendar: Perch, a classic Herreshoff 21' Fish Class daysailer. Your crew: former FOA board chair Dianna Emory and Ben Emory, who will share the history of island conservation easements. Lunch on the terrace overlooking Chatto Island and the Reach. 4 people. Mutually agreed-upon dates between August 2016 and July 2017.
ESTIMATED VALUE: $1,000
DONORS: Dianna and Ben Emory
Lot#215
Choose Your Own Adventure in Acadia with Superintendent Kevin Schneider
Join Acadia's new superintendent, Kevin Schneider for a walk, hike, bike, canoe, or ski on your favorite trail, carriage road, or body of water in Acadia. Group size limited to 6.
ESTIMATED VALUE: $500
DONOR: Kevin Schneider
Lot#216
Hike with Acadia's Trail Foreman Gary Stellpflug
A guided hike for 6 with ANP trail foreman Gary Stellpflug and his crew. Picnic lunch included. Available Fridays through Sundays, April through October.
ESTIMATED VALUE: $500
DONOR: Acadia National Park Trail Crew
Lot#217
Ski Acadia with Lili Pew
Winter in Acadia is quiet and serene. Join Lili Pew for a cross-country ski outing on the park's carriage roads at a time when the snow is just right. Whether you're a beginner or expert, Lili will customize the outing to your needs and expectations including rental equipment if needed. Mutually agreed-upon date and time with the flexibility to take advantage of good conditions.
ESTIMATED VALUE: $500
DONOR: Lili Pew
Lot#218
Bike Acadia with Lili Pew
Whether you're a seasoned cyclist who is ready to do the Park Loop Road and the Cadillac Mountain ascent, a carriage road enthusiast who wants to try a new loop, or a beginner looking to get out in the park on two wheels, Lili will be your guide or riding buddy for whatever adventure you'd like to undertake. Mutually agreed-upon dates through August 12, 2017. Lunch included.
ESTIMATED VALUE: $500
DONOR: Lili Pew
Lot#219
Brooklin Boat Yard Haul and Launch
$9.50/foot, up to $500.
ESTIMATED VALUE: $500
DONOR: Steve White
Art and Collectibles
Lot#301
Tom Blagden
Sunset, Baker Island
Cover photograph of Tom's acclaimed new book, Acadia National Park: A Centennial Celebration, a collaboration between Tom and Friends of Acadia. A full exhibition is at College of the Atlantic's Blum Gallery through August 26, 2016. 32"x 48" mounted metal print.
ESTIMATED VALUE: $2,550
DONOR: Tom Blagden
Lot#302
Rosemary Levin
Amphitheatre Bridge
Gorgeous hand-hooked, hand-dyed wool rug, designed by the artist. Number 12 in the series of 17 original design rugs of Acadia's carriage roads and bridges. 16 ½" x 25".
ESTIMATED VALUE: $650
DONOR: Rosemary Levin
Lot#303
Mary Hays
In the Park with George
Mary has masterfully recreated the iconic image of George Door on the cliff's edge of Champlain Mountain in the form of a handmade hooked rug. One of Mary's rugs was recognized by Rug Hooking Magazine as one of 2016's best hand-hooked rugs. 26" x 30".
ESTIMATED VALUE: $2,600
DONOR: Mary Hays
Lot#304
Eric Hopkins and Peter Ralston
Exquisite Islands
"For many years we have shared an appreciation and respect for the people and places of the Maine coast. There are personal narratives here—as each island in this piece contains many stories, relationships and emotions for both of us. This is our world—our lives. The process was simple: we mutually selected a photograph of Peter's and Eric painted his vision on top of Peter's foundation. With pixels and paint we're celebrating the Centennial of Acadia National Park—one of Mother Nature's finest museums." Paint on photograph. 84" x 12".
ESTIMATED VALUE: $8,000
DONORS: Eric Hopkins, Peter Ralston
Lot#305
Robert S. Neuman
Ship to Paradise, Encumbered by a Great Rock, 1979
Encumbered by a Rock is one of 6 etchings included in Neuman's artist book, Shyp of Fooles/Ship to Paradise, printed by August Hecksher's Highloft Press, Seal Harbor, ME. This printing is an artist's proof, sampling ink color for the publication. 18 ½" x 21" matted and framed.
ESTIMATED VALUE: $1,500
DONORS: Christina Godfrey, Sunne Savage Gallery
Lot#306
Valerie Aponik: Hopes View
Oil on canvas. 13 ½" x 25" framed.
ESTIMATED VALUE: $750
DONOR: Valerie Aponik
Lot#307
Catherine Breer: Seal Cove
Acrylic on canvas by the artist who designed the Acadia Centennial logo. The painting, which was inspired by a Michelle Amero photograph, is one of a series of paintings created in honor of Acadia's Centennial. 24" x 24" framed.
ESTIMATED VALUE: $3,200
DONOR: Catherine Breer
Lot#308
Diana Roper McDowell
Study in Red and Yellow
Watercolor. 37 ½" x 34" matted and framed.
ESTIMATED VALUE: $2,200
DONOR: Diana Roper McDowell
Lot#309
Russell D'Allessio
Siren of the Sea
Original India ink on handmade, Maine-made archival paper. 15" x 17" framed.
ESTIMATED VALUE: $650
DONOR: Russell D'Allessio
Lot#310
Stefan Elliott: Penobscot Mountain from Little Long Pond
Oil on wood panel. 6" x 18".
ESTIMATED VALUE: $500
DONOR: Stefan Eliot
Lot#311
Katrina Hart: Just Clouds
Acrylic, featuring an attached 3" x 3" square of canvas in top right corner. 20" x 20" gallery wrap.
ESTIMATED VALUE: $750
DONOR: Katrina Hart
Lot#312
Bob Hiemstra: Corning Way
Oil on canvas. 21" x 17" framed.
ESTIMATED VALUE: $1,500
DONOR: Bob Hiemstra
Lot#313
Willard Bond: Blow Out
Print #87 of 150. 35" x 47" matted and framed.
ESTIMATED VALUE: $1,500
DONOR: Suzanne Owen
Lot#314
Kaitlyn Metcalf
Blue Bird Trail Marker
Acrylic painting on panel. Part of the Century One: Acadia series created to commemorate the centennial. This piece is one of 100 paintings based on objects and images in Acadia National Park's archives. The painting will be exhibited throughout the year with all 100 pieces and will remain with the collection until the end of its final show in December; shipped to the winning bidder in January. 6"x 12" gallery wrapped.
ESTIMATED VALUE: $200
DONOR: Kaitlyn Metcalf
Lot#315
Michael Melford Photograph
Image and description not available at press time.
ESTIMATED VALUE: TBD
DONOR: Michael Melford
Lot#316
Anne Green
Cranberry Waters at Sunset
Acrylic plexiglass print. 20" x 30" mounted.
ESTIMATED VALUE: $300
DONOR: Anne Green
Lot#317
Howie Motenko: Hadlock Bridge
Aluminum print from the "Painting Bridges" series. 16" x 24" mounted.
ESTIMATED VALUE: $295
DONOR: Howie Motenko
Lot#318
Howie Motenko
Sunrise, Cadillac Mountain
The cover photograph of the summer FOA Journal. 18 ¾" x 23 ¾" framed.
ESTIMATED VALUE: $325
DONOR: Howie Motenko
Lot#319
Pat Toogood
Owl
Sculpted in clay, fired with multicolor glazes with gold and silver leaf. 16" x 11". Bid before he flies away.
ESTIMATED VALUE: $1,500
DONOR:  Pat Toogood
Lot#320
Pam Morgan
Mr. Owen's Stone Barn
Pen and ink watercolor. 13" x 16" matted and framed.
ESTIMATED VALUE: $260
DONOR: Pam Morgan
Lot#321
Dan Kirschner: The Tarn
Color archival print. 21.3" x 16" matted and framed.
ESTIMATED VALUE: $290
DONOR: Dan Kirschner
Lot#322
Dan Kirschner
Bluetail Damselfly Sunning
Color archival print. 21.3" x 16" matted and framed.
ESTIMATED VALUE: $260
DONOR: Dan Kirschner
Lot#323
Nancy Howren: Forever and Ever
Color archival print, mat, and ink; UV glass. 29 ½" x 23" matted and framed.
ESTIMATED VALUE: $650
DONOR: Nancy Howren
Lot#324
Jim Howren
Afternoon Reflections
Color archival print, mat, and ink; UV glass. 29 ½" x 23" matted and framed.
ESTIMATED VALUE: $650
DONOR: Jim Howren
Lot#325
Dorothy Kerper Monnelly
Reflected Cloud, Bubble Pond
ESTIMATED VALUE: $350
DONOR: Dorothy Kerper Monnelly
Lot#326
Ed Monnelly: Autumn
Wetland by Duck Brook
30 ¼" x 24 ¼" matted and framed.
ESTIMATED VALUE: $325
DONOR: Ed Monnelly
Home and Décor
Lot#401
Handcrafted "Wolf" Bed by Joseph Tracy
Commissioned in the 1980s, this unique cherry twin bed was handcrafted by Joseph Tracy from MDI. The wolf carvings are made of European pear and carved by Maggie Randall from Pownal, Vermont. On display at the Gallery at Somes Sound until August 12.
ESTIMATED VALUE: $4,500
DONOR: Dianna Rowan Rockefeller
Lot#402
Great Meadow Cattails Quilt
This award-winning quilt was designed by Judy Niemeyer and stitched by Mary Clark. It would make a stunning wall hanging in any home or business, or could be draped over the back of a sofa or chair or across a bed. Composed of 748 pieces of 100% cotton batik fabric; the back is 100% cotton batik in a complementary brown and tan print. 70"square with removable hanging sleeve.
ESTIMATED VALUE: $3,600
DONOR: Mary Clark
Lot#403
Marsha Lyons  Centennial Quilt
This quilt features a map of MDI surrounded by water and motifs representing Acadia. Includes a matching tote bag. 100% cotton, 55" x 55" with attached hanging sleeve.
ESTIMATED VALUE: $500
DONOR: Marsha Lyons
Lot#404
Lunaform Asticou planter
The Asticou planter is a reproduction of a vessel once made by Eric Soderholtz in the early 1900s. The Azalea Asticou Garden in Northeast Harbor, Maine has a reproduction of an original planter, complete with a stamped "egg & dart" surface patterning. The original European design on which this planter was modeled is unknown. 15 ½" x 27 ½".
ESTIMATED VALUE: $700
DONORS: Dan Farrenkopf, Lunaform
Lot#405
Granite Wind Chime
An outdoor granite treasure to enhance your garden or landscape from Stone Designs of Sullivan, Maine. 57" high.
ESTIMATED VALUE: $300
DONOR: Obadiah Buell
Lot#406
Centennial Granite Carving
Weathered granite boulder engraved with the Centennial logo. Handcrafted and chiseled by Leland Burnham. 18" x 12".
ESTIMATED VALUE: $3,000
DONORS: Mike Gillis, Acadia Landscape
Lot#407
Wooden Centennial Clock
Maine white pine clock with holly-leaf stain and carved Acadia Centennial logo by Tamzin Higgins. 28 ½" diameter.
ESTIMATED VALUE: $200
DONOR: Durum Tempus Hardwood Clocks
Lot#408
Jumping Deer Vase
German, Scheurich kiln 1950s rare monumental "Jumping Deer" vase. Stunning deep green turquoise/blue glaze with multiple white and black raised deer and canine motif. 19" x 11".
ESTIMATED VALUE: $950
DONOR: Schneible Fine Arts
Lot#409
Hand-painted Adirondack Chair
ESTIMATED VALUE: TBD
DONORS: Kimmie Ross, Dorothy Feeley
Lot#410
Scrimshaw Nantucket Basket
Vintage Nantucket basket by Barlow. Scrimshaw sailboat on lid. 7" x 10".
ESTIMATED VALUE: $200
DONOR: Suzanne Owen
Lot#411
Embroidered Serving Tray
Middle-Eastern fabric with animals, trees, clouds under glass. Brass handles. 12" x 26".
ESTIMATED VALUE: $200
DONOR: Suzanne Owen
Lot#412
Kimball Shop Bedding
Queen Harbor Island quilt, Ripple Queen duvet cover and 2 standard shams. All by Lulu DK for Matouk.
ESTIMATED VALUE: $1,254
DONOR: The Kimball Shop
Lot#413
Swallowfield Collection
Enjoy a sampling of items from Jennifer Judd McGee's new Northeast Harbor shop, Swallowfield. 2 wooden trays featuring McGee's designs, 4 etched cocktail glasses, Art of the Bar cocktail book, a mixed drinks notecard set, and "cheers" napkins.
ESTIMATED VALUE: $266
DONORS: Jennifer Judd McGee, Swallowfield
Jewelry and Accessories
Lot#501
Kenyan Necklace
Handmade by World Women Work with Kenyan brass and Indian glass beads. World Women Work supports women and conservation of endangered species around the world.
ESTIMATED VALUE: $160
DONOR: Ildiko Butler
Lot#502
Akoya Pearl Necklace
Exquisite Akoya pearls from Japan (7 ½ mm) are a hand-knotted strand suspending a sterling silver/vermeil lobster with garnet. The pearls exhibit extraordinary luster and close with a sterling silver toggle.
ESTIMATED VALUE: $850
DONOR: Simply Pearls
Lot#503
Something Different
Pearls of an unusual branch shape create a unique necklace. Hand-knotted with a sterling and garnet clasp.
ESTIMATED VALUE: $500
DONOR: Simply Pearls
Lot#504
Juliana Collezione Shell Necklace
Just stunning.
ESTIMATED VALUE: $225
DONOR: Elizabeth Seherr-Thoss
Lot#505
Sharon Broom Chrysocolla Necklace
Simply elegant, this 20" necklace features the rich blue and green colors of chrysocolla gemstones, accented by tiny sterling silver discs and a sterling lobster claw clasp.
ESTIMATED VALUE: $225
DONOR: Sharon Broom
Lot#506
Nina McLemore Gift Certificate
ESTIMATED VALUE: $350
DONOR: Nina McLemore
Lot#507
Centennial Sea Bags
In partnership with Sea Bags, Sagegrass Gallery in Bar Harbor has created the Acadia Centennial Sea Bag, featuring the distinctive Acadia Centennial logo designed by artist Catherine Breer, plus twin chart maps of Mount Desert Island and our surrounding waters on the inside. Hemp handles and a nautical latch make the bags both comfortable and secure. Limited qualities available for sale at the Annual Benefit.
PRICE: $225
UNDERWRITER: Diana Wister
Lot#508
Vineyard Vines Silk Ties
To commemorate Acadia's Centennial and the 27th Annual Benefit, the Benefit Committee and Jennifer Judd McGee have designed neckties featuring the iconic silhouette of MDI to mark this special year.
PRICE: $100
Lot#509
Vineyard Vines Silk Cosmetic Bags
To commemorate Acadia's Centennial and the 27th Annual Benefit, the Benefit Committee and Jennifer Judd McGee have designed cosmetic bags featuring the iconic silhouette of MDI to mark this special year.
PRICE: $75
Online
Lot#601
Great Smokey Mountains Package for 2 Guests
Escape to the Smokies for a 5-night stay for 2 at the Lodge at Buckberry Creek in Gatlinburg. Gift certificates for dinner at the Park Grill Restaurant and breakfast at Crockett's Breakfast Camp. Interpretive hike with retired ranger and naturalist Carey Jones, whose narration has been featured in best-selling books set in the Great Smokies (Bear in the Back Seat 1 and Medicine Men: Extreme Appalachian Doctoring). Unavailable holidays or the month of October.
ESTIMATED VALUE: $2,200
DONOR: Friends of the Smokies
Lot#602
Watch What Happens Live with Andy Cohen for 2 Guests
2 tickets to a live taping of Watch What Happens Live at NBC Studios in NYC. In 2014, Details Magazine called the show "compulsively engrossing," while touting host Andy Cohen as a "genius" and possibly "the smartest man on TV"; GQ describes the show as "the most primitively authentic ting on television." Watch What Happens Live is the only live show in late night television.
ESTIMATED VALUE: $2,500
DONOR: Manhouse Productions
Lot#603
CNBC Squawk on the Street NYSE Package for 2 Guests
You and 1 guest will be granted private access to go behind the scenes for an on-air broadcast of CNBC's top-rated Squawk on the Street or Squawk Alley, live from the floor of the New York Stock Exchange! Squawk on the Street is hosted by award-winning Jim Cramer, Carl Quintanilla, David Faber, Sara Eisen, Kayla Tausche, and others. Experience the excitement when the all-important opening bell rings, signaling the start of trading from the heart of the financial capital of the world. NYSE dress code and security screenings required.
ESTIMATED VALUE: $1,000
DONORS: Courtney and Ben Thompson, CNBC
Lot#604
2 House Seats to The Book of Mormon in NYC
The Book of Mormon is a religious satire musical from the creators of South Park. It has garnered overwhelmingly positive critical response and numerous awards including 9 Tony Awards (one for Best Musical) and a Grammy Award for Best Musical Theater Album. An original Broadway cast recording was released in May 2011 and became the highest-charting Broadway cast album in over 4 decades, reaching No. 3 on the Billboard charts.
ESTIMATED VALUE: $1,000
DONORS: Russell and Ellanor Notides
Save
Save
Save
Save
Save
Save
Save
Save
Save
Save
Save