Friends of Acadia has over 5,000 members from all over the world. We rely on tax-deductible gifts from our members to fund important ongoing projects and new initiatives to preserve and protect Acadia National Park and the communities that surround it on Mount Desert Island.
Join or Renew Now!
Annual memberships begin at $35. Membership funds make the following accomplishments possible:
Finance the propane-powered Island Explorer bus system and develop the Acadia Gateway Center, the planned off-island transportation hub
Organize thousands of volunteers who work more than 10,000 hours in the park and surrounding communities each summer
Fund a forward-thinking water quality monitoring program at Jordan Pond, Maine's clearest lake
Award $23.7 million since 1986 in grants to the park and surrounding communities for conservation and preservation projects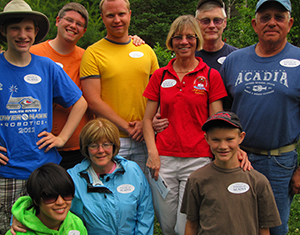 Friends of Acadia is a nonprofit organization recognized under Section 501(c)(3) of the Internal Revenue Code. Your membership contribution is tax deductible to the extent provided by law.
For more information on membership or to learn more about specific Friends of Acadia preservation, protection and educational programs needing support, send queries to: membership@friendsofacadia.org