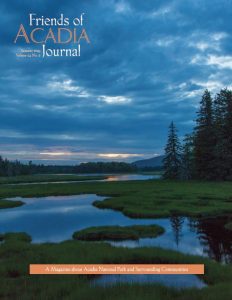 A Magazine about Acadia National Park and Surrounding Communities
Summer 2019 – Volume 24 No. 2
The Friends of Acadia Journal is published three times a year. With features about Acadia National Park's history, resources, and programs, news about Friends of Acadia's projects and activities, and information about how to get involved, the Friends of Acadia Journal is a great way to stay connected to Acadia National Park, all year long. Membership in Friends of Acadia includes a subscription to the Journal. Join Now »
TABLE OF CONTENTS
Features:
Acadia's Power to Heal
Nature's magic elixir holds great power
By Dianna Emory
Capturing Acadia in Full Moon Shadow
Photographer lets nature light the way
By Lisa Horsch Clark
Trail Crew Stuck Between Rock and Hard Place
Shutdown, hiring woes limit scope of work
By Earl Brechlin
The 'Other Side' of George B. Dorr
Father of Acadia explored interest in paranormal
By Ronald H. Epp
Liddy Hubbell Draws Inspiration from Acadia
Park's elegant motifs infuse artist's work
By Carl Little
Perspectives:
• President's Message: Many Choices, Many Voices Enhance Acadia
• Acadia Questers: Mom, Daughter Connect Via App
• Benefit Outlook: 30th Benefit Is A Bridge To Future
• Superintendent's View: Investing In The Future
• Donor Profile: Quiet Conservationist, Visionary Philanthropist
• Chair's Letter: Summer Swings Into High Season
• Special People: Couple's Love Grows With Acadia
Departments:

• Where in Acadia?
• By the Numbers
• Test Your Acadia Bridge IQ
• New Donors
• Updates
• Business Members
Cover Photograph: Bass Harbor Marsh. Cover photo by Nathanial X. Boëchat FOA/ADMT
Friends of Acadia is a membership and volunteer organization, and our work is significantly powered by volunteer effort. The Journal is no exception, and we are grateful to all of the writers and photographers who generously contribute their time and talents to our publication.
Thank you to our 2019 Journal sponsors: