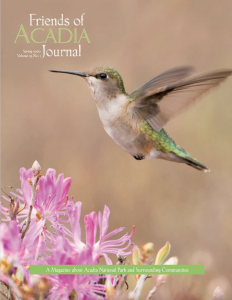 A Magazine about Acadia National Park and Surrounding Communities
Spring 2020 – Volume 25 No. 1
The Friends of Acadia Journal is published three times a year. With features about Acadia National Park's history, resources, and programs, news about Friends of Acadia's projects and activities, and information about how to get involved, the Friends of Acadia Journal is a great way to stay connected to Acadia National Park, all year long. Membership in Friends of Acadia includes a subscription to the Journal. Join Now »
TABLE OF CONTENTS
Features:
Carriage Road Rehabilitation Set
Eagle Lake Loop Gosures Planned
By Earl Brechlin
Acadia Awakens, Prepares for Season
Behind The Scenes Crews Cast Off Vestiges of Winter
By Earl Brechlin
Park Battles Against 'Invaders'
Crews Making Gains To Aid Ecosystem
By Lynn Fantom
FOA Expands Fieldwork Capability
Familiar Faces Reiriforce Resources
By Earl Brechlin
What's It Like In The Winter?
Members Share Their Acadia Adventures
Transportation Plan Is Moving Ahead
Reservation Dry Run Eyed For Late October
By Earl Brechlin
Perspectives:
• President's Message: An Anchor In Times Of Turbulence
• Explore Acadia Together: Treasure Keepers Is Latest 'Quest'
• Benefit Co-chairs Are Familiar Faces: Meet Vassar and Laura Pierce
• Superintendent's View: Acadia As Canary In A Coal Mine
• Donor Profile: Phoebe Milliken -A Fierce Champion Of Nature
• Chair's Letter: Protecting Sustainable and Dynamic Landscapes
Departments:

• Where in Acadia?
• Test Your Invasive Plant IQ
• New Donors
• Updates
• Are You A Trailblazer?
• Special People Randi and Don Wilson
Cover Photograph: A hummingbird focuses on the blooming rhodora in Acadia National Park. Ralph Waldo Emerson praised rhodora as a "rival of the rose." Photo by Thomas Blagden.
Friends of Acadia is a membership and volunteer organization, and our work is significantly powered by volunteer effort. The Journal is no exception, and we are grateful to all of the writers and photographers who generously contribute their time and talents to our publication.
Thank you to our 2020 Journal sponsors: