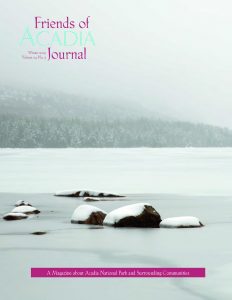 A Magazine about Acadia National Park and Surrounding Communities
Winter 2019 – Volume 24 No. 3
The Friends of Acadia Journal is published three times a year. With features about Acadia National Park's history, resources, and programs, news about Friends of Acadia's projects and activities, and information about how to get involved, the Friends of Acadia Journal is a great way to stay connected to Acadia National Park, all year long. Membership in Friends of Acadia includes a subscription to the Journal. Join Now »
TABLE OF CONTENTS
Features:
Hawk Watch Marks Quarter Century
Volunteers Are Scientists' Eyes On The Sky
By Seth Benz
Outdoor Classroom Excitement Grows
Expanding Horizons Beyond Four Walls
By Paige Steele
Visitor Center Redo Seeks To Bridge Gap
Aging Facility Refreshed, Improved
By Earl Brechlin
Acadia's Coat of Many Colors
Autumn Splendor Is Nature's Best Show
By Ashley Conti
Transportation Plan Inches Ahead
Implementation Timeline Shapes Up
By Earl Brechlin
Acadia Is Ideal Winter Classroom
Cold, Snow, Coping Are Core Curriculum
By Lynn Fantom
Perspectives:
• President's Message: The Shape of Friends of Acadia's Future
• What We Heard From You: Reflections On A Great Year
• Studying How You Play: Rec Techs Are Boots On Ground
• Superintendent's View: Rising to Meet the Challenges of 2020 Challenges and Unanticipated Joys
Departments:

• Where in Acadia?
• Acadia Insider
• Business Members
• New Donors
• Updates
• Special Person
Cover Photograph: Snowfall softens the view from the boat launch area at Eagle Lake in Acadia National Park. Photo by Julia Walker Thomas.
Friends of Acadia is a membership and volunteer organization, and our work is significantly powered by volunteer effort. The Journal is no exception, and we are grateful to all of the writers and photographers who generously contribute their time and talents to our publication.
Thank you to our 2019 Journal sponsors: