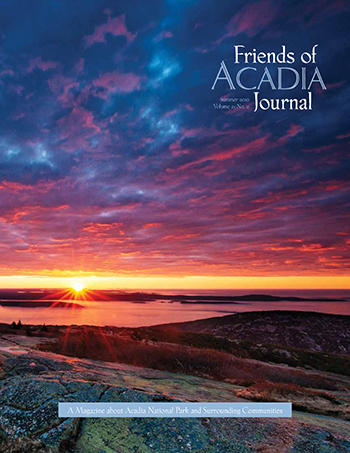 A Magazine about Acadia National Park and Surrounding Communities
Summer 2016 – Volume 21 No. 2
The Friends of Acadia Journal is published three times a year. With features about Acadia National Park's history, resources, and programs, news about Friends of Acadia's projects and activities, and information about how to get involved, the Friends of Acadia Journal is a great way to stay connected to Acadia National Park, all year long. Membership in Friends of Acadia includes a subscription to the Journal.   Join Now »
TABLE OF CONTENTS
Features:
• A Focus on the Key Issues Facing Our Park: Friends of Acadia announces the Second Century Campaign | David MacDonald
• The Venture: A centennial poem | Christian Barter
• Inspiring Acadia's Future: Connecting today's kids to tomorrow's stewardship | Lynne Dominy
• The Wild Gardens of Acadia at 55: A new book celebrates our botanical treasure | Genie Thorndike
• Healthy Forests are Messy Forests! Helping Acadia's woods to thrive | Kate Miller
• Why I'm a Friend of Acadia: Discovering Acadia | Peter Mullen
Activities and Departments:
• President's Message: A High Bar for Philanthropy
• Superintendent's View: Meeting the Challenges of Our Second Century
• Special Person Ellie McGee: Passion and Promise
• Where in Acadia?
• Summer 2016 Updates
• Advocacy Corner Acadia Breathes
• Chairman's Letter: Vision and Shared Experience
Cover Photograph: Cadillac Mountain Sunrise by Howie Motenko

Friends of Acadia is a membership and volunteer organization, and our work is significantly powered by volunteer effort. The Journal is no exception, and we are grateful to all of the writers and photographers who generously contribute their time and talents to our publication.
Thank you to our Journal sponsors:
Bluenose Inn, Acadia Corporation, Ann's Point Inn, Asticou Inn, Bar Harbor Bank & Trust, Bar Harbor Bicycle Shop, The Bar Harbor Historical Society, Bar Harbor Savings & Loan, Beal's Lobster Pier, Burdick & Associates Landscape Design, Cadillac Mountain Sports, Canon U.S.A., Carroll G. Fernals Real Estate, The Claremont, Coastal Kayaking Tours, Coplon Associates, The Davis Agency, Dawnland LLC, Dolores Kong, EverGreen Home & Hearth, Fair Trade Winds, Fiore Artisan Olive Oils & Vinegars, The First, The Gallery at Somes Sound, Galyn's, Hale & Hamlin, Hannaford Supermarkets, House Wine, John Williams Boat Company, The Knowles Company, Lynam Insurance & Real Estate, L.L.Bean, L.S. Robinson  Co. Insurance, LandVest, Machias Savings Bank, The MDIslander, Michael L. Ross Law Offices, Nelson F. Goodwin Company, Oli's Trolley, Robert Duerr, Salon NaturElles, Seal Cove Auto Museum, The Swan Agency Real Estate, Wallace Tent & Party Rental, Window Panes, XYZ Restaurant, Young Beck LLP