A Magazine about Acadia National Park and Surrounding Communities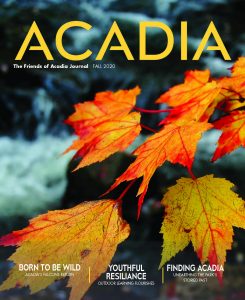 Fall 2020 – Volume 25 No. 3
The Friends of Acadia Journal is published four times a year. With features about Acadia National Park's history, resources, and programs, news about Friends of Acadia's projects and activities, and information about how to get involved, the Friends of Acadia Journal is a great way to stay connected to Acadia National Park, all year long. Acadia is published four times a year. Submissions and letters are welcome. Membership in Friends of Acadia includes a subscription to the Journal. Join Now »
TABLE OF CONTENTS
Features:
RAIDERS OF THE LOST PARK
Pair Unearths Acadia's Administrative History
By Earl Brechlin
WALKING THE WALK
Rehab of Region's Longest Bog Walk Wraps Up
By Earl Brechlin
BORN TO BE WILD
Falcon Reintroduction Success Takes Wing
By Lynn Fantom
WHEN HOLLYWOOD HIJACKED SAND BEACH
"Queen Of The Sea" Ruled O'er Acadia
By Earl Brechlin
THE RESILIENCE OF YOUTH ENGAGEMENT
Outdoor Learning Expands During Pandemic
By Paige Steele
ACADIA AS MUSE INSPIRES GIVING
Stitching Art And Outdoors
By Julia Walker Thomas
Perspectives:
President's Message: Challenges Strengthen Commitment
COVID Effects: Pandemic Alters Visitation Landscape
Superintendent's View: A Once-In-A-Career Opportunity
Chair's Letter: A Successful Roundabout
Acadia, In My Own Words: Donna Reis
Departments:
Where in Acadia?
Test Your Acadia Memorial IQ
New Members
How Did You Get That Shot?
Updates
Special Person, Julia Schloss
Cover Photograph: Maple leaves reveal their hidden autumn glory along Duck Brook in Acadia National Park. COVER PHOTO BY EARL BRECHLIN/FOA.
Friends of Acadia is a membership and volunteer organization, and our work is significantly powered by volunteer effort. The Journal is no exception, and we are grateful to all of the writers and photographers who generously contribute their time and talents to our publication.
Thank you to our 2020 Journal sponsors: