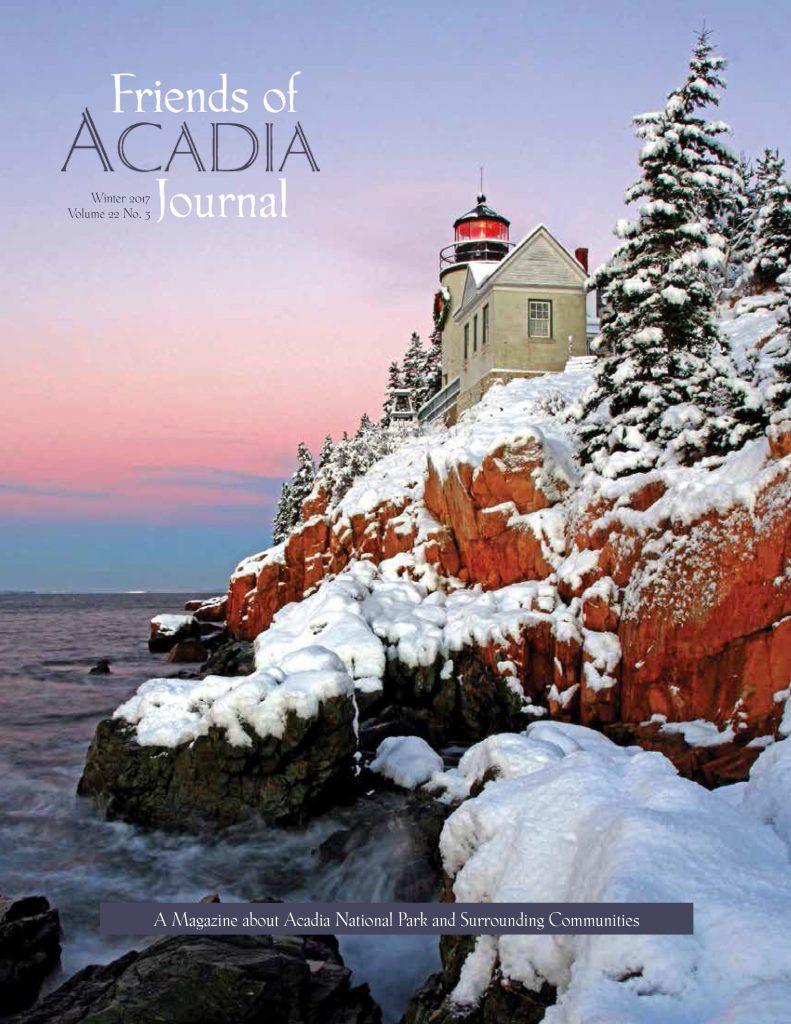 A Magazine about Acadia National Park and Surrounding Communities
Winter 2017 – Volume 22 No. 3
The Friends of Acadia Journal is published three times a year. With features about Acadia National Park's history, resources, and programs, news about Friends of Acadia's projects and activities, and information about how to get involved, the Friends of Acadia Journal is a great way to stay connected to Acadia National Park, all year long. Membership in Friends of Acadia includes a subscription to the Journal.   Join Now »
TABLE OF CONTENTS
Features:
Capturing Winter's Splendor
By Stephen Ressel
Park Explores Possible Lighthouse Acquisition
By Earl Brechlin
Acadia Hawk Watch is Part of National Network
By AnnaFaith Jorgensen
Friends of Acadia has more than 800 new members!
Love of skiing, Acadia motivates dedicated groomer
By Earl Brechlin
Perspectives:
• President's Message: Shared Stewardship An Inspiration
• Superintendent's View: Acadia's Firm 'Foundation' Explained
• #AcadiaGold: Photographers Share Images of Autumn
• Gala History:Paddle Raise Benefits Historic Structures
• Living Legacy: Giving Back Motivates Youthful Donor
• Advocacy Corner: Land, Legislation, Fees, and Work Deferred
• Chair's Letter: Sharing a Love of Acadia
• Special Person: Junior Ranger Finishes Final Quest
Departments:

• Where in Acadia?
• Updates
• Recommended Viewing
• Finding Your Way
• Recommended Reading
Cover Photograph: The Porcupine islands seen from Dorr Point at Compass Harbor. Photograph by Tom Blagden.

Friends of Acadia is a membership and volunteer organization, and our work is significantly powered by volunteer effort. The Journal is no exception, and we are grateful to all of the writers and photographers who generously contribute their time and talents to our publication.
Thank you to our Journal sponsors:
Acadia Corporation

Acadia on My Mind
Anne's Point Inn
Asticou Hotel
Bar Harbor Bank & Trust
Bar Harbor Bicycle Shop
Bar Harbor Historical Society
Bar Harbor Savings & Loan
Beal's Lobster Pier
Bluenose Inn
Burdick & Associates Landscape Design
Canon U.S.A.
Chapter Two
Coastal Kayaking Tours
Coplon Associates
Davis Agency
Dawnland
EverGreen Home & Hearth
Fair Trade Winds
Fiore Artisan Olive Oils & Vinegars
The Gallery at Somes Sound

Galyn's
Hannaford
House Wine
Jackson Laboratory
John Williams Boat Company
Kimball Shop
Knowles Company
L.L.Bean
L.S. Robinson Company Insurance
LandVest
Lynam Agencies
Machias Savings Bank
MDI Grows
MDI Hospital
Michael L. Ross Law Office
Mount Desert Islander
Nelson F. Goodwin Company
Oli's Trolley
Seal Cove Auto Museum
Swan Agency Real Estate
Window Panes

XYZ Restaurant