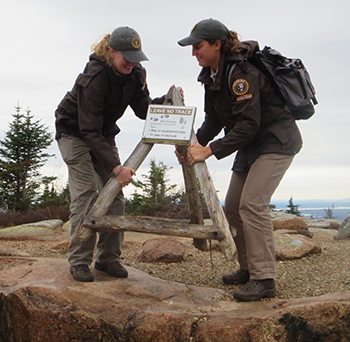 Initiated in 2014 with funds from the Friends of Acadia Benefit Auction, the program places a team of roving educator/researchers on Cadillac Mountain throughout the summer and fall. The Summit Stewards spend nearly a thousand hours at summits and roving trails each year, answering visitor questions, conducting basic trail maintenance, repairing cairns, removing visitor-built cairns and rock art, responding to emergencies, communicating with park managers, and collecting data about weather, car and bus traffic, visitor usage, and visitor behaviors.
As the Summit Stewards hike the trails and rove the summits of Acadia's mountains during their daily patrols, they gather data on visitor behavior, questions, and challenges; and use their observations to develop suggestions on possible improvements for the summit—from additional trash cans and ash trays to new sidewalks, informational signs, and tweaks to parking lot layout.
Learn more about FOA's efforts to protect the rooftop of Acadia »
The stewards are typically college-age students or recent grads with an interest in outdoor education or ecology. Open positions with the Cadillac Summit Stewards are generally posted in December or January for the following summer, at Employment Opportunities.