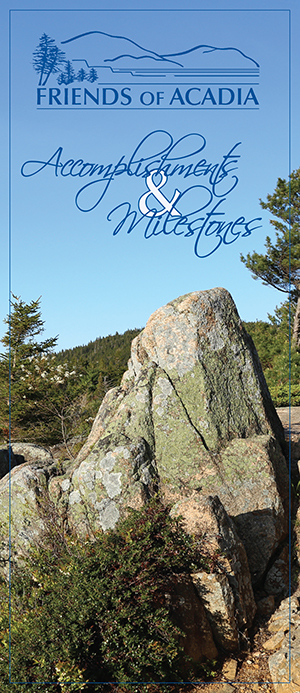 2015 Accomplishments
Trails & Carriage Roads
Matched a Centennial Challenge Grant that provided $85,000 in federal funding to restore historic vistas along the carriage roads, resulting in the re-opening of more than 50 scenic vistas
Supported Acadia Winter Trails Association volunteers who spent more than 400 hours to manage 100- plus inches of snow in a single season, providing outstanding cross-country skiing conditions for thousands of winter visitors
Rehabilitated the 1917 Beehive Trail and 1906 Cadillac Cliffs Trail using techniques developed by Acadia trail crews to maintain the trails' historic character while accommodating present-day numbers of hikers
Rebuilt the 60-foot-long Eli Creek Bridge on Isle au Haut's Duck Harbor Trail
Recruited, equipped, and led hundreds of volunteers who gave their time, expertise, and effort to care for Acadia's hiking trails, carriage roads, ski trails, iconic signs, scenic vistas, and Wild Gardens; granted $252,000 for maintenance of Acadia's carriage roads and $410,000 for restoration, construction, and maintenance of Acadia's trail system
Tomorrow's Stewards
Hired four Cadillac Summit Stewards who spent 872 hours on the mountain, spoke with more than 7,600 visitors, and provided park managers with recommendations for the protection of the Cadillac summit in areas including signage, parking, and trails
Initiated the Yellow Bus Fund to enable more K–12 students from Maine to experience Acadia
Brought seven schoolteachers to Acadia for the summer through the Acadia Teacher Fellows program, bringing the total to 21 since the program was expanded in 2013 with FOA support
Recruited a team of Youth Advisors from Mount Desert Island High School to engage youth interest in FOA through social media, encourage volunteerism among local teens, and recommend ways that young people can help build FOA's membership
Preserve & Protect
Provided support for two car-free mornings on Acadia's motor roads—including evaluation and increased Island Explorer bus service—as part of the park's multi-year transportation planning initiative
Facilitated the opening of the 1,400-acre Schoodic Woods property, serving as the fiscal agent in partnership with the National Park Foundation for more than $500,000 in start-up funds for equipment and operations, plus a permanent endowment at FOA to support the property's long-term management by the National Park Service
Supported two park conservation planning workshops to identify top threats and develop conservation strategies for habitats, species, cultural landscapes, infrastructure, and other vulnerable resources at Acadia
Testified before Congress on the value of public-private partnerships for national parks
Engaged more than 300 Acadia Centennial Partners in the grassroots, community-based celebration of the 2016 Acadia Centennial
Milestones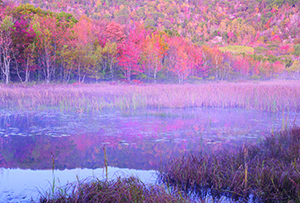 1991-1996: Raised $3.4 million endowment to maintain the park's 44-mile carriage road system in perpetuity
1997: Led negotiations to avert a clear-cut on 1,600 acres adjacent to park's Schoodic District
1998: Achieved, with the park, a first-in-nation jet-ski ban on all ponds inside a national park
1999: Co-developed and co-funded the fare-free, propane-powered Island Explorer bus system
1999-2001: Raised $13 million for Acadia Trails Forever, making Acadia the first national park with an endowed trail system
2002: Obtained $1 million from L.L.Bean to support the Island Explorer; renewals in 2006 and 2011 brought total L.L.Bean funding to $3.25 million
2007: Purchased and protected 25 acres on Acadia Mountain, threatened by development
2009: The accomplishments of Acadia Trails Forever's first 10 years include 5.6 miles of village connector trails built; 1.8 miles of abandoned trails reopened; more than 3,000 steps, 16,760 square feet of walls, and 259 culverts repaired or constructed.
2010: Successfully lobbied the Maine legislature to limit open carry of firearms in Acadia
2010: Partnered to publish Plants of Acadia National Park, a comprehensive field guide to more than 800 species found in Acadia
2010: Established a formal relationship with the Wild Gardens of Acadia to ensure their future viability
2011: Celebrated Friends of Acadia's 25th Anniversary with a grant to pilot the Acadia Youth Technology Team
2011: With Acadia Land Legacy's purchase of 43 acres on Lower Hadlock and Round Ponds, protected 17 parcels of privately-owned land inside Acadia's borders since 2005 with Acadia Land Legacy partners
2013: Inaugurated the Duck Brook Connector Trail, fulfilling the original Acadia Trails Forever goal of establishing five village connector trails
2013: Inaugurated the first phase of the Acadia Gateway Center in Trenton, giving the successful Island Explorer bus fleet a permanent home in a Gold LEED-rated maintenance and administration facility
2013: Inaugurated the Trenton Community Trail and protected the surrounding 216-acre forestland with a conservation easement before donating both trail and forest to the Town of Trenton
2013: Funded a forward-thinking water quality monitoring program at Jordan Pond, Maine's clearest lake.
2013: Helped realize permanent protection for the 1,400 acres of intact forest and wetland of Schoodic Woods.
2014: Piloted the Cadillac Summit Steward program to reduce visitor impacts on Cadillac Mountain's delicate alpine environment.
2015: Marked the 25th anniversary of Take Pride in Acadia Day, Friends of Acadia's most important annual volunteer event.
By the Numbers*
Number of members: 4,543
Grants to the park and communities since 1986: $23.7 million
Island Explorer ridership since 1999: 6 million
Number of FOA-funded seasonal staff serving Acadia National Park annually: 158
Number of full-time staff: 13
Endowments and other investments: $30.9 million
Annual operating budget: $4.36 million
Publications: Friends of Acadia Journal (3 issues annually), Annual Report, E-News (12 issues annually), www.friendsofacadia.org, www.acadiacentennial2016.org
* as of December 31, 2015