Celebrating Acadia's Trails
Saturday, June 1, 2019
Discover, enjoy, and care for Acadia's magnificent 130-mile trail system and FOA-sponsored Village Connector Trails and community trails, accompanied by park trail crew and interpretive staff members.
National Trails Day Celebration
Saturday, June 1, 8:15 am – 12:00 pm
Acadia National Park Headquarters, 20 McFarland Hill Drive

Contact Dana at 207-288-3934 or dana@friendsofacadia.org, the Friends of Acadia Stewardship Coordinator.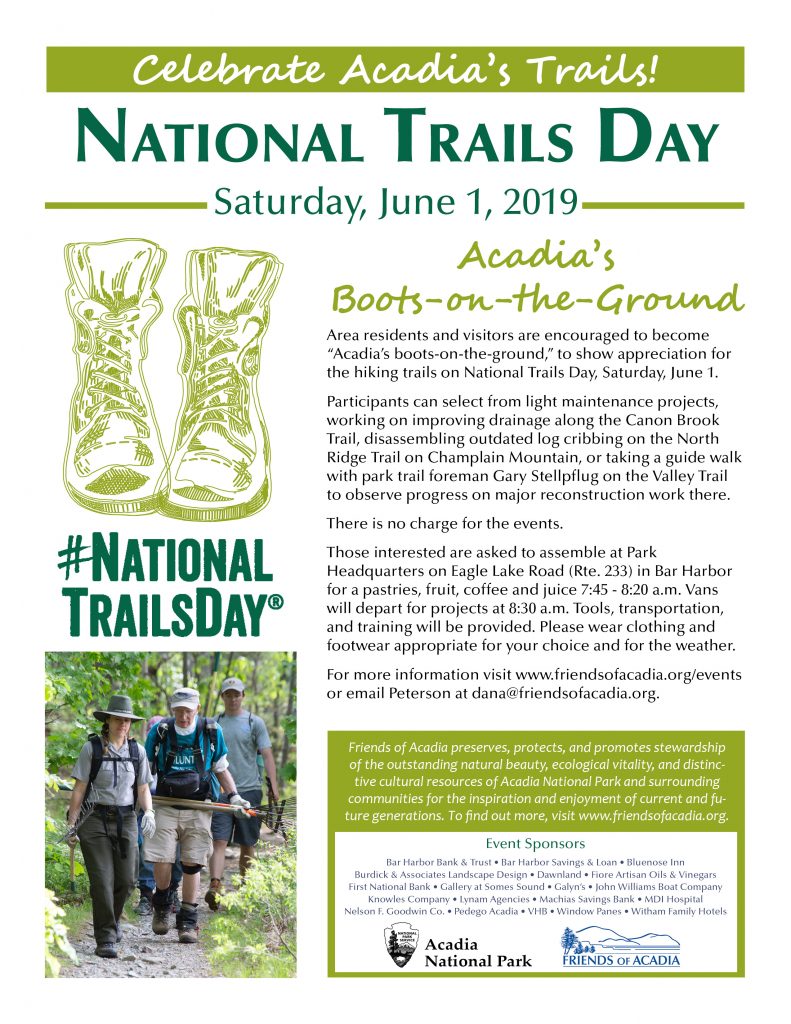 If you are interested in volunteering on the trails and carriage roads during the rest of the year, please visit www.friendsofacadia.org for more information.
Learn more about how Friends of Acadia benefits Acadia's historic trail system »
2019 Event Sponsors:
Bar Harbor Bank & Trust




Bar Harbor Savings & Loan


Bluenose Inn


Burdick & Associates Landscape Design


Dawnland


Fiore Artisan Oils & Vinegars


First National Bank


Gallery at Somes Sound




Galyn's

John Williams Boat Company


Knowles Company




Lynam Agencies




Machias Savings Bank




MDI Hospital


Nelson F. Goodwin Company


Pedego Acadia




Window Panes




Witham Family Hotels

s